Whimsical and poignant, 'Hatmaker's Wife' redefines ideas of family, home and true love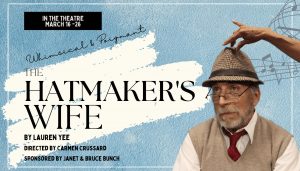 Theatre Conspiracy at the Alliance for the Arts presents The Hatmaker's Wife March 16-26. Premiering Off-Broadway in 2013, this whimsical and poignant play has now made its way to our very own Fould's Theatre. Sweet and surreal, it's a story that bends time and space to redefine the idea of family, home, and true love itself.
The expression, "if these walls could talk," comes true for a young woman who moves into an old home with her boyfriend. Not long after settling in, the woman hears a wall speaking to her. Then she starts receiving notes. It appears the wall wants to help her and her boyfriend by sharing the story of two former residents, a hatmaker and his wife. The hatmaker is upset about his long-suffering wife leaving him after decades of marriage – as well as the loss of his favorite hat. But there's a reason for this bizarre communication, and stories about true love never get old.
This bittersweet comedy will have you believing in the possibility of transcending worlds where love and family will always remain the most important aspects of life.
March 3, 2023.