Synopsis, play dates and ticket information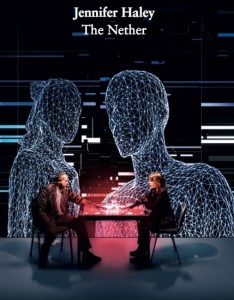 On March 4, The Nether opens at Theatre Conspiracy. It's a daring examination of moral responsibility in the virtual world of the future by playwright Jennifer Haley. It begins with a familiar interrogation scene, given a technological twist. A detective by the name of Morris is questioning a man by the name of Sims about his activities in a role-playing realm so realistic it could be life where you simply log in, chose an identity and indulge your every whim limited only by your imagination. Their clash of wills leads to a consequence neither could have imagined. Suspenseful, ingeniously constructed, and fiercely intelligent, The Nether is chock full of twists, turns and surprises.
Performances are March 4, 5, 10, 11, 12, 17, 18 and 19 at 8 p.m. and March 13 at 2 p.m. Individual tickets are $24. Women under 41 yrs old and students with proper ID are $11. For more information, you can call Theatre Conspiracy's box office at 239-936-3239 or visit www.theatreconspiracy.org.
Please click here for a review of Theatre Conspiracy's production of The Nether.
Click here for Director Rick Sebastian's insights into the play.
Click here for more on Director Rick Sebastian.
Click here for more on playwright Jennifery Haley.