Review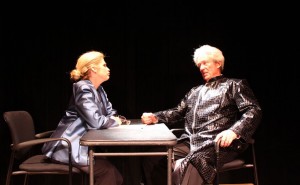 Opening tonight in the Foulds Theater at the Alliance for the Arts is Theatre Conspiracy's production of Jennifer Haley's sci-fi crime thriller The Nether. The play has been described by theater critics and reviewers as "very cunning and equally creepy" (Ben Brantley, New York Times), "thought-provoking and deeply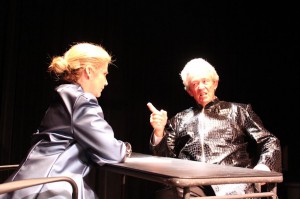 disconcerting" (Charles Spencer, The Telegraph) and "compelling and profoundly disturbing" (Laura Barnett, The Guardian). While The Nether is all of this and more, what makes the Theatre Conspiracy production so riveting is lead actor Jim Yarnes.
Yarnes plays a character by the name of Sims, who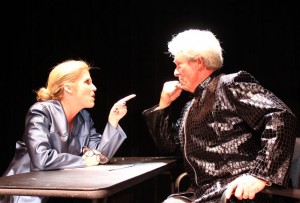 has created a nostalgic, pseudo-Victorian haven called The Hideaway, where paying guests come to have sex with, murder and dismember the exquisite, eerily identical virtual children who live and play there. But The Hideaway's allure inheres in more than the opportunity for guests to act out their deepest, darkest desires. The world of 2050 has become a dark and dreary wasteland devoid of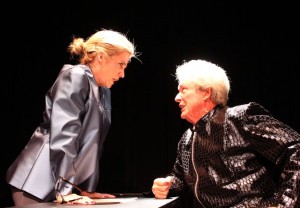 trees, flowers and even fruits and vegetables. In Sims' Hideaway, people can once again experience the wind blowing through leaves, the colors of a verdant landscape and the earthy smells of a vegetable garden. In fact, some people have become so addicted to their experiences in The Hideaway and the other virtual worlds that populate the nether that they abandon real life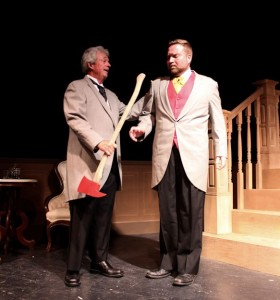 altogether, getting themselves hooked up onto life support machines so that they can "cross over" to spend all their time in fictional, fantastical environments where technology now makes it possible to enjoy such sensations as taste, smell, feel and sex.
Sims has made a fortune from The Hideaway, but money was not his primary motivation in creating his alternative reality. A self-described pedophile, Sims believes it is far better to give unnatural desires free rein in the virtual world than to unleash them on real people in the in-world. And while, at first blush, you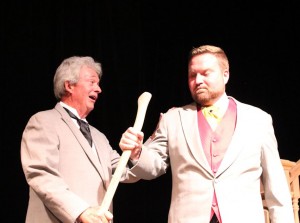 might expect the audience to despise Sims as some kind of deranged, disturbed monster, in the hands of Jim Yarnes and director Rick Sebastian, Sims comes across from the opening scene as a tortured, self-loathing soul who is being unjustly victimized by the Nether Nazis represented by a detective named Morris, played by Beth Yasvac.
Yarnes' performance in The Nether is masterful. He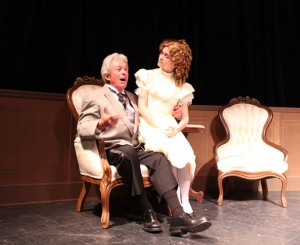 displays a truly amazing depth and range of emotions in the course of his portrayal of Sims and his Hideaway avatar, a jovial but severely paternalistic character called Papa. Yarnes expertly gives vent to outrage, indignation, defensiveness, anger, fear, guilt, remorse and abject grief, but it is the vulnerability, sensitivity and tenderness he evinces in his interactions with both Morris and 9-year-old Iris that invite the audience to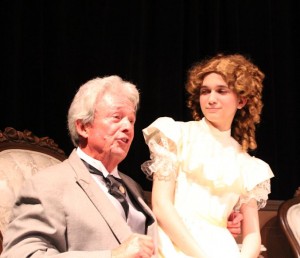 empathize and sympathize with what is happening to him at the hands of the police.
Just a sophomore in IB at Fort Myers High School, Eren Sisk is brilliant in her portrayal of the avatar known as Iris, a prepubescent girl who represents childhood innocence and possibilities yet exists to entice the stream of men who flock to The Hideaway to sleep with her before hacking her to death with a red, blood-stained fireman's ax. Of course,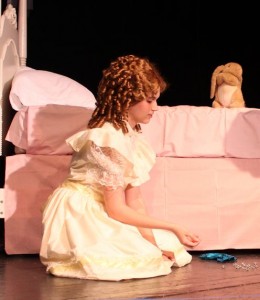 no graphic scenes take place in this play. Rather the audience is prompted to imagine what happens to Sisk's character through suggestion and innuendo. But Sisk deftly walks the fine line required by Jennifer Haley's Mensa-level script between childhood innocent and complicit seductress with an aplomb not seen since Norma Jean Mortensen first emerged on the Hollywood scene. And like Norma Jean, there's something in Sisk's eyes that holds and touches the guests she encounters, particularly a seemingly reluctant gentleman by the name of Woodnut, nicely played by Thomas Marsh.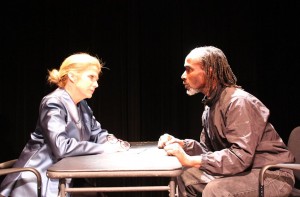 By the nature of the roles they are given by the script, Beth Yazvac and Elvis Mortley don't have the opportunity to command the stage like Yarnes, Sisk and Marsh. With one minor exception, they are confined center stage to a small, stark cubicle that serves as a Law & Order SUV-type interrogation room. But their circumscribed space cannot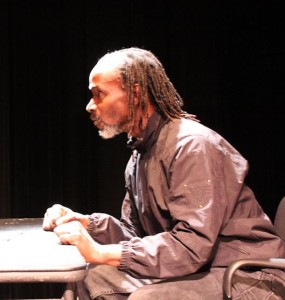 contain the power of their performances. Mortley is truly pitiable as a pawn in the machinations of the obsessed and obsessive detective willing to say and do anything in order to shut down The Hideaway by seizing its server. Mortley's character, Doyle, is a science teacher who has grown so addicted to the place that he wants to live there forever. While it is not possible to say more without giving away one of the play's many show-ending reveals, suffice it to say that the raw emotion he brings to his character makes the play's denouement so painfully poignant.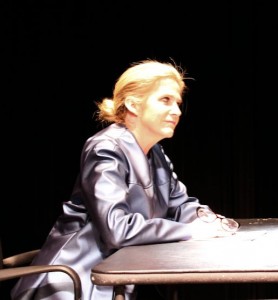 There is a great deal to unravel and figure out during the 80 or so minute running time for this play, not the least of which is Beth Yasvac's character, Detective Morris. Without giving anything away here either, Beth's challenge is to come across initially as hard and callous before revealing her character's personality and motives layer by layer like a Rachel Ray peeling a Vidalia onion. Yazvac's challenge is complicated by the fact that Morris is a caricature of an overzealous, power-crazed police detective who unabashedly acts as judge and jury in Sims' case. She is mean-spirited, devious and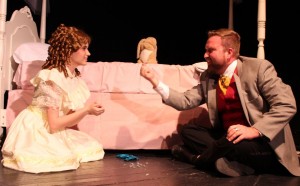 ruthless. Yet, there is more – much more – to her than that, but Yasvac cannot let us know too much, too soon without spoiling the ending. You'll understand what she's up against when you see the show.
There's lots going on in The Nether. It is filled with important, meaty themes and sub-themes. It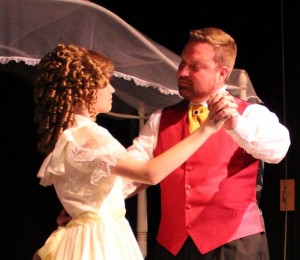 touches on headlines ripped from the news. The story is told in the rich tradition of Robert Heinlein, Ray Bradbury and Iain Banks. By all means, go see The Nether for all of these reasons. But the most compelling reason to see this play is for the fatally flawed, mind-blowing characters that playwright Jennifer Haley has created and the strong-as-Clorox performances of the Theatre Conspiracy actors who bring them to life on the Foulds Theater stage.
Please click here for play dates, times and ticket information.
Click here for Director Rick Sebastian's insights into the play.
Click here for more on Director Rick Sebastian.
Click here for more on playwright Jennifery Haley.
Click here for a synopsis of the plot.
Posted March 4, 2016.