Thomas Marsh plays compromised undercover cop in Jennifer Haley's 'The Nether'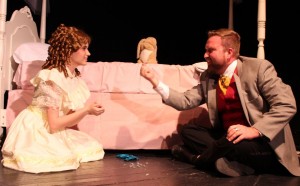 On stage now in the Foulds Theater at the Alliance for the Arts is Theatre Conspiracy's production of Jennifer Haley's The Nether. Local actor Thomas Marsh plays an undercover agent who enters a virtual world called The Hideaway to investigate claims that paying customers go there to have sex with, murder and dismember the prepubescent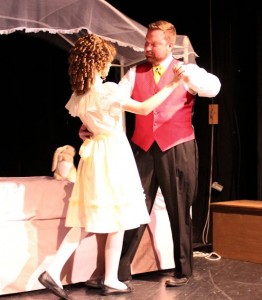 virtual children who reside there.
Marsh's character is a Victorian dandy by the name of Woodnut. Woodnut is not real. He is an avatar who is hooked up with a beautiful and ostensibly innocent 9-year-old girl by the name of Iris. At first, Woodnut is reluctant. He even seems repelled by the thought of touching and caressing the child, never lone having intercourse with her. But Iris subtly draws him in and, ultimately, Woodnut not only has sex with her, he does what all Hideout guests are expected to do with their pre-teen sexual partners. He murders her with a bright red fireman's ax that is provided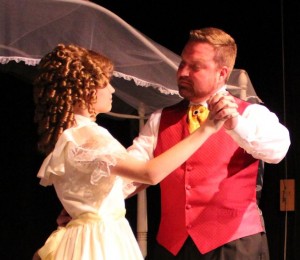 for the deed by the proprietor of the establishment, a genial elderly gent by the name of Papa.
Of course, Iris only exists in the virtual world and immediately resurrects for more madness and mayhem. But the fact that Woodnut engages in pedophilia, murder and dismemberment raises the question of how far an agent may go in investigating criminal activity. Do the ends justify the means? And in this regard, it is Marsh's task in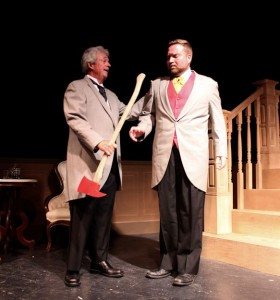 performing the role of Woodnut to traverse the character arc from hesitant, conflicted police agent to willing, perverted participant. Marsh does a yeoman's job with the part.
Marsh has been busy at Theatre Conspiracy this season. He was in this season's opener, Toys in the Attic, and played the evil Mr. Burns in Mr. Burns: The Post-Electric Play. Theatre Conspiracy audiences will also remember him from last year's new play winner, A Position of Relative Importance.
Published March 6, 2016.