Former Hollywood stuntman David Coretti plays Anton Diabelli in '33 Variations'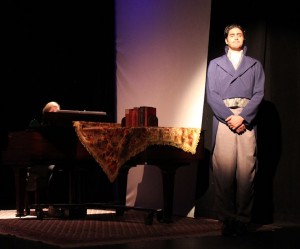 On stage now through February 4 on the Foulds Theatre stage at the Alliance is Theatre Conspiracy's 33 Variations. The production is denoted by superb performances by every member of the talented cast assembled by Director Rachael Endrizzi and Artistic Director Bill Taylor. Playing the part of clever, conceited 19th century Viennese music publisher Anton Diabelli is David Coretti.
When the audience first meets Anton Diabelli, his musical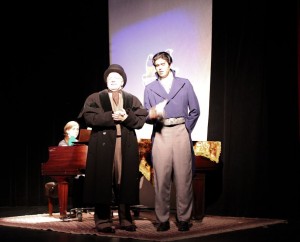 publishing company is on the ropes, but Diabelli comes up with a clever gambit for make some quick money. He invites the top fifty composers in Vienna (who knew the city had so many!) to write a single variation of a little beer hall waltz he's written. He'll publish the results in a handsomely-bound anthology, and every composer readily accepts Diabelli's challenge. Except one, that is – Ludwig van Beethoven (brilliantly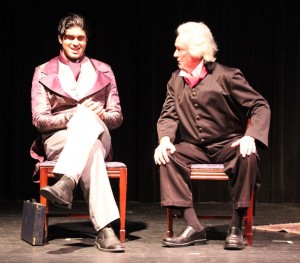 played by Jim Yarnes). And it falls upon Beethoven's hapless assistant, Anton Schindler (played by Scott Carpenter) to deliver the news. But then, lo and behold, the master changes his mind and proposes to write not one, but six or seven variations. Diabelli is flattered. Who wouldn't be flattered to have a musical genius of Beethoven's caliber and reputation become so enthralled with his composition that he'd devote the time and effort to produce multiple variations of the piece.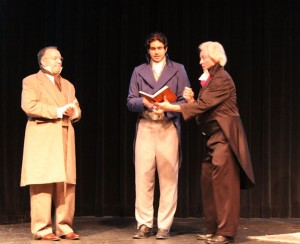 But Diabelli's plans for a quick profit are waylaid. You just can't rush genius. Well, you can't rush Beethoven, in any case. So a project he'd hoped would take a mere matter of weeks turns into a four-year ordeal as Beethoven goes through variation after variation in an effort to exhaust his insatiable curiosity to discover all the forms lurking in Diabelli's simple score.
Diabelli experiences the same impatience and frustration that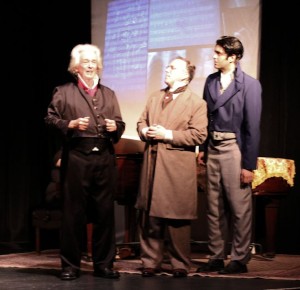 Pope Julius II felt in his dealings with Michelangelo in the early 16th Century. In fact, the parallels are striking. Like Beethoven, Michelangelo originally refused the commission – in his case both because he considered himself a sculptor, not a painter, and because he disagreed with Julius' vision of what the painting should look like.  It was only after Julius agreed to let Michelangelo paint the chapel his way that he took the job.  And even then, Julius constantly complained about the slowness of Michelangelo's progress, while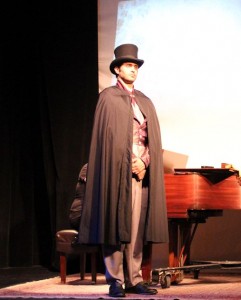 Michelangelo constantly complained about the slowness of Julius' payments. And like Beethoven and the Diabelli Variations, it took Michelangelo four years to complete the Sistine Chapel.
A native of Ohio, David Coretti began performing at a young age. But when America was attacked on 9-11, he enlisted in the military. After his service was completed, he studied at The American Musical and Dramatic Academy in New York City. Afterwards, he worked in Hollywood doing film, television and theater. His credits included NBC's Passions and films like Undercurrent. David was part of the cast nominated for an
LA Weekly Award and Ovation Award for best ensemble on What's Wrong with Angry? His military background led to work in the stunt world on various projects like Spike TV's Deadliest Warrior, the film Cowboys and Indians, and as a stunt driver for commercials. But a series of motorcycle accidents compelled him to slow down. Today he lives in Southwest Florida, spending time with family and enjoying working with the cast of 33 Variations.
January 21, 2017.
RELATED POSTS.