FSW sophomore Julia Rivera is Clara Brandt in '33 Variations'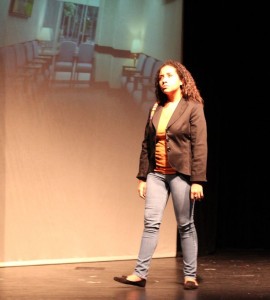 On stage now through February 4 on the Foulds Theatre stage at the Alliance is Theatre Conspiracy's 33 Variations. The production is denoted by superb performances by every member of the talented cast assembled by Director Rachael Endrizzi and Artistic Director Bill Taylor. Julia Rivera plays Clara Brandt, and turns in an excellent performance as the beleaguered daughter of a musicologist who is dying of amytrophic lateral disease or ALS.
Clara Brandt has never measured up to her mother's impossibly high standards. She lacks the focus. Her mother wants her to pick one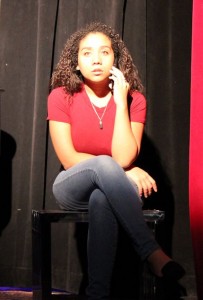 discipline, throw herself into it, and become the best at it she possibly can. Clara could not be less interested. She loves learning something new, then moving on to something else. Today it's costume design, tomorrow set design. Life is too short and there's so much to learn. Dr. Katherine Brandt thinks her daughter is mediocre. Clara thinks mom is obsessive compulsive. Their life views are so disparate, they can barely talk to one another. Sure, they love each other. They're mother and daughter. But they don't like each other very much.
And that notwithstanding, Clara places her life on hold to help her mother through her final illness, ALS, a disease that causes her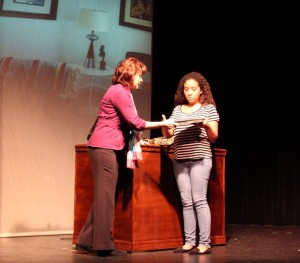 neurons to send fewer and fewer signals to her muscles, beginning with her extremities but ultimately including her tongue, esophagus and diaphragm. Her days are numbered, as are theirs. Will Clara ever find a way to break through her mother's hardboiled, judgmental emotional shell? And while Clara is contending with her mother's illness and emotional unavailability, she's constrained to deal with a rather big complication. It seems that her mother's male nurse has become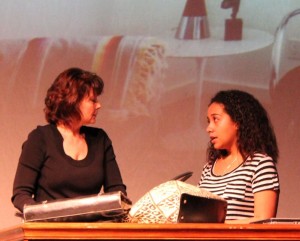 infatuated with her and, well, Clara likes him too.
Julia Rivera is a sophomore at Florida SouthWestern State College and has been acting for six years. This is her first-ever theater experience outside of college. If the Playbill didn't mention it, you'd never know. She is natural in her getting-to-know-each-other scenes with paramour Mike, and dutiful, long-suffering and appropriately frustrated in her attempts to win her mother's love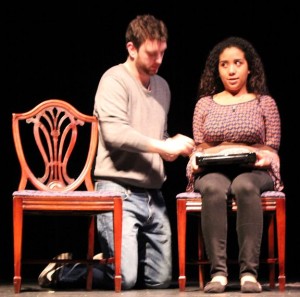 and approval.
Based on her portrayal of Clara Brandt, Julia has a bright future in theater, whether she chooses to work with one or more of our local theater groups or takes to the stage someplace else. But for now, you can enjoy Julia's performance in 33 Variations.
January 21, 2017.
RELATED POSTS.