Jim Yarnes stars in Theatre Conspiracy's 'Book of Liz'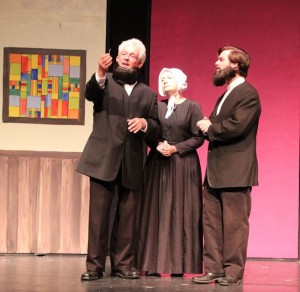 On stage now in the Foulds Theater at the Alliance for the Arts is David and Amy Sedaris' cheesy comedy, The Book of Liz. The show stars Rachel Burttram Powers, Joann Haley, Trevor Beauvois-Kinney and Jim Yarnes.
Yarnes plays multiple roles in this comedy. The first of these characters is the authoritative Reverend Tollhouse, who orders Sister Elizabeth Dunderstock to hand over her cheese balls recipes to Brother Brightbee, an ambitious, prideful alpha male intent on claiming for himself the fame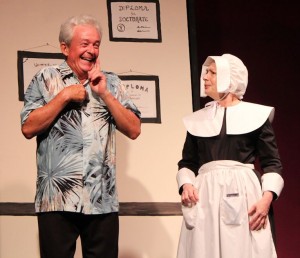 and fortune that Sister Dunderstock has brought to Cluster Haven. Jim Yarnes is masterful as the arrogant and misogynistic Tollhouse, but he really hits his stride as Tollhouse's antithesis, the kindly and charming Duncan Trask, the gay manager of the Plymouth Crock Family Restaurant. True, his lisp and affectations make him something of a stereotypical caricature of a gay man, but that can be forgiven as The Book of Liz is both a homage to and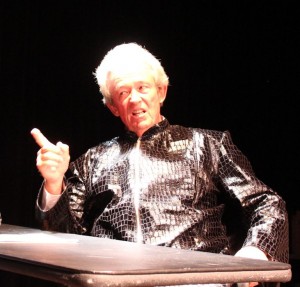 mockery of clichés – and as clichés go, this one is particularly trite and odious.
Yarnes last performed on the Foulds Theater stage in Theatre Conspiracy's production of Jennifer Haley's sci-fi crime thriller The Nether. Jim played two characters in that play, as well. The first was a man named Sims who has created a nostalgic, pseudo-Victorian internet haven called The Hideaway, where paying guests come to have sex with, murder and dismember the exquisite, eerily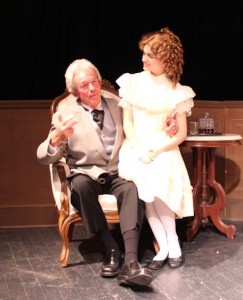 identical virtual children who live and play there. Sims' avatar in The Hideaway is the genial but paternalistic host named Papa, who keeps the virtual children in line and ensures that guests indulge their darkest fantasies.
Yarnes' performance in both roles was masterful. "He displays a truly amazing depth and range of emotions in the course of his portrayal of both Sims and Papa," wrote this reviewer at the time. "As Sims, Yarnes expertly gives vent to outrage, indignation, defensiveness, anger, fear, guilt, remorse and abject grief, but it is the vulnerability, sensitivity and tenderness he evinces in his interactions with a detective by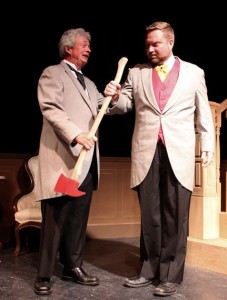 the name of Morris (played by Beth Yazvac) and a 9-year-old virtual child by the name of Iris (played by Fort Myers High School sophomore Eren Sisk) that draw the audience in by inviting each spectator to empathize and sympathize with what is happening to Sims at the hands of the police. His anger becomes their anger. His loss becomes their loss. His despondency becomes ours."
Yarnes is entering his 37th year on stage. He started with Gulf Coast Opera Company before going on to perform at the Broadway Palm Dinner Theater, Cultural Park Theater, Lab Theater and Theatre Conspiracy. In addition to The Nether, Jim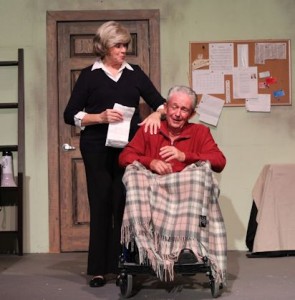 played the critically ill husband John in Tim Firth's Calendar Girls, which ran at Lab Theater from October 2-17, 2015. His favorite shows include Pirates of Penzance, Music Man, Jesus Christ Superstar, Fiddler on the Roof, Evita, Phantom, Barefoot in the Park, Swell Party and A Position of Relative Importance. Jim has also done staged readings at Lab Theater.
Posted August 12, 2016.
Related Posts.