Joann Haley is Sister Elizabeth Dunderstock in Theatre Conspiracy's 'Book of Liz'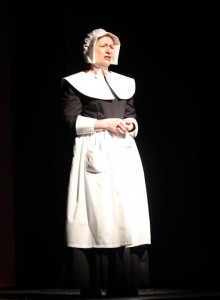 On stage now in the Foulds Theater at the Alliance for the Arts is Theatre Conspiracy's production of David and Amy Sedaris' The Book of Liz. In the lead role of Sister Elizabeth Dunderstock is Joann Haley.
Sedaris herself originally played the role of Sister Elizabeth Dunderstock, who makes cheese balls so delicious that her community of Squeamish (who are like the Amish and Mennonites in their adherence to an old time way of living that's unencumbered by technology and the means of modern conveyance like cars, trucks and planes) make a good living by selling them to the surrounding communities. Haley is no stranger to the habit, having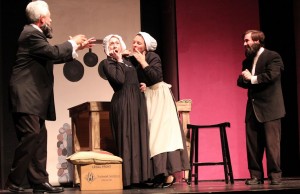 played Sister Miriam, the severe and austere Mother Superior of John Pielmeier's Agnes of God (for Lab Theater). She nails the role of the hyperhidrosis Dunderstock, who has to don a Mr. Peanut costume in order to feel human again.
Haley has been acting on a variety of Southwest Florida stages since 1996. Her last show with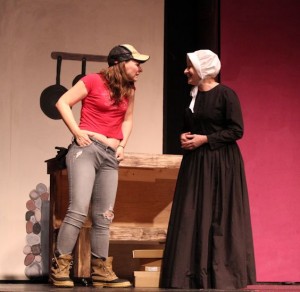 Theatre Conspiracy was Arcadia. Some of her favorite Theatre Conspiracy roles include Time and Ina Meyerhoff, Sylvia and Invasion of Privacy. Other credits include Nurse Ratched in One Flew Over the Cuckoo's Nest, Queen Gertrude in Hamlet, and Linda Loman in Death of a Salesman (all for Lab Theater).
See below for play dates, times, ticket information, reviews and profiles.
Posted August 14, 2016.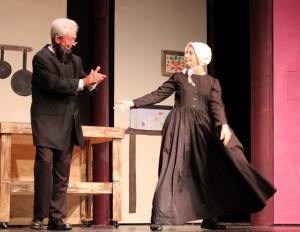 Related Posts.