The Book of Liz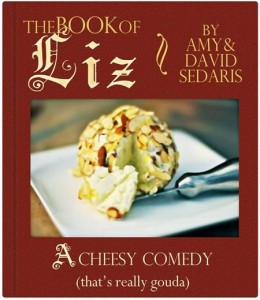 Play:  The Book of Liz
Playwright: David and Amy Sedaris
Opens:  August 12, 2016
Tag Line: A cheesy comedy that's really gouda
Plot: Sister Elizabeth Donderstock is Squeamish; she has been her whole life. She makes cheese balls (traditional and smoky) that sustain the existence of her entire religious community, Clusterhaven. However, she feels unappreciated among her Squeamish brethren, and she decides to try her luck in the outside world. Along the way,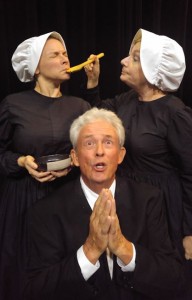 she meets a Cockney-speaking Ukrainian immigrant couple who find her a job waiting tables at Plymouth Crock, a family restaurant run almost entirely by recovering alcoholics. The alcoholics love her. The customers love her. Her Danderfrock fits right in. Meanwhile, back at Clusterhaven, Liz's compatriots just can't seem to duplicate her cheese ball recipe, and it's going to cost them their quaint, cloistered lifestyle. They are panic-stricken and desperate, and sure she sabotaged the recipe. Can the Squeamish be saved? Will the cheese balls ever taste good again? The answers to these and so many other questions can be found in the zany comedy from the Talent Family, David and Amy Sedaris.
Cast:  Rachel Burttram Powers, Joann Haley, Jim Yarnes and Trevor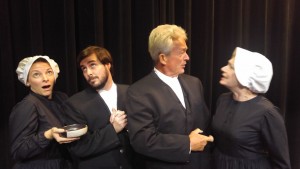 Beauvois-Kinney star in this goofy, laugh out loud comedy!!
Sponsors:  Bruce and Janet Bunch
Related Posts.
Spotlight on professional equity actress Rachel Burttram Powers