Shelley Sanders plays Margery in 'The Country Wife'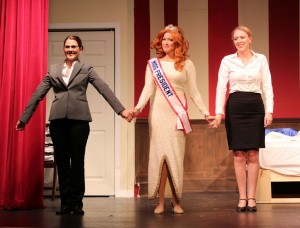 Opening December 1 in the Foulds Theater at the Alliance for the Arts is Theatre Conspiracy's production of William Wycherley's The Country Wife. Directed by Karen Goldberg, the play stars Shelley Sanders as Margery, Mitch Haley as Harry Horner, Jim Yarnes as Pinchwife, Dena Galyean as Alithea, Stephen Hooper as Doctor Quack, Elvis Mortley as Sir Jasper Fidget, Cantrella Canady as Lady Fidget, Tom Marsh as Sparkish, Juan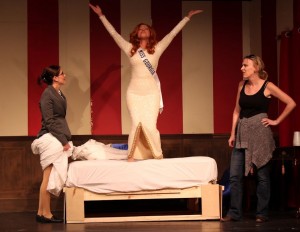 Alejandro as Harcourt, and Tera Nicole Miller as Squeamish.
Margery Pinchwife is the country wife. When her husband brings her to London for his sister's wedding, he locks her away to keep his bride safe from the clutches of predatory London bachelors. Pinchwife thinks he has nothing to fear from Harry Horner. After all, he's a eunuch and poses no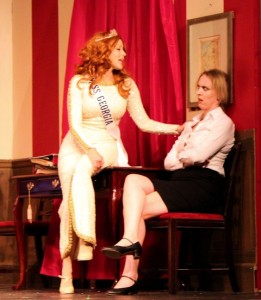 threat to his naïve wife's virtue. But what Pinchwife does not know is that Horner's impotence is a rumor that Horner hatched in order to win the confidence of London's unsuspecting husbands and gain access to their unsuspecting wives and daughters. When Harry meets Margery, all hell breaks loose and hilarity ensues. It's a role tailor-made for an actress of Sanders' ability and experience.
Local community theater audiences last saw Sanders in this Fall's Theatre Conspiracy political season hit, The Taming, in which she was mesmerizing as an insanely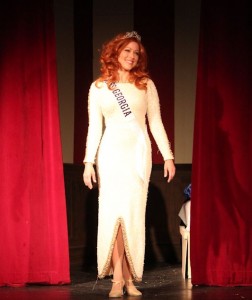 diabolical Miss America finalist who drugs and kidnaps a lefty environmentalist blogger and a far-right Senate aide, locks them in a hotel room, and forces them to write an updated version of the U.S. Constitution that eliminates the electoral college and otherwise works in modern times. You can find the entire review of Sanders' performance in The Taming here.
Sanders is no newcomer when it comes to commanding the stage. In Lab Theater's sell-out production of Cabaret three seasons ago, Sanders played the part of one of the Kit Kat Girls. In connection with that role, this reviewer wrote that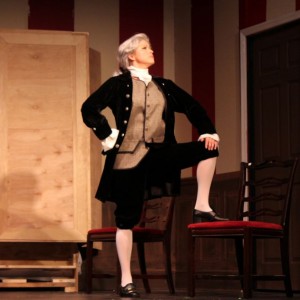 "in every chorus line and dance troupe there is one girl who stands out, and in Cabaret, that performer is Shelley Rae Sanders, who plays Lulu. Her dancing is crisp and fluid, her acting expressive and evocative, and she turns in a show-stopping unforgettable performance in Two Ladies."
Prior to The Taming, Shelley was seen by Theatre Conspiracy audiences in last season's Mr. Burns. Some of Shelley's favorite rolls include Cassie in A Chorus Line, Grace Farrell and Lilly St. Regis in Annie, Mona in Chicago, Eileen in Moon over Buffalo,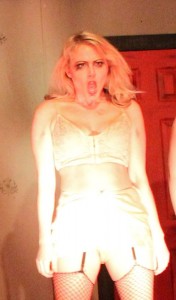 Dinah in South Pacific, Sarah in Table Manners, Fermina in Man of LaMancha, and Bianca in Taming of the Shrew.
November 20, 2016.
RELATED POSTS