Stephen Hooper is Doctor Quack in Theatre Conspiracy's 'The Country Wife'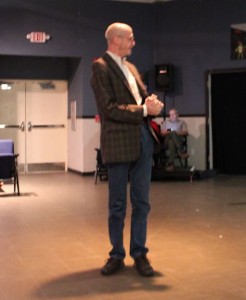 Opening December 1 in the Foulds Theater at the Alliance for the Arts is Theatre Conspiracy's production of William Wycherley's The Country Wife. Directed by Karen Goldberg, the play stars Shelley Sanders as Margery, Mitch Haley as Harry Horner, Jim Yarnes as Pinchwife, Dena Galyean as Alithea, Stephen Hooper as Doctor Quack, Elvis Mortley as Sir Jasper Fidget, Cantrella Canady as Lady Fidget, Tom Marsh as Sparkish, Juan Alejandro as Harcourt, and Tera Nicole Miller as Squeamish.
Stephen Hooper began acting some 30 years ago on a whim. "I was a trial lawyer, and one day my partners came to me and asked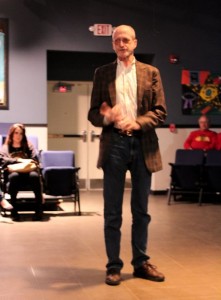 what I was doing tomorrow, and I replied, 'I don't know, what am I doing tomorrow?'" They said 'You're coming with us to audition for a play.' I used to clown around and do impressions of people, so they thought I'd enjoy acting."
The play was A Funny Thing Happened on the Way to the Forum, and Hooper was still in his late 20s at the time. He got the plum role of Senex (a henpecked, sardonic Roman senator living in a less fashionable suburb of Rome). They made me up to look like I was 75, put me in a toga, and I sang and danced in my first production."
Unbeknownst to Hooper, there was a director in the house at the final performance at that show.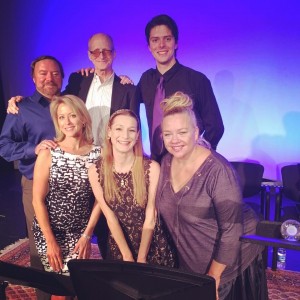 "In musicals, it's tradition for the actors to greet the audience in the lobby after the performance. The director came up to me and asked me what I was doing tomorrow. I said, 'I don't know, what am I doing tomorrow?' He replied, 'I have a part for you in my next play. We start rehearsal tomorrow night.' He pressed his card into my hand. I went down and ended up doing a lot of shows for him, but the role was that of a blackmailing extortionist janitor, and I've been doing theater ever since."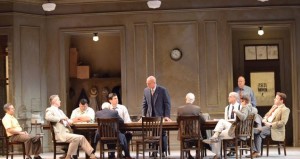 Although Hooper may not have studied theater formally in college, he did observe and learn from every director he's had the pleasure of working with. "Everything I know about theater I've learned from all the directors in the plays in which I've performed. Bob Cacioppo at the Rep, Al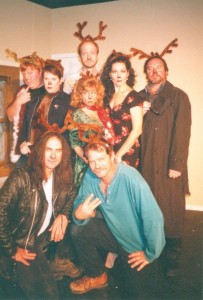 Richter, Bill Taylor at Theatre Conspiracy and Lauren [Drexler], who directed me in The Eight: The Reindeer Monologues."
Some of Stephen's favorite roles include Col. Jessup in A Few Good Men (Peninsula Players), Mittler in Dispatches from Hell (Theatre Conspiracy), and most recently as Juror #2 in Florida Repertory Theater's production of Twelve Angry Men. His favorite directing credits include this season's The Book of Liz (in which he directed Joann Haley, Jim Yarnes, Rachel Burttram and Trevor Beauvois-Kinney ), Three Days of Rain, A Tuna Christmas, Becky's New Car, The Whale (which starred Theatre Conspiracy Producing Director Bill Taylor) and last season's Kayak. Stephen is also a member of Theatre Conspiracy's Playwrights.
November 21, 2016.
RELATED POSTS