Meet 'Gun Show' actor Miguel Cintron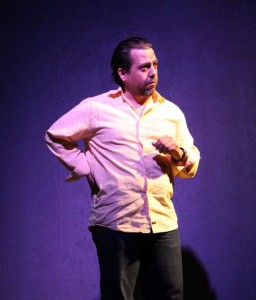 Theatre Conspiracy's production of E.M. Lewis' The Gun Show previews on Wednesday, September 7, and opens Thursday, September 8 at the Foulds Theater inside the Alliance for the Arts. Directed by Theatre Conspiracy Producing Artistic Director Bill Taylor, The Gun Show stars Miguel Cintron, who shares Ms. Lewis' unique perspective and true stories about America's most d angerous pastime with brutal honesty and poignant humor, as if they were his own.
Local audiences last saw Cintron in Lab Theater's production of Yasmina Reza's play, Art, in which Miguel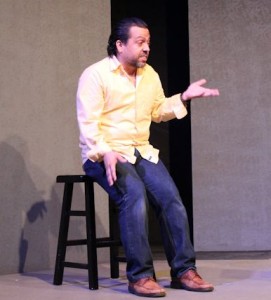 played Yvan, a character who spends most of his time trying to mediate peace between his warring friends, Serge and Marc, and his family and soon-to-be in-laws, who are battling over who's to be included and who gets top billing on the wedding invitations. Although Serge and Marc are the play's protagonist and antagonist, Cintron was so invested in his character that he stole many of the scenes that he shared with castmates Scott Carpenter and Mitch Haley. True, part of that was attributable to his character, who was the clown of the trio. But the rest was a function of his talent and exceptional acting skills.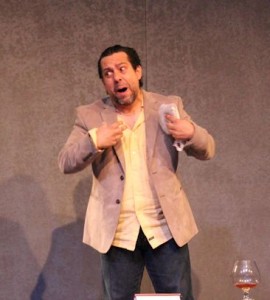 Besides Lab Theater, Cintron has performed at The Herb Strauss Theatre, The Broadway Palm Dinner Theatre, Theatre Conspiracy, and the Florida Repertory Theatre. Some of his favorite shows are Into the Woods, Spamalot, Dirty Rotten Scoundrels, Lucky Stiff, Run for your Wife, Joseph and the Amazing Technicolor Dreamcoat, Aladdin, Buddy, My First Time, Shipwrecked, Shakespeare Abridged, Art of Murder, and The Fantastiks. Miguel has also worked as a standup comedian in Florida and New York.
Posted September 6, 2016.
Related Posts.