Meet 'Taming' actress Shelley Rae Sanders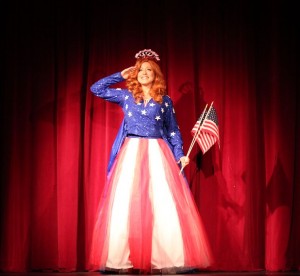 On stage now in the Foulds Theater at the Alliance for the Arts is Theatre Conspiracy's production of Lauren Gunderson's The Taming. Shelley Sanders plays the lead of Miss Georgia, Katherine Chelsea Hartford.
Sanders is nothing short of brilliant. She is mesmerizing as the insanely diabolical Miss America finalist who drugs and kidnaps a lefty environmentalist blogger and a far-right Senate aide, locks them in a hotel room, and forces them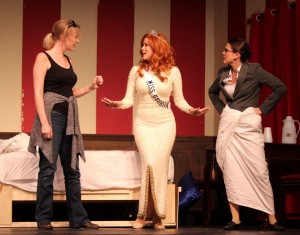 to write an updated version of the U.S. Constitution that works in modern times. And she is riveting during the 1787 Constitutional Convention scene not only as George Washington, but when she changes costumes and reappears Martha Washington and a tipsy Dolly Madison.
That she commands the stage and steals every scene in which she appears is a tribute to her acting skills and presence because her castmates,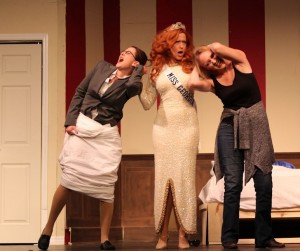 Lisa Kuchinski and Anna Grilli, are no slouches. It's just that Sanders possesses that rare ability to make real what is manifestly unreal, even when dressed in period as G-dub.
To appreciate just how good Sanders is in this play, it's important to harken back to what the playwright intended with this production. "I've always had issues with Taming of the Shrew because its resolution requires that a woman be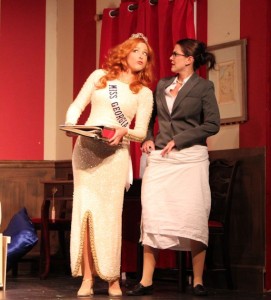 tamed," Gunderson has stated. So in The Taming, Gunderson turns the tables by having a comely beauty queen tame our unwieldly, broken political system by creating a new, workable blueprint for a democracy that must function in a world characterized by high-speed internet, social media and a global economy. In this context, it is not enough for Sanders to merely be a pretty face. She has to demonstrate superior intellect. And she has to convince the audience she is not just a Mensa-level constitutional law graduate, but a Miss Congeniality who has the people skills to broker a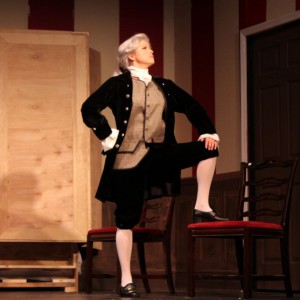 compromise between people who cannot stand the sight and sound of one another because they occupy such polarized extremes. Yes, it's the playwright's task to give this character the appropriate lines of dialogue. But it's the actor's task (with the aid of her director) to supply the bearing, demeanor and elan required of the role. And Sanders pulls off this feat without breaking a sweat (a bodily function she reserves for her lighting round costume changes in the Constitutional Convention scene).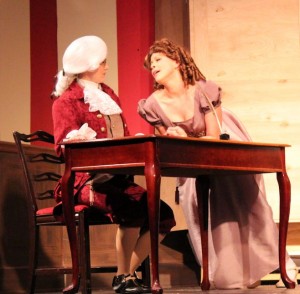 "In Gunderson's hands, the power battle over sexual politics in SHREW becomes the power of gender in politics in THE TAMING; the abuse of a woman in SHREW becomes the abuse of political power in THE TAMING; and the yelling about proper behavior no longer refers to gender roles but to our roles as citizens of our shared country," observes Marin Shakespeare Company Director of Education and Artistic Education Erin Merritt based on her June, 2016 interview of Lauren Gunderson.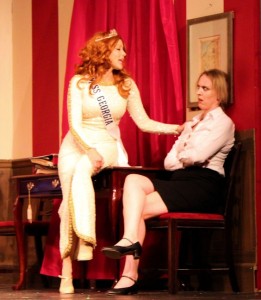 Sanders is no newcomer when it comes to stealing scenes. In Lab Theater's sell-out production of Cabaret three seasons ago, Sanders played the part of one of the Kit Kat Girls. In connection with that role, this reviewer wrote that "in every chorus line and dance troupe there is one girl who stands out, and in Cabaret, that performer is Shelley Rae Sanders, who plays Lulu. Her dancing is crisp and fluid, her acting expressive and evocative, and she turns in a show-stopping unforgettable performance in Two Ladies."
Shelley was last seen by Theatre Conspiracy audiences in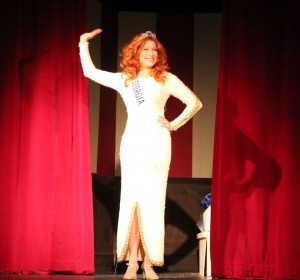 last season's Mr. Burns and will be returning later this season as Margery in the upcoming production of The Country Wife. Some of Shelley's favorite rolls include Cassie in A Chorus Line, Grace Farrell and Lilly St. Regis in Annie, Mona in Chicago, Eileen in Moon over Buffalo, Dinah in South Pacific, Sarah in Table Manners, Fermina in Man of LaMancha, and (ironically) Bianca in Taming of the Shrew.
October 15, 2016.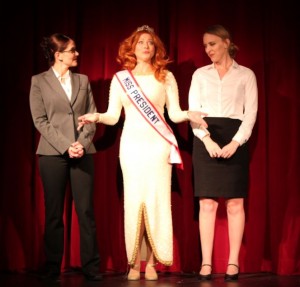 RELATED POSTS.