'The Taming' play dates, times and ticket information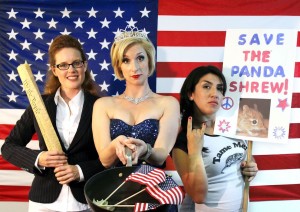 Play:  The Taming
Playwright:  Lauren Gunderson
Opens:  October 14
Play Dates:  October 14, 15, 20, 21, 22, 27, 28 and 29 at 8:00 p.m. and 2:00 p.m. matinee on October 30.
Tag Line:  This year's election is one for the ages!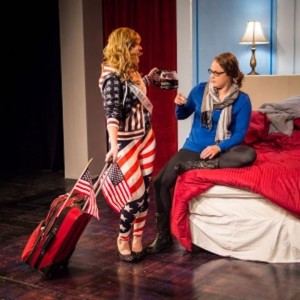 However, it has nothing on The Taming, a crackling modern farce that serves up a heaping dish of good ole Southern fried politics!
Plot: Tweetering, pandashrews, and undying giddiness for James Madison — what else could you expect to find at a Miss America pageant? In this hilarious, raucous, all-female "power-play" inspired by Shakespeare's Shrew, contestant Katherine has political aspirations to match her beauty pageant ambitions. All she needs to revolutionize the American government is the help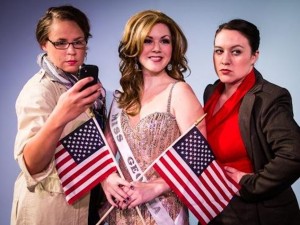 of one ultra-conservative senator's aide on the cusp of a career breakthrough, and one bleeding-heart liberal blogger who will do anything for her cause. Well, that and a semi-historically-accurate ether trip. The Taming hilariously takes on America's overheated political rhetoric, with some surprising truths about our founding fathers, and the passions of three slightly insane women who just might be revolutionary geniuses.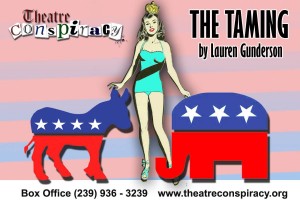 Tickets:  Tickets are $24 or $11 for students with proper ID. Thursday nights are "buy one get one half off." Member Theatre Night is Friday, October 14 and tickets are $15. For tickets, call 239-936-3239 or purchase online at www.theatreconspiracy.org.
Season Subscription Packages: Season subscription packages are also available. Buy 7 shows for $133 ($19 per ticket), 6 shows for $120 ($20 a ticket), or 5 shows for $110 ($22 per ticket).
Posted October 10, 2016.
RELATED POSTS.