Cantrella Canady – the stupendous Lala Lamazing Grace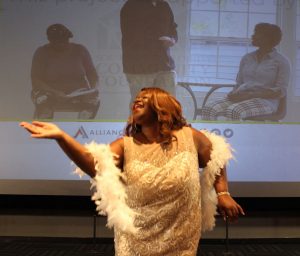 CHANGE is a project focused on getting more minority actors onto SWFL stages in culturally relevant productions. Made possible by a grant from the Southwest Florida Community Foundation, the Alliance for the Arts wrapped up its inaugural 9-week acting course with a graduation production of George Wolfe's edgy The Colored Museum. Among the 11 graduates was Cantrella Canady.
Canady came to CHANGE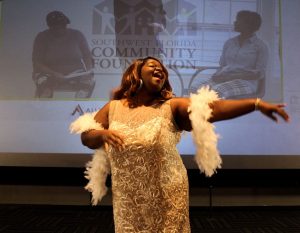 with a pedigree of past performances. Among those was the role of 1927 Blues' diva Ma Rainey in Theatre Conspiracy's groundbreaking production of August Wilson's Ma Rainey's Black Bottom two seasons ago. In The Colored Museum, Canady reprises the role of a singer by the name of Lala – an African-American diva who's made it, but not in Motown, but as a French superstar.
The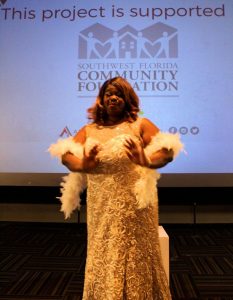 contrast between the two divas couldn't be more poignant. Ma Rainey lived at a time when black performers received a miniscule fraction of what white musicians commanded. While Al Jolson, performing in black face, earned $10,000 per record, Ma Rainey and her band were paid the paltry sum of just $200 for each song they cut. Fast forward to 1986 (the timeframe in which The Colored Museum was written), and the one and only, breathtaking and astounding, stupendously incredible Lala Lamazing Grace is a megastar on a par with Aretha la Franklin and Diane la Ross. But to attain that level of success, she had to deny her origins, create a sophisticated European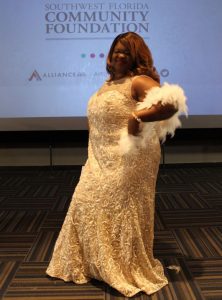 alter ego and change her name from Sadie to a name that flies. "Voila' Lala," and "the rest is la history."
To make his point, Wolfe bifurcates Lala into her current accomplished self and the inner child she left for dead in the backwaters of Mississippi. In fact, Lala confides to the audience that she's come home to "the home I never knew as home; home to you, my people, my blood, my guts."
Wolfe uses hair to underscore the lengths that divas like Lala go to deny their true selves and lineage. "I must tell you this dream I had last night," Lala virtually shrieks after being forced to confront the girl inside, the girl who died.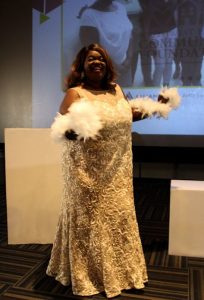 "Yes! I'm caught in this larger than life deep, dark forest of savage nappy-nappy hair. The kinky-kinks are choking me, wrapped around my naked arms, thighs, breast, face. I can't breathe…. And I'm thinking if only I had a machete, I could cut away the kinks. Remove once and for all the roughness. But then I look up and it's coming toward me. Flowing like lava."
Although director Sonya McCarter chose The Colored Museum to showcase the talent of CHANGE's first class of theatrical graduates, "Lala's Opening" required an actor with special gifts. It was a part tailor-made for Cantrella Canaday, and she didn't disappoint. Canady not only has the pipes and range to transition seamlessly from Blues to gospel to jazz, she has the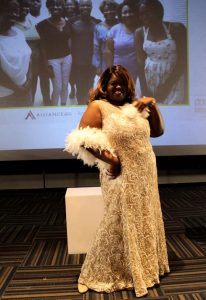 emotional depth needed for the cathartic expose' that comes at the end of this vignette.
Canady did such an excellent job that there wasn't a dry eye in the house when her segment ended. It wouldn't be an exaggeration to say she was tres magnifique, oh so unique and chic-er than chic. But why mince words? Cantrella's a fucking meteorite, n'est pas?
Theatre Conspiracy at the Alliance audiences last saw Cantrella in Lorraine Hansberry's classic, A Raisin in the Sun, in which she shined as Ruth Younger. Before that, she rocked the Foulds Theatre as Ruby in August Wilson's Seven Guitars.
Theatre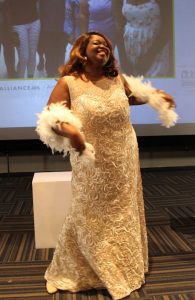 Conspiracy audiences will also recall her performances as Lady Fidget in The Country Wife, Claudia in The Bluest Eye, Quincy/Bart Simpson in Mr. Burns: A Post Electric Play and Lady in Green in For Colored Girls Who Have Considered Suicide When the Rainbow is Enuf.
Cantrella's other acting credits include Sister Act: The Musical (for The Naples Players), Sister Act: The Musical (for Cultural Park Theatre), Mabel in The Pajama Game (for Cultural Park), Deborah Lake Fortson's Body & Sold (for Lab Theater) and The Rauschenberg Project Play (also for Lab Theater). For her portrayal of lounge singer Deloris Van Cartier in Sister Act, Canady won a 2018 Cultural Park Marquee Award for Outstanding Lead Actress in a Musical.
Canady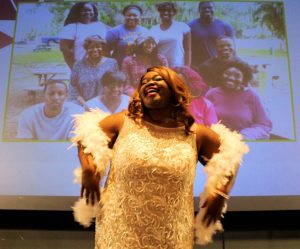 finds staged reading useful for expanding and honing her formidable acting skills. She read the part of Inez Jessie in Soulforce at Florida Gulf Coast University, Smoke during Florida Repertory Theatre's PlayLab staged reading, and more recently, Routine at The Naples Players (January 28) and Julie at Lab Theater (February 12).
Her love of acting has also inspired her to perform in several community theater productions and web skits.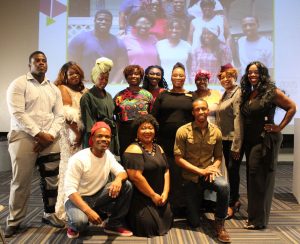 She is enrolled at Florida Gulf Coast University, where she is pursuing her Bachelor of Arts in Communication with a minor in Theater.
Cantrella also currently co-hosts Divine Destiny Radio Talk Show and is a member of the Gospel Jams Radio Show, Jam Crew. Canady also appeared in Angela Pierre and the Motown 4 at Cultural Park Theater in Cape Coral and hosted the "As Small as a Mustard Seed: Planting as We Grow" Benefit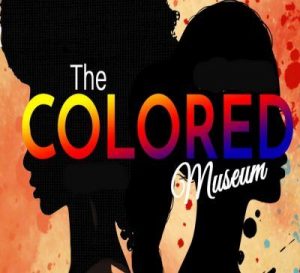 Dinner at The New Beginnings of SWFL. She also understudied for the role of Silvia in Cultural Park Theater's production of All Shook Up.
When she isn't on stage bringing characters to life, Cantrella enjoys her free time by listening to all genres of music, attending live theatrical performances, spending time with her family, and traveling at any opportunity she gets.
Cantrella reports that participating in CHANGE has helped her learn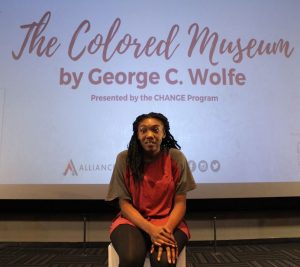 the importance of "incorporating key guideposts in everything we do on stage (and sometimes beyond the stage) … exploration of the 'moment before,' relationships, always finding the drama (only on stage lol) and communication."
August 23, 2018.
RELATED POSTS.