Katherine Oni – 'Permutations'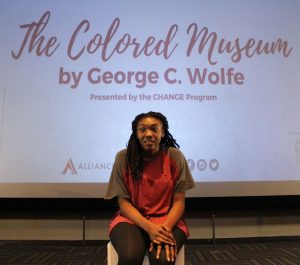 CHANGE is a project focused on getting more minority actors onto SWFL stages in culturally relevant productions. Made possible by a grant from the Southwest Florida Community Foundation, the Alliance for the Arts wrapped up its inaugural 9-week acting course with a graduation production of George Wolfe's edgy The Colored Museum. Among the 11 graduates was Katherine Oni. She plays a simple country girl by the name of Normal Jean Reynolds.
To start,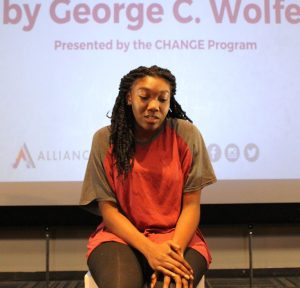 the name itself is intriguing. It begs a comparison to a simple California country girl by the name of Norma Jean Mortensen. Before making herself over into one of the most famous actors of all time, Marilyn Monroe led a fractured, loveless childhood that included stints in foster homes and two years at an orphanage, not because her mother died, but because she suffered from debilitating mental disorder.
Although Wolfe does not provide much explanation or background,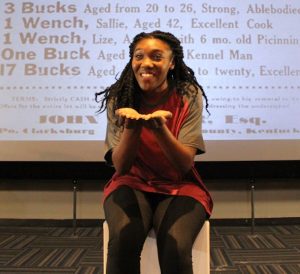 we find out early in Normal's monologue that she too experienced a loveless and neglectful childhood. Worse, her mother regards her as inconsequential. : "My mama used to say, God made the exceptional," says Normal. "Then God made the special and when God got tired, he made me."
While it may come as no surprise to learn that she became pregnant while still a teen, it is rather shocking to discover that she gave birth to a big egg.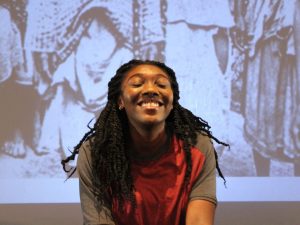 Obviously, the egg could be a metaphor of the ignorance of reproductive matters that was common among African-American teenaged girls during the early and mid-'80s. More cynically, it can be seen as a rightful condemnation of the view still held today by many in mainstream white culture tying poor black women to a proliferation of welfare recipients. But while Wolfe indeed meant for this vignette to be taken as a metaphor, "Permutations" is more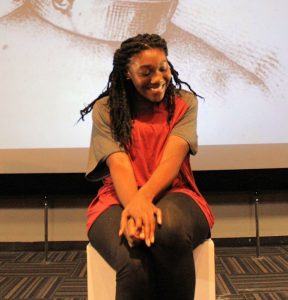 about the diaspora of slavery and human trafficking than it is about anything else. In fact, it is the multiplicity and detachment associated with the conception and rearing of children in slavery that is implicated by the word permutations. As so it is that Normal predicts "Their skin is gonna turn all kinds of shades in the sun and their hair a be growin' every which-a-way . . . 'cause it's not every day a bunch of babies break outta a white egg and start to live."
There's a lot to process in Wolfe's message in "Permutations," but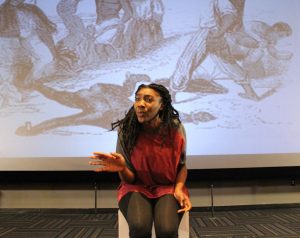 key to presenting it to the audience is for the actor portraying Normal to retain throughout her monologue an air of little girl innocence. Ironically, this was the secret that explained much of Marilyn Monroe's success in the 1940s and '50s. In spite of her sex appeal and voluptuousness, she retained a little girl innocence that made men want to shelter and take care of her. In this same tradition, Katherine Oni exuded such a degree of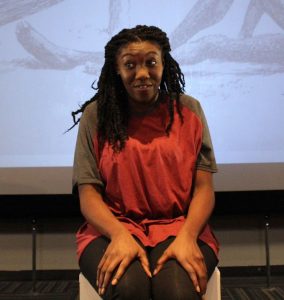 vulnerability and innocence that the audience wanted to hug her, hold her and assure that everything is going to be all right. Sadly, with the present state of black-white relations in American, no such assurances can be given.
Participating in the CHANGE class has taught Katherine to "pull on past feelings, emotions, events and people and connecting it to my character. That has really helped me find a meaning and connecting it to why I'm saying my lines."
August 23, 2018.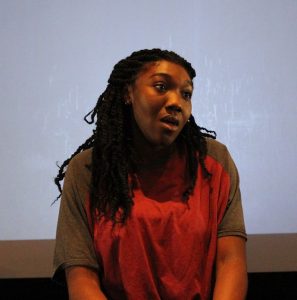 RELATED POSTS.