Tyvon and Julmisse struggle to achieve 'Symbiosis' in 'The Colored Museum'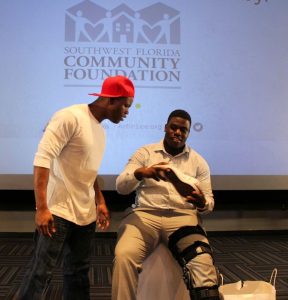 CHANGE is a project focused on getting more minority actors onto SWFL stages in culturally relevant productions. Made possible by a grant from the Southwest Florida Community Foundation, the Alliance for the Arts wrapped up its inaugural 9-week acting course with a graduation production of George Wolfe's edgy The Colored Museum. Among the 11 graduates were Quinton Thomas and Rolf Julmisse.
The Colored Museum consists of a series of vignettes that challenge the stereotypes that have been thrust upon and adopted by African-Americans over the centuries. Nowhere is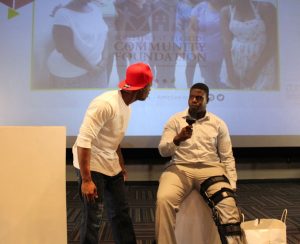 this more center stage than in the vignette that Wolfe titles "Symbiosis."
This scene depicts a young man who has decided to trash everything from his past because it is just too painful to be black. He has decided that the only way in which he can fit into white society and assimilate "American" culture is to metaphorically kill off everything that attaches him to his African-American roots. Only by so doing can he see a path toward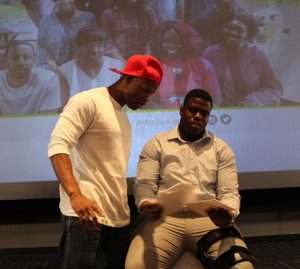 surviving in the "present climate" and being a successful, productive member in the world of white, mainstream America.
But his younger self is bound and determined to stop him in this futile effort. While all people, regardless of race, color or creed, struggle to overcome the negative programs that were installed by their upbringing and past experiences, the past is not so easily destroyed and none of us can effectively leave the past behind. To be sure, this is a recurring theme in George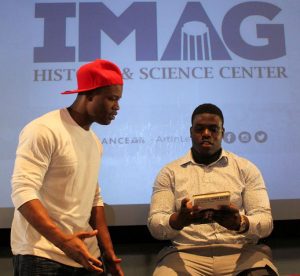 Wolfe's work and reappears at the end of The Colored Museum.
Symbiosis refers to a mutually-beneficial relationship between different people or groups. On one level, the vignette calls into question whether African-Americans can establish symbiosis with white society and culture under the "present climate." But on a personal plane, it satirizes the idea that African-Americans – or any person of color – can establish healthy, well-adjusted lives if they must break their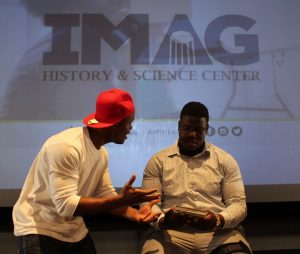 character into pieces and divorce themselves from their own heritage, as signified by their past.
For as painfully poignant as this vignette proved to be, it was not without its comic aspects, and both Rolf Julmisse and Quinten Tyvon did a superb job in bringing out both the serious and humorous components of this portion of the play.
Quinten Tyvon is a local singer and entertainer. Participating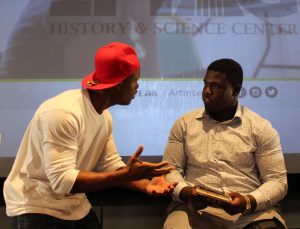 in CHANGE, says Quinten, has "built my confidence as an actor and given me a solid foundation to move forward into the acting world."
Rolf Julmisse is a senior at Fort Myers High School. Participating in CHANGE has taught him "to work through obstacles on the stage to achieve what my character wants." One obstacle that Rolf was compelled to work through was injury. A linebacker,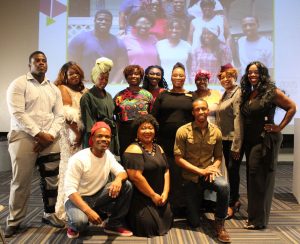 Rolf tore an ACL in practice and had to play his part in a knee brace. But he didn't let that dampen his spirits or undermine his performance. Both he and Quinten Tyvon are welcome additions to the local theater community.
August 23, 2018.
RELATED POSTS.