Veronica Barber – 'Git on Board'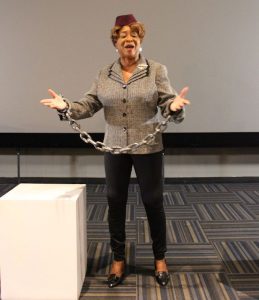 Eleven students graduated CHANGE'S inaugural acting course on Sunday, August 5, giving performances in George Wolfe's controversial play The Colored Museum. Among that group was Veronica Barber, who serves as director of the SKILLS Mentoring program and a Christian Radio Host.
In The Colored Museum, Veronica portrayed Pat, a flight attendant aboard the Celebrity Slaveship. It was Pat's role to induce the Slaveship's passengers during their journey from Africa to Savannah to keep their shackles on at all times and ignore the drumbeat of rebellion that emanated from other parts of the ship.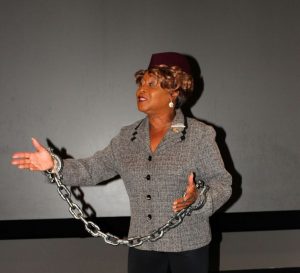 Barber brought humor, depth and passion to the part, looking the audience up one side and down the other as she benevolently explained that the "songs you are going to sing in the cotton fields, under the burning heat and stinging lash, will metamorphose and give birth to the likes of James Brown and the Fabulous Flames. And you, yes you, are going to come up with some of the best dances. The best dances! The Watusi! The Funky Chicken! And just think of what you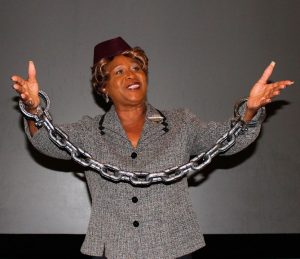 are going to mean to William Faulkner."
Even though the role of Pat comes in the play's opening vignette, it's nevertheless a pivotal part because it sets the tone for the entire play. And in this respect, Veronica acquitted herself well and shows considerable promise for bigger and even more formidable parts going forward.
And that, of course, was the goal of this inaugural CHANGE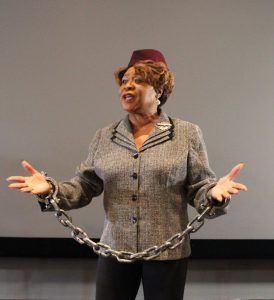 acting course – to augment the pool of talent that is available in Southwest Florida to tackle minority roles in plays like Ma Rainey's Black Bottom, Seven Guitars, A Raisin in the Sun and this season's Joe Turner's Come and Gone.
"Acting is more than memorizing lines," says Veronica of her experiences over the course of the 9-week class. "Learning how to bring a character to life regardless of the line has given me a more in depth understanding of why it's important to know what you want and how to get it."
Look for Veronica Barber in future productions, whether at Theatre Conspiracy or Southwest Florida's other theater companies. She has the talent to go as far as she wants.
For more on CHANGE, read here.
August 7, 2018.