Here's what you'll see during Ghostbird's 2018-2019 season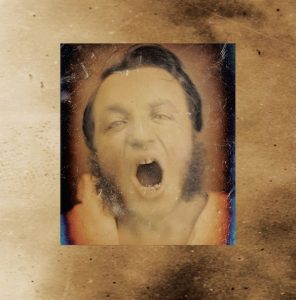 Continuing its commitment to new, site-influenced theater, Ghostbird Theatre Company's seventh season will feature an Art Walk installation at The Franklin Shops on First, a return to the Happehatchee Center in Estero, a train-themed connection of vignettes at the restored Atlantic Coastline Railway station in the downtown Fort Myers River District and Ghostbird's popular 24-Hour Festival in the Sidney & Berne Davis Art Center.
The Art Walk installation at the Franklin Shops is titled Windowstories.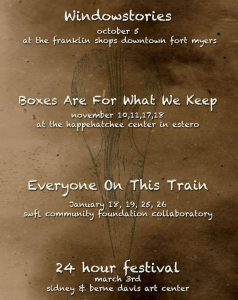 A formative work devised by Barry Cavin and Katelyn Gravel, this installation piece will take place October 5.
On November 10 & 11 and 17 & 18, Ghosbird returns to the scene of The Chicken Play at the Happehatchee Center in Estero with Boxes Are For What We Keep, a trilogy of brief plays by Barry Cavin. Three permutations of one tale plumb the interior dimensions of containers with which we hold what is dearest but also trap what we can never fully possess. These are love stories for all those old children who remember how the cherished butterfly dies.
On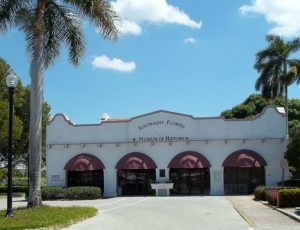 January 18 & 19 and 25, & 27, 2019 Ghostbird descends on the site of the restored ACL Railway Depot (and former home of the Southwest Florida Museum of History) adjacent to the new fire station on Jackson Street to perform Everyone on this Train by James Brock. This site-specific play is a set of loosely-connected vignettes that follow a Chechen refugee by the name of Ilya and her mother as they travel on a series of trains through Russia,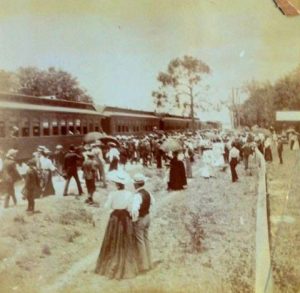 Idaho, Manhattan and, of course, Fort Myers, encountering circus performers, modern-day commuters and old railway porters along the way. The play contains a companionable mix of original song and fantasy. [Ghostbird is producing Everyone on this Train in collaboration with the Southwest Florida Community Foundation.]
Ghostbird's seventh season culminates with the 24 Hour Festival on March 3 at the Sidney & Berne Davis Art Center in the downtown Fort Myers River District. Once again, Ghostbird's annual competition and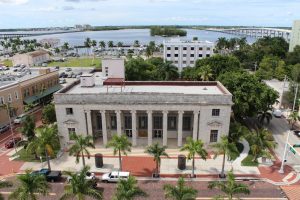 celebration of creativity will pitch local visual artists, filmmakers, theatre artists, dancers, musicians, and poets in a frenetic race against the clock to create unique works based on prompts given by Barry Cavin.
Ghostbird is the only theater company in the American South devoted to site-specific work. In this regard,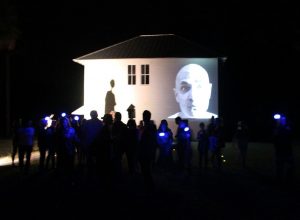 Ever striving to partner with just the right venue for each of its productions, Ghostbird has been recognized as one of the ten best companies in Florida for live theater.
"We continue to grow artistically with our on-site collaborations," observes Artistic Director Barry Cavin. With shows such as ORBS! and The Perfect Island of Dr Teed (held at Koreshan State Historic Site in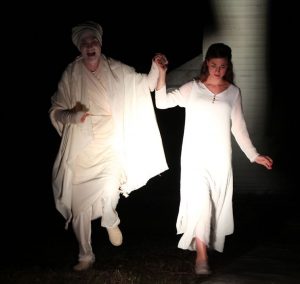 Estero), Writing Shadows, Catastrophe and Ibb (performed in the historic Langford-Kingston Home in downtown Fort Myers), Antigonick (staged at artist Marcus Jansen's warehouse-based art studio in Fort Myers), No. 27 (performed at Bonita Springs' historic Shangri-La Springs) and The Chicken Play (performed outdoors under the super moon and inside the screened pavilion at the Happehatchee Center in Estero), Ghostbird has taken tremendous strides in just the past three seasons in developing performances in which the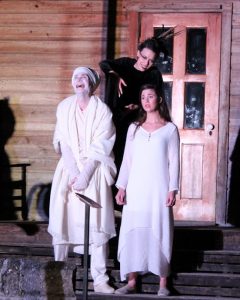 play and setting converse with one another.
The experimental theatre company takes its name from a swamp-dwelling ivory-billed woodpecker once thought to be extinct, but which has been spotted sporadically over the past two decades. Drawing upon the elusiveness, mystery and magic of its namesake, Ghostbird Theatre seeks to draw its audiences into those deep spiritual woods where they can discover loss, beauty, communion, reconciliation and hope.