Theatre Conspiracy opens 25th season with world premiere of 'Repossessed'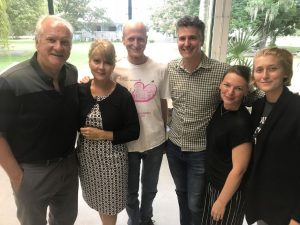 Theatre Conspiracy at the Alliance for the Arts kicks off its 25th consecutive theater season with a world premiere play, Repossessed by Greg Lam. Winner of Theatre Conspiracy's 19th annual Janet and Bruce Bunch New Play Contest, Repossessed explores questions of morality and authenticity amidst a world of rapidly changing technology and the ethics that come with it.
The play follows a couple by the name of Rich and Gretchen, who seem to have the ideal marriage until they learn that their personalities and memories were manufactured by a mysterious biotech company, which installed them into their brains. When they suddenly lose the ability to afford this service, the company repossesses their lives.
"Greg has created a piece of theatre that will generate conversations about who we are and who should be able to alter thee traits that make us who we are," says Artistic Producing Director Bill Taylor. "The show is well-written and moves quickly. Our audiences will enjoy this world premiere experience."
Directed by Stephen Hooper, Repossessed boasts an all-star cast of Rachel Burttram, Brendan Powers, Lauren Drexler, Joann Haley, Tamicka Linstead, Patrick Day and Lisa Kuchinski.
There will be a talk-back with playwright Greg Lam and producing artistic director Bill Taylor after the Aug. 18 performance. Talkbacks allow the audience to ask questions and express their thoughts and ideas on issues revealed in the play through the form of meaningful discussion. The opportunity is included with ticket purchase.
RELATED POSTS.