'Joe Turner' most spellbinding, emotionally rich of August Wilson's Century Cycle plays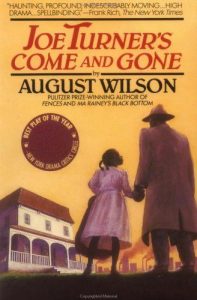 Next up at Theatre Conspiracy at the Alliance for the Arts during this, it's silver anniversary season, is Joe Turner's Come and Gone by August Wilson and directed by Sonya McCarter. The show opens March 1.
Joe Turner's Come and Gone is the third installment of August Wilson's Century Cycle Series that Theatre Conspiracy has produced. The Cycle charts the African-American experience through each decade of the 20th century. One of the most spellbinding and emotionally rich plays in Wilson's Century Cycle, Joe Turner's Come and Gone shines a light on newly-freed men and women determined to take their rightful place in a new American world.
This segment opens in a Pittsburgh boarding house in 1911. Owners Seth and Bertha Holly play host to a makeshift family of people who come to stay – some for days, others longer. The residents include proprietors, an eccentric clairvoyant with a penchant for old country voodoo, a young homeboy up from the South and a mysterious stranger searching for his wife. Each denizen of the boarding house has a different relationship to a past of slavery as well as to the urban present.
"A large amount of the history taught about African-Americans centers on slavery, but very little is taught about the years following slavery," says director and Alliance Community Engagement Coordinator Sonya McCarter. "August Wilson does a beautiful job of bringing to light the triumphs and tragedies of a people searching for a place to fit in a post slavery world. As with most of Wilson's work, this play has universal appeal as it highlights a person's search for identity, love and a place to call home."
The production only runs through March 17, so reserve your seats early.
February 17, 2019.
RELATED POSTS.