Rob Green is spiffy killer in Theatre Conspiracy's 'Murderers'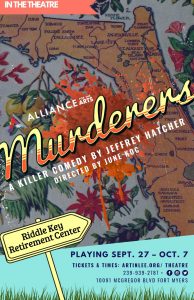 Theatre Conspiracy at the Alliance for the Arts continues its 25th consecutive theatre season with a world premiere play: Murderers by Jeffrey Hatcher. Directed by June Koc, Shelley Sanders, Rob Green and Carolyn England star as the most delightful killers you'd ever want to meet!
Rob Green plays Gerald Halverson, a man who marries his mother-in-law to save $5 million in estate taxes after Spiffy learns she doesn't have long to live. But when they move into the Riddle Key Retirement Center in Florida to wait out Spiffy's final days, old friends, new faces and a surprise twist threaten to spoil Gerry's carefully laid-out scheme … unless he can pull off the perfect murder.
Gerald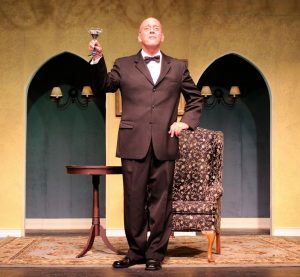 Halverson is a change-up for Green, who's been victimized in his two most recent roles. For example, he last appeared as Archangel Gabriel, the celestial object of divine wrath in David Javerbaum's An Act of God. Prior to that, it was Randall Kenneth Jones as Baby Jane Hudson who tormented Rob's wheelchair-confined Queen of the Hollywood Melodrama Blanche in the outrageous Lab Theater summer spoof Whatever Happened to Baby Jane: A Parody of the Horror. It was a career-defining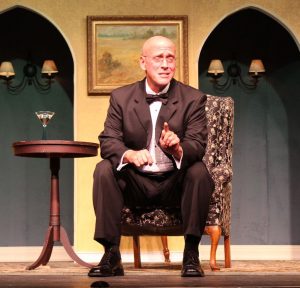 role that still has local theater-goers jawing. Of course, Rob had no choice but to make the most of the campy role. After all, notes Rob, "how many chances do you get to play a part made famous by Joan Crawford?"
Prior to Baby Jane, Rob was in Burn This, a show that marked Rob's return to the boards after a whopping three-year hiatus. Prior to his lay-off, Rob was Hal Robinson in The Graduate, Biff Loman in Death of a Salesman and various roles in Miss Witherspoon,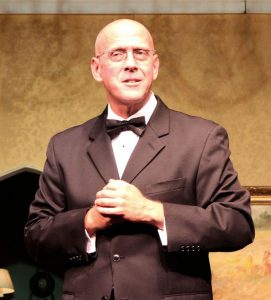 Polish Joke, Cat on a Hot Tin Roof, and Picasso at The Lapin Agile.
September 21, 2018.
RELATED POSTS.