Shelley Sanders gets her revenge in Theatre Conspiracy's 'Murderers'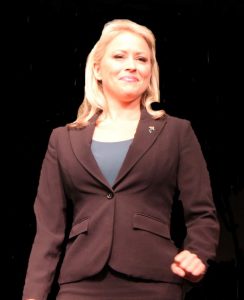 Theatre Conspiracy at the Alliance for the Arts continues its 25th consecutive theatre season with a world premiere play: Murderers by Jeffrey Hatcher. Directed by June Koc, Shelley Sanders, Rob Green and Carolyn England star as the most delightful killers you'd ever want to meet!
Sweet, smiling Shelley is the Riddle Key Retirement Community sunny receptionist. An inveterate fan of crime novels, she takes it upon herself to rid the residents of the contractors, slimy salesmen, stick-fingered home health care workers, Bible-thumpers and conniving heirs who prey upon the sick and elderly. But then the avenging angel comes face to face with her idol, a famous mystery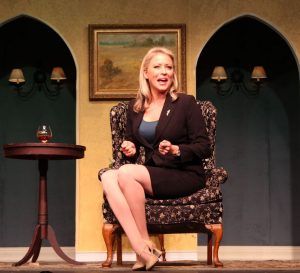 writer who has retired to Riddle Key. In the end, only one of them will survive.
Sanders seems drawn to dark comedies. She last appeared on stage in the role of ex-con lounge singer Bitsy Mae Harling in Del Shores' cult classic Sordid Lives. It was a role for which she had to learn to play the guitar.
Shelley last appeared on the Foulds Theatre boards as Margery Pinchwife in Theatre Conspiracy's production of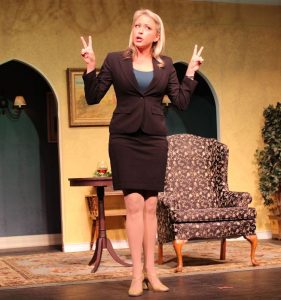 The Country Wife. Before that, she starred in Theatre Conspiracy's prescient political comedy The Taming, where she played an insanely gorgeous Miss America finalist who drugs, kidnaps and forces a lefty environmentalist blogger and a far-right Senate aide to write an updated version of the U.S. Constitution that eliminates the electoral college.
Other acting credits include Mr. Burns, The Post-Electric Play, Lulu in Cabaret, Cassie in A Chorus Line, Grace Farrell and Lilly St. Regis in Annie, Mona in Chicago, Eileen in Moon over Buffalo, Dinah in South Pacific,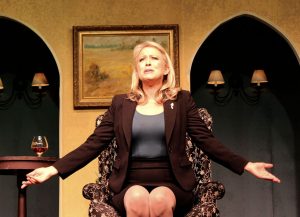 Sarah in Table Manners, Fermina in Man of LaMancha, and Bianca in Taming of the Shrew. She has also appeared as Suzette in Don't Dress for Dinner and Anna in The Closer, as well as Lab's 24-Hour Playwriting Challenge.
September 21, 2018.
RELATED POSTS.