'Repossessed' denoted by strong cast, great acting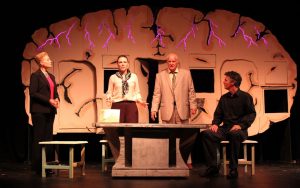 Repossessed opened this past Thursday in the Foulds Theatre at the Alliance for the Arts. It is difficult enough to review a play once. But a play like this deserves two – the first to address the panoply of intriguing themes built into the play by 2017 New Play Contest winner Greg Lam and the second to draw attention to the incredibly fine performances turned in by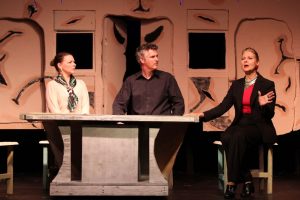 the cast of Repossessed, particularly by Rachel Burttram, Brendan Powers, Lauren Drexler and Patrick Day.
For as brilliant as Repossessed may be from a thematic perspective, the play is not without its flaws. For example, Lam utilizes a series of flashbacks to illustrate the choices faced by his characters.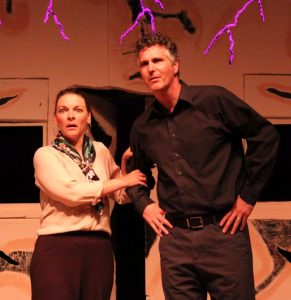 As a consequence, the play contains a number of short and choppy scenes. While these changes in timeline and narrative are easy to follow, serve to build tension and advance the storyline, they nevertheless present significant challenges to director and cast in terms of maintaining the play's cohesion and continuity.
At the same time, characterization takes a back seat to choice and denouement. It's not that Gretchen and Rich Warner are two-dimensional. They display a range of predictable reactions to the impending loss of their identities and lives – from fear to guilt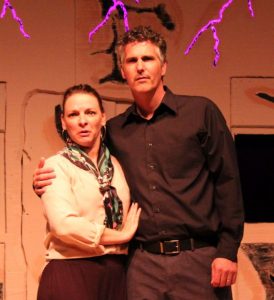 and remorse. However, because the impending loss of the identities and the relationship they've fashioned assumes paramount importance in Lam's storyline, he gives us very little information about the interior lives the Warners lead and  what it is that they now stand to lose.
To further complicate this production, expositive soliloquys often pre-empt exchanges between and among the characters. It requires actors with mad, crazy skills – perhaps even a background in Shakespeare – to convincingly pull off scenes such as these.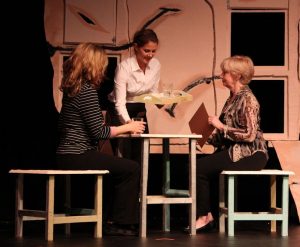 Fortunately, director Stephen Hooper assembled a cast that possesses the right mix of training, experience and ability, particularly in the guise of Lauren Drexler, Brendan Powers, Rachel Burttram and Patrick Day.
Just how capable are this fearsome foursome?
Consider this. Joann Haley and Lisa Kuchinski are talented, experienced actors in their own right. Haley has recently starred as Sister Elizabeth Donderstock in The Book of Liz,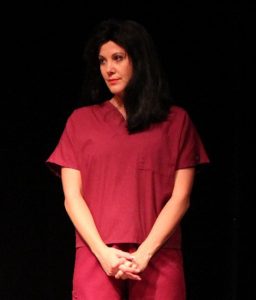 played Latrelle Williamson in Sordid Lives and was Dr. Gertrude Ladenberger in 33 Variations. [You will find her full profile here.] And not only did Kuchinski play Sister Mary Theresa in Cultural Park's production of Sister Act last season, her performance was so stellar that it earned her a Marquee Award for Outstanding Featured Actress in a Play or Musical. [You can read her profile here.] But both accepted non-speaking, or virtually non-speaking, roles in Repossessed just for the chance to watch Burttram and Drexler work through the parts of Gretchen Warner and Regina Hastings both in rehearsal and live on stage.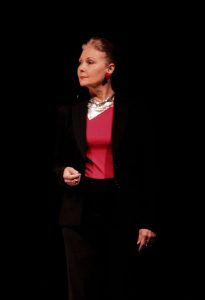 (With commitment like this, it's small wonder that Haley and Kuchinski continue to improve their craft with each new performance.)
Drexler is simply amazing as Regina Hastings. Her character is not just a cold, assessing corporate executive willing to sacrifice huge chunks of her own personality for the good of her company, she's a product of the services and technology her company sells. Drexler conveys these attributes by keeping her countenance devoid of emotion and projecting an eerily serene, disturbingly robotic monotone. In fact, she's so good at both that Leonard Nimoy would have taken notice were he still alive.
And yet,
Drexler finds a way to retain an underlying humanity in a situation that is anything but humane. She tells the Warners that repossessing their identities is not personal (think that one through). It's strictly business. But she nevertheless harbors a soft spot for Gretchen Warner and her dilemma. True, it's the playwright who provides Hastings with an unexpected human side that the audience can connect with and celebrate. But it requires an actor of exceptional depth and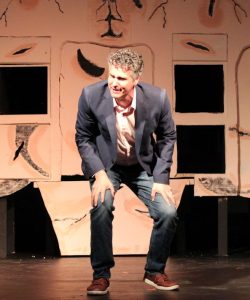 understanding to conceal the humanity lurking beneath Hastings' placid and impersonal veneer until it's time to share it with Gretchen Warner and, derivatively, the audience looking on.
When Brendan Powers last took to the Foulds Theatre stage, he earned the scorn and disdain of female audience members for his portrayal of the distastefully patriarchal Torvald Helmer in Theatre Conspiracy's production of Henrik Ibsen's A Doll's House. Here, his character is far more sympathetic and accessible. Rich Warner is a deeply flawed individual. He loved his first wife so deeply, that her loss nearly destroyed him.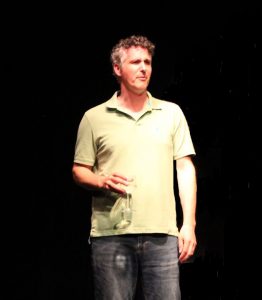 And while his love for Gretchen may be the product of his programming, he's clearly torn by what's about to happen to her once her identity is repossessed. But in the final analysis, Rich Warner is a man consumed by fantasy. In his business, he creates alternate realities for his customers to enjoy. And like his customers, he prefers the fictional world of fantasy to real life. He has become his avatar. Powers doesn't just make his character believable. He lets us see the scared little boy that lies at the heart of Rich Warner in spite of all the programming he's received.
Of course, Repossessed is all about a caterpillar once known as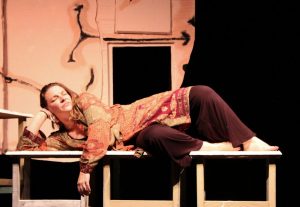 Crystal Shankman who emerges from a techno-cocoon provided by Regina Hastings and her company to become the refined and cultured Gretchen Warner. Who better to play a role like this than the incomparable Rachel Burttram?
There's this natural, down-to-earth quality to this actor that enables her to inhabit a tramp-stamped, trailer trash, Natural Light swizzler like Crystal Shankman – who's not too
dissimilar from Burttram's Doublewide character, Sharon Starkey, an assistant manager at the local Wal-Mart who, because of chronic no-shows, spends endless shifts working the cash register. Ironically, Burttram's character in Repossessed faces a similar fate, although the cash register this time is ensconced inside the local Startbucks.
But what playwright Greg Lam asks of Burttram is not to merely portray a girl with no education and correlatively limited prospects. Crystal is simply a baseline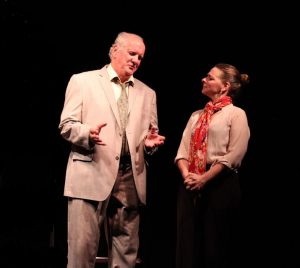 against which to compare her artificially-created construct Gretchen Warner. No, what Lam asks of Burttram is to portray the sheer terror Gretchen would experience as she contemplates the loss of her neurologically-enhanced persona and concomitant return to her former life. Burttram does this so convincingly that she serves as tragic stand-in for anyone facing a similar loss of identity, whether due to stroke, Alzheimer's of some other loss or diminution of cognitive ability. On a broader plane, Gretchen Warner even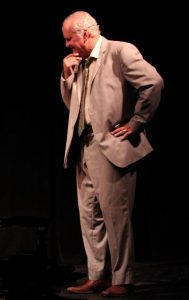 serves as a profound marker for anyone undergoing a sea change in career and lifestyle – from divorcee or disabled or retiring professional athlete to an individual who, for whatever reason, loses the ability to practice their trade or profession.
Burttram never disappoints. Hers is yet another premiere performance.
And then there's Patrick Day.
As was true with the character of Nils Krogstad in Henrik Ibsen's A Doll's House, Day again portrays a seemingly sinister and unscrupulous antagonist – this time, a lawyer by the name of Ted Naughton. But just as Krogstad's gruff and ruthless exterior was a cover for a sad and sentimental man, Naughton is not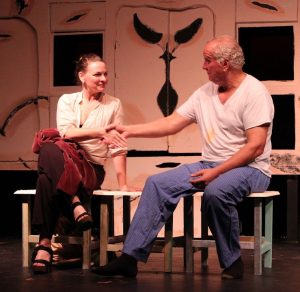 what he appears to be at first blush. In the context of Repossessed, Day's job is to provide a counter-balance to the manufactured people who populate the fictional world created by Regina Hastings and her company. It's a weird task to ask of a lawyer, of all people. But then again, Day strikes a chord for the everyman as he lounges in his empty home in black socks, boxers and a white tee-shirt stained orange with Cheetos residue.
Finally, newcomer Tamicka Armstrong does a good job with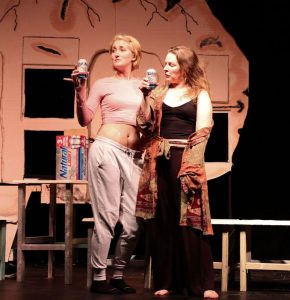 the character of Cindy. Her scenes with Burttram are very enjoyable and her performance portends much success as she tackles bigger and more challenging roles.
Repossessed has much to offer, but at the head of the list is great acting.
See you at the show.
August 21, 2018.
RELATED POSTS.