'Repossessed' raises dozens of modern-day themes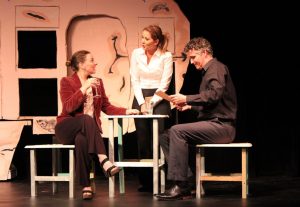 Repossessed opened this past Thursday in the Foulds Theatre at the Alliance for the Arts. In addition to powerful acting by some of the area's best thespians, the play boasts one of the more intriguing themes to cross the boards in Southwest Florida since, perhaps, Theatre Conspiracy's production of Jennifer Haley's The Nether in 2016.
The play follows a couple by the name of Rich and Gretchen Warner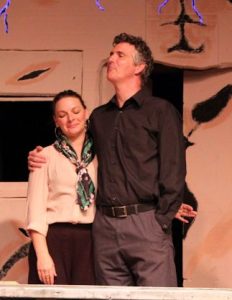 (played by Brendan Powers and real life wife Rachel Burttram). Their seemingly ideal marriage is about to be tested when Rich's business fails and he's forced to declare bankruptcy. But the loss of Rich's income and business status doesn't just portend an immanent change in their lifestyle. They discover to their alarm and chagrin that their personalities and memories were manufactured by a mysterious biotech company, which installed into their brains via computer chips. Since they can no longer afford to maintain the programming, the company must now repossesses the chips, and with them, their lives.
It's Westworld turned on its ear.
In the popular HBO series,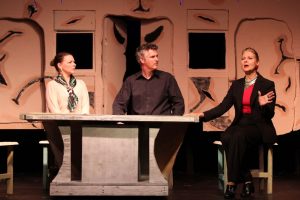 a mysterious company creates an elaborate Old West amusement park filled with androids (known as "hosts") who are used and abused by customers (known as "guests") who live out sex-and-violence fantasies revolving around being or killing bad guys with no real world consequences. Aided by their experiences of loss, pain and memory (the latter surreptitiously aided by their human creator,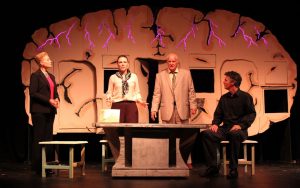 Dr. Robert Ford (played by Anthony Hopkins)), the androids begin to develop consciousness and the concomitant need to rebel against their handlers.
In Repossessed, humans embrace android-like technology to eliminate loss, remove pain and obliterate huge swaths of their memory in order to attain an altered,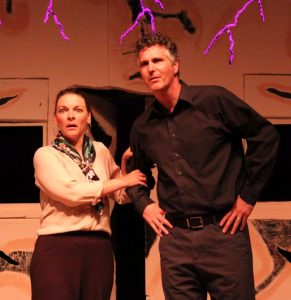 artificial state of consciousness – also without consequence unless, like Rich and Gretchen, you lose the financial ability to maintain the programming.
It's an interesting premise that brings to mind the Goldman Dilemma, in which over half of the Olympic athletes surveyed biannually between 1980 and 1990 admitted that they'd take a performance-enhancing drug that guaranteed them a gold medal even if it would kill them within five years. Pro athletes would strike the same quasi-Faustian bargain.
But you need venture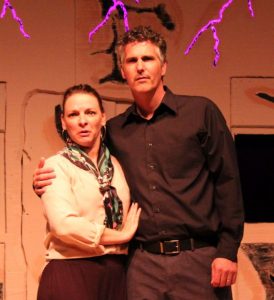 no further than to the world of cosmetic surgery to acknowledge people's willingness to utilize pharmaceuticals, supplements, surgery and science to create slimmer, sexier more nimble versions of themselves. According to statistics recently released by the American Society of Plastic Surgeons, there were 17.5 million surgical and minimally-invasive cosmetic procedures performed in the United States in 2017, a 2 percent increase over 2016. The statistics also reveal Americans are turning to new and innovative ways to shape their bodies, as minimally invasive cosmetic procedures have increased nearly 200% since 2000.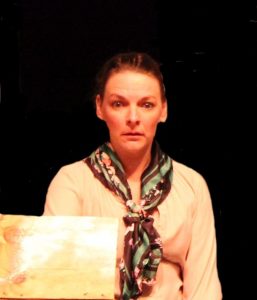 But with cosmetic surgery, the patient knows what was done and is cognizant of the changes to their body, if not their body image. In Repossessed, the construct (the term for the new-and-improved post-surgical persona) is oblivious to the fact that they had anything done.
In a highly-entertaining early scene, the Warners' attorney Ted Naughton (Patrick Day) brokers a meeting with the company's CEO Regina Hastings (chillingly played by Lauren Drexler), who not only tells Rich and Gretchen they are constructs, but shows them video clips of what each of them was like before their personalities and capabilities were altered and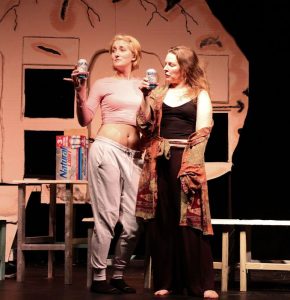 enhanced via chips surgically implanted into key centers of their brains. Without spoiling the plot, suffice it to say that Rich and Gretchen are far superior versions of their former selves.
But what will they be once the chips are removed? While they will remember all that they've been, seen and done since their surgeries, they will revert to their old lives and lifestyles.
Gretchen, in particular, stands to lose the most.
Once stripped of her college education,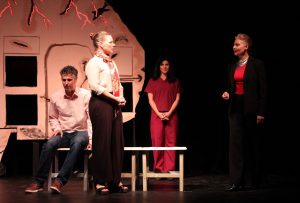 fluency in French and appreciation for fine art and fine wine, she will return to life behind the cash register at her local Starbucks, enjoying her off-hours kicking back with an ice cold Natural Light.
The balance of the play vacillates between the present and pre-surgical past to throw light on the dilemma Rich and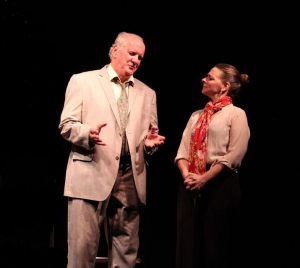 Gretchen face as they contemplate the reversion to their former selves and the choices they're willing to make to avoid that result. It would be grossly unfair to divulge the denouement. It's really necessary to experience the ending of the play for yourself.
However, it bears noting that playwright Greg Lam was as true to the construct he created in Repossessed as the writers and executive producers of Westworld are to that show. Lam could have chosen other, more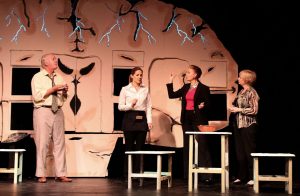 humanistic or innately romantic endings for his play. (After last Saturday night's talk-back with the playwright, local director/actor Anne Dowd suggested once such interesting and appealing possibility.) But the choice Lam made for what happens to Rich, Gretchen and even Regina Hastings has the benefit of internal consistency, and he's to be applauded for that.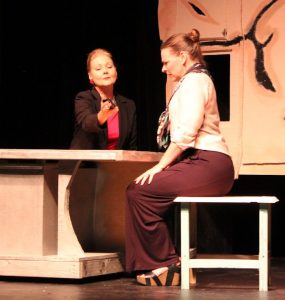 Lam reports that he's not a philosopher. He drew the inspiration for Repossessed from an NPR Science Friday episode on gene replacement experiments being done to prevent mosquitoes from carrying diseases such as malaria or West Nile virus. But Mary Shelley implications aside, Repossessed can be viewed as a present-day exploration of views expressed by Friedrich Nietzsche in the 1880s and '90s that the self is something that has to be constructed or achieved rather than being part of the basic metaphysical equipment with which each of us enters this world.
The oft-misunderstood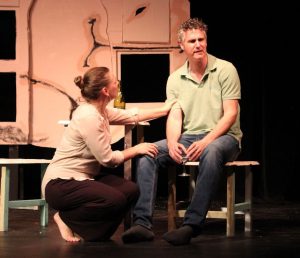 German philosopher regarded self-fashioning or self-creation as the most important thing any of us can do. He challenged all people to construct novel, interesting, and culturally-resonant individual lives. But in Nietzsche's view, obstacles, setbacks and "resistance" played a key role in shaping each person's drive toward ambition and achievement. Or as Kelly Clarkson sings in Stronger, "what doesn't kill you makes you stronger." [No, wait. Nietzsche said it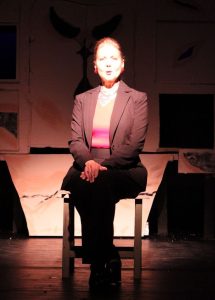 first in Twilight of the Idols.]
But what if it didn't have to be that way?
What if training, hard work and delayed gratification could be relegated to the scrap heap of old, worn-out concepts?
What short-cuts would you take to create a better you, to obtain a better, more fulfilling life?
Better still, should you?
To paraphrase the Bard, to do or not to do? Does one choice lead to us being more authentically human and the other to becoming more robotic or android? Or is that just false equivalency?
Greg Lam is a playwright, screenwriter and board game designer who lives in the Greater Boston area. He is the creator of the Boston Podcast Players, which presents excerpted readings of new full-length plays by and interviews with Boston playwrights. He is the co-founder of the Asian-American Playwright Collective. His works have been produced by Company One, Fresh Ink Theatre, Pork Filled Productions, The Depot, The Boston Theatre Marathon, The Pulp Stage, Ixion Theatre Ensemble, Eagle and Beaver Ensemble, The Best of All Possible Podcast, Aching Dogs Theatre Company, Shadow Boxing Theatre and others.
August 20, 2018.
RELATED POSTS.