Liz Abbott makes triumphant return to the stage in 'Women in Jeopardy'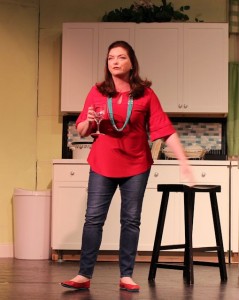 Theatre Conspiracy kicked off its 2017-2018 season on August 11 with Women in Jeopardy by Wendy McLeod. Modern, fun and flirtatious, Women in Jeopardy tells the story of three divorced women whose close friendship is put to the test when one of them gets involved with a man who is not only weird, he's the main suspect in the disappearance of a beautiful young dental hygienist. And their fear for their besotted friend turns into out-and-out alarm when they discover that he is intending to take their friend's buxom but clueless 21-year-old daughter on a camping trip in an undisclosed location somewhere in the isolated confines of Caramel Canyon outside of Salt Lake City. Joining Stephanie Davis (Liz),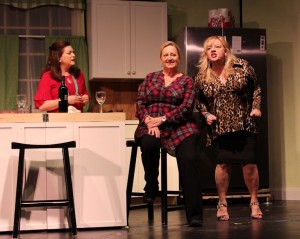 Karen Goldberg (Jo), Miguel Cintron (Liz's suspect boyfriend), Holly Hagan (Liz's daughter, Amanda) and Chance Cintron (the daughter's off-again-on-again boyfriend) in the cast is Liz Abbott, who plays Mary.
Abbott plays the part of Mary to perfection. Although Women in Jeopardy is a comedy with farcical elements, she adds just enough drama to the role to make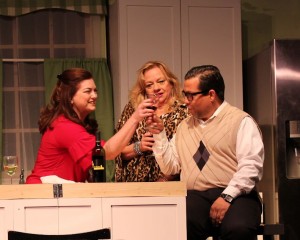 her character believable. While she disapproves of her friend's boyfriend and thinks her bestie has lost her mind, she knows she should be supportive and that she'd expect the same if the roles were reversed. Nonetheless, as Mary, Abbott spends a good chunk of the first act rolling her eyes and furtively shooting her other friend, Jo, incredulous looks. B
Abbott finally gets to amp up the comedy during her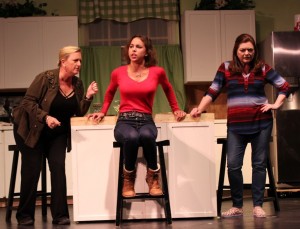 interactions with the policeman who is investigating the hygienist's disappearance and her encounters with Amanda's snowboarding boyfriend, who mistakes Mary's concern for Liz's daughter as cougarly lust for somethin' a little younger. To say she wasn't flattered is an understatement. When he finally leaves her kitchen, she doesn't bother to pour herself another glass of wine, opting to chug directly from the bottle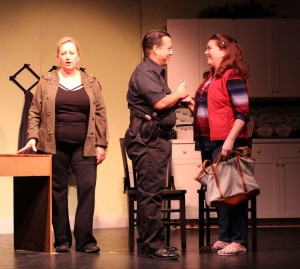 now that her dignity's been all shot to hell.
Abbott has been absent from the local theater scene for some time, with good reason. She's been playing a much more meaningful role as mother of two children, Liza Jayne (10) and Jack (8). But theater was never gone from her heart, and she interrupted her self-imposed "Trophy Wife" years to host events, do voiceover work and take part in staged readings that included The Vagina Monologues, Love, Loss and What I Wore and Florida Repertory's
PlayLab readings of Rainbow's Return and George Washington's Teeth.
When Liz was youthful, eager and hungry, states the Theatre Conspiracy Playbill, she graced the stages of Old Schoolhouse Theatre, The Broadway Palm Dinner Theatre and Florida Rep (where she starred in Veronica's Room) after her return to Southwest Florida from New York City, where she waited tables and learned that the phrase "struggling actress" is not a cliche.
Theatre Conspiracy audiences still remember her last appearance on the Foulds Theatre boards with her talented husband, Greg Longenhagen, in A.R. Gurney's Love Letters.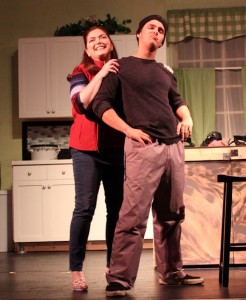 If she was rusty during her performance, she concealed it well. Based on the quality of her acting, Southwest Florida audiences can only hope to see more of her going forward.
She dedicates her performance in Women in Jeopardy to anyone just starting out in their career ….
August 12, 2017.
RELATED POSTS.