Here's what's happening March 8-14
Wanna know what's happening in the arts, independent film or theater here in Southwest Florida? Well, this is what's going down March 8-14, 2017:
Alliance accepting submissions for annual All Florida Juried Exhibition (03-14-17)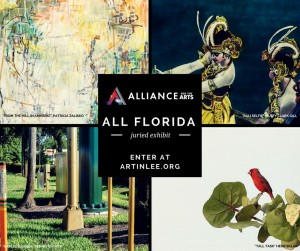 The Alliance for the Arts is calling for artists who wish to exhibit their work in the 31st Annual All Florida Juried Exhibit. The show opens on June 2 with a 5:00-7:00 p.m. reception in the main gallery.
Submissions will be accepted in sculpture, painting (including oil, acrylic, collage, water color and mixed media), photography, prints and drawing. An entry may consist of 1 to 3 artworks. All entries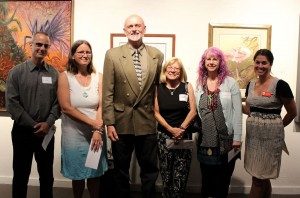 must be submitted online no later than April 29, 2017. Artists can download the prospectus at www.ArtInLee.org/AllFlorida.
This year's juror is Kimberly Riner, who is is the visual arts director at the Averitt Center for the Arts. Riner recently opened the Averitt Center's new visual arts facility, The Roxie Remley Center for Fine Arts, and is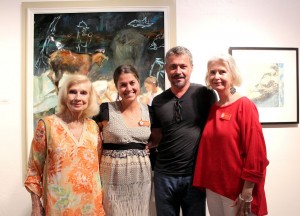 actively involved in growing the art scene in the Statesboro area, where she has worked with ArtsFest, Summer Studios and Creative Art Studio.
Riner has held faculty positions at Georgia Southern University and Ogeechee Technical College. She received her Master of Fine Art from Georgia Southern University in 3D art with an emphasis in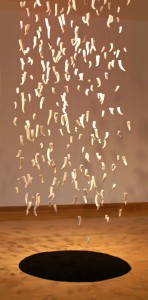 ceramics. Her artwork has been exhibited both nationally and internationally and is held in private collections. Exhibition venues include: Mason City, IA; Atlanta, GA; North Charleston, SC; Lake City, SC; Cochran, GA; Sheffield, England, UK. She previously exhibited at the Alliance for the Arts in January's Changing States exhibition.
Riner will be on hand during the opening reception to present awards including $1,000 cash for Best In Show, a 2nd Place $250 gift certificate for Golden Paints, $100 cash for 3rd place and Jurors Choice Award(s) of Alliance for the Arts membership(s). There will be a conversational gallery walk and talk with the juror at 10:00 a.m. on Saturday, June 3.
The All-Florida Juried Exhibition is the Alliance's longest running exhibit.
For more information, call 239-939-2787 or visit www.ArtInLee.org.
__________________________________________________
Carmen Crussard directs 'Play On!' for Lab Theater (03-14-17)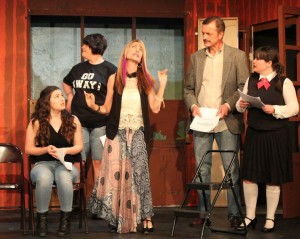 On stage at Lab Theater is the riotous comedy Play On! Carmen Crussard directs.
At The Lab, Carmen directed Scrooge TV: A Modern Christmas Carol two seasons ago. Before that, she directed The Second Book of Ruth. Carmen has also served as Assistant Director for Frankie and Johnny in the Clair de Lune and participated in Lab Theater's popular 24-hour Playwriting Project for two consecutive years.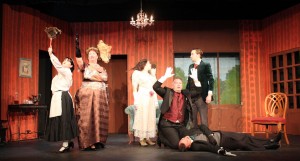 Other directorial credits include Thoroughly Modern Millie Jr., Wizard of Oz and The Addams Family.
For the rest of this story, read here.
_________________________________________________________
Naples Art District hosts 3rd Saturday ART ALIVE! March 18 (03-13-17)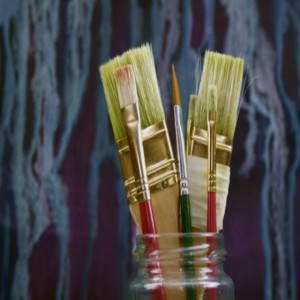 The Naples Art District hosts 3rd Saturday ART ALIVE on March 18. This two-day event features artist demonstrations and new exhibits in 26 independent artists' studios and galleries in the Naples Art District (north of Pine Ridge Road and west of Airport Road). The paint's still wet. Creative juices are flowing. It's a unique opportunity to meet some of Southwest Florida's most interesting artists where they make it all happen. Participating galleries and studios are open on Saturday from 11 a.m. to 4 p.m.
_________________________________________________________________________
Downtown Naples Festival of the Arts invades Fifth Avenue South March 18 & 19 (03-13-17)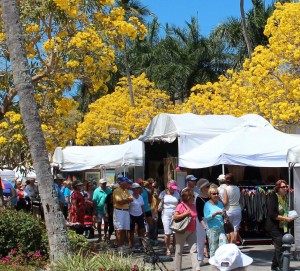 The 29th Annual Downtown Naples Festival of the Arts takes place on Saturday and Sunday, March 18 and 19. Last year, 230 artists from around the country were selected for their artistry and craftsmanship to exhibit in this show. Together, they brought an extensive variety of artworks ranging from original oils and acrylics on canvas, panel and galvanized aluminum to watercolors on paper, 2D and 3D mixed media collages, limited edition prints, photography,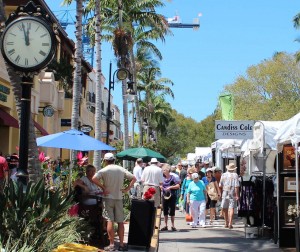 digital art, metal sculpture, wood carvings, ceramics, hand-crafted jewelry and fashion accessories, leather works, fine furniture and home decor items, and numerous great gift ideas. The fair takes place on Fifth Avenue South, which is cordoned off to vehicular traffic during the two-day show.
____________________________________________________________________________
Art After Dark returns to Crayton Cove on March 19 (03-13-17)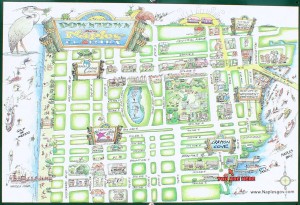 A short drive away on in Crayton Cove, Art After Dark takes place from 6-9 p.m. on Saturday, March 18 as well. This Art-Walk-type evening gives art enthusiasts and collectors an exceptional opportunity to combine fine art with fine dining alongside picturesque Naples Bay. Participating galleries include Phil Fisher Gallery, Nora Butler Designs, Earth & Fire,
Random Acts of Art, Art Gallery Old Naples2, and Guess-Fisher Gallery: Nestled In The Cove. These galleries band together to present an evening of art receptions, refreshments and live music which serve as companionable backdrop for viewing the newest works in the Crayton Cove galleries. Many art lovers complete their evening of art viewing with drinks and a sumptuous meal in one of Crayton Cove's outstanding eateries, Bleu Provence, Chez Boez, or The Dock and Boathouse Restaurant
________________________________________________________________________
'Horseshoe Theory' chosen Best Short Film by Fort Myers Film Festival (03-13-17)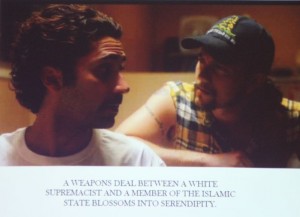 Love was in the air at the Broadway Palm Dinner Theater last night when the Fort Myers Film Festival announced that Horseshoe Theory was the winner of its Best Short Film award. The two-actor film is billed as a romantic comedy between a white supremacist and a member of the Islamic State whose weapons deal blossoms into serendipity during a sudden rainstorm.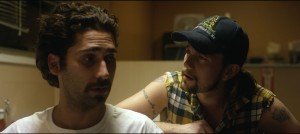 Arriving at a local diner, a neo-Nazi by the name of Bobbo is seated in the booth next to a swarthy-looking Jihadist by the name of Abdul. They meet when the waitress mixes up their order. "Where's my damn bacon" Bobbo demands. "I didn't order no damn bacon,"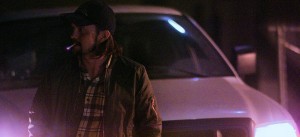 Abdul barks, as the waitress scurries back and switches their plates. Seated back to back with a Muslim, Bobbo's no longer interested in his meal. "There's a revolution coming," he snarls menacingly, "and you're on the wrong side of it," he warns
the Muslim patron, who promptly tells him to fuck off.
You will find the remainder of this story here.
___________________________________________
Meet 'Play On!' actress Kayleigh O'Connell (03-13-17)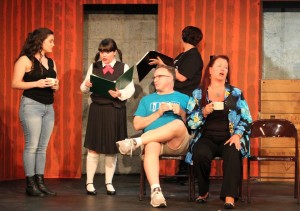 On stage at Lab Theater is the riotous comedy Play On! In the role of Marla Smitty Smith is Kayleigh O'Connell.
Kayleigh's character is a 17-year-old high school student who is distracted during her theater company's outrageously long rehearsals by worries over upsetting her mom by coming home so late and preparing for a biology exam the next day.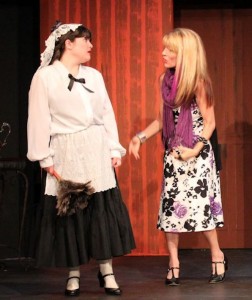 And like the other cast members, she's having difficulty memorizing lines and cues because of the incessant changes being made to the script by the self-absorbed playwright with whom they are working. In an ironic twist, when the rest of the cast goes blank on opening night and begins ad libbing their way through the show, Smitty is the only one who remembers her lines and cues as the play's feather-dusting maid.
_____________________________________________________________________
Reflecting on selection of Robert E. Lee as namesake on 128th anniversary of county's creation (03-13-17)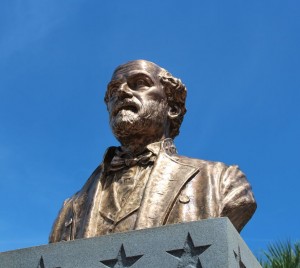 Every public artwork tells a story. Most of the public artworks in downtown Fort Myers tell tales about the town's early development and history. This is true of the bust of Robert E. Lee which sits atop a granite pedestal in the median on Monroe Street across from the Art League of Fort Myers.
On this day in history in 1887, the governor signed into law a bill creating Lee County. It was Capt. Francis Asbury Hendry who led the move to name the new county after Lee, "a distinguished and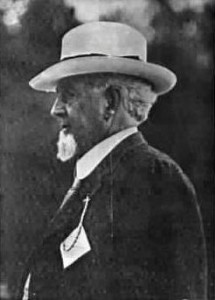 laudable character whom the world has esteemed and delights to honor." Hendry was one of the leading citizens and largest employer in the growing hamlet of Fort Myers, which at the time had less than 1,500 residents. Lee was certainly one of the most famous people in the South in 1887, and was even highly regarded in the North. Hendry was an admirer who'd fought on the side of the Confederacy during the Civil War.
At the dedication of the Robert E. Lee Monument on January 19, 1966, FA's great-grandson, Lloyd G. Hendry, shed light on the nomination process. "My great-grandfather made the motion to name that new county in honor of the South's noblest son – Robert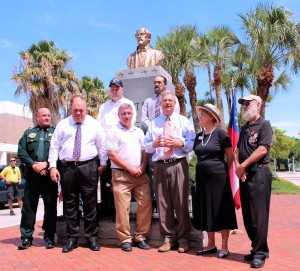 E. Lee. To that motion there was no debate – only instant and wild acclaim." Many of the town's males were Confederate veterans. Appomattox and Reconstruction had not quenched the feverish loyalty and deep devotion of these men for the Confederacy's commander-in-chief. It was in these times, and in this spirit, that Lee County selected and chose its namesake."
Lee's nomination was fitting, relates Lloyd Hendry. "Lee county was born in a spirit of revolt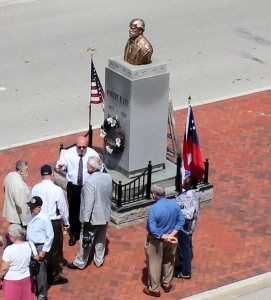 and secession. Mass meetings were held; eloquent speeches around burning lighter-knot fires were made. Revolt was in the air. Old grievances were pulled out and rubbed raw anew." You see, this area split away from Monroe County after the Commissioners sitting in Key West refused to allocate funds for the construction of a new schoolhouse after a group of rowdy boys burned the existing one to the ground in an attempt to get out of having to go to school. But the Commissioners didn't just turn down Fort Myers' request for funds. They told the delegation sent from Fort Myers that if they were so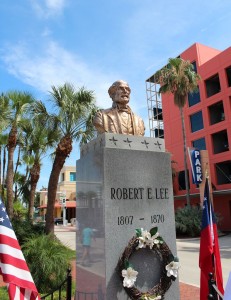 careless as to permit a splendid $1,000 building to be destroyed by fire they didn't deserve consideration. "[And so,] resolutions were adopted and petitions were signed. And when the Legislature next met, Lee County was born."
Of course today, Lee is viewed by many as a symbol of lingering racism. But it was not Lee's position on race or even his successes and failures on the battlefield that Francis Asbury Hendry hoped the citizens of Lee County would remember 129 years later. "[My great-grandfather] spoke of [Lee's] iron integrity – his utter devotion to truth. This quality of Lee is legendary. [H]he spoke of Lee's deep and abiding concern for his fellowmen. These are the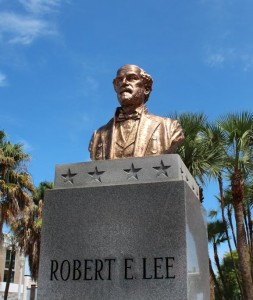 qualities the man who named Lee County hoped the people of Lee County would emulate." To bring these concerns into the 21st Century, all that's needed is to apply these sentiments to all people, regardless of race, creed, gender or sexual orientation.
So that's why Lee was chosen as the new county's namesake. But there's so much more to the Robert E. Lee Memorial than just the naming rights to the county. Just click here to learn more about the bronze bust and the gray Georgia granite pedestal on which it sits.
____________________________________________________________________
Meet 'Play On!' actress Rachael Dominguez (03-12-17)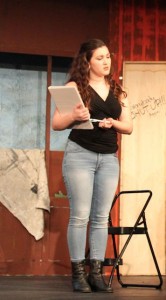 On stage at Lab Theater is the riotous comedy Play On! In the role of Violet Imbry is Rachael Dominguez.
Violet Imbry is a community theater newbie. She has joined the cast of Murder Most Foul, a murder mystery penned by Phyllis Montague, who is allowing the theater to produce one of her plays free of charge. But Violet is struggling. She misses cues, forgets lines and confuses the names of the other characters with the actors who are playing their roles. And the odds of her getting it all straight before opening night aren't great because Ms. Montague arrives at each new rehearsal with sheaths of changes. Everyone's struggling and tensions are high. But there is one saving grace.
You will find the rest of Rachael's profile here.
______________________________________________________________________________
Fort Myers Film Festival closes tonight with champagne and dessert awards ceremony (03-12-17)
The five-day celebration of independent films and documentaries culminates tonight with a champagne & dessert awards ceremony that takes place at the Broadway Palm Dinner Theatre. Join all of the local and international filmmakers as they toast the winners and pay tribute to all the participants in Southwest Florida's premiere film festival. The Broadway Palm is located at 1380 Colonial Blvd. Fort Myers, FL. [Tickets are only $15.]
And here are the links to the nearly 40 articles, profiles and other posts appearing on Art Southwest Florida regarding the film, filmmakers and actors on display during the 7th Annual Fort Myers Film Festival:
_______________________________________________________________________________
See who wore what at the Fort Myers Film Festival's opening night gala (03-12-17)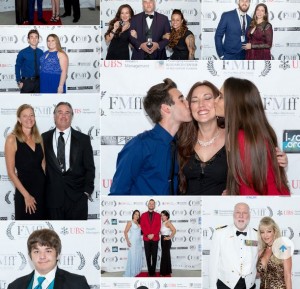 It's one of the most highly-anticipated events of the year. The women are decked out in jewels and floor-length gowns. Their escorts sport tuxes and dress suits. It's the Fort Myers Film Festival opening night gala, and one of many highlights of the evening is the red carpet that lines the walkway between the Bob Rauschenberg Gallery and the Barbara B. Mann Performing Arts Hall on the Lee campus of Florida SouthWestern State College. It's a place for selfies. The papparazzi is on hand to snap pix as well.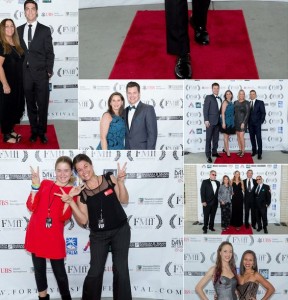 And the photos are in!
Be sure to check out Fort Myers Film Festival's photo gallery from the opening night gala at the Barbara B. Mann Performing Arts Hall. So, envy the dresses. Admire the tuxes. And check out the after-party, which sizzled with festival attendees that made SWFL look amazing!
_______________________________________________________________________
Lab Theater's 'Play On!' is laugh riot (03-11-17)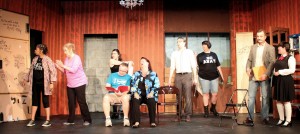 We are all creatures of habit to varying degrees, and whenever someone or something threatens our routine, chaos is likely to ensue. This is the premise that underlies Rick Abbot's Play On!, which opened over the weekend at Lab Theater in the River District.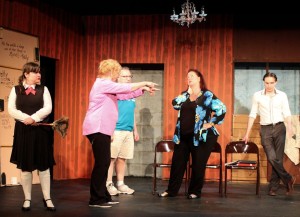 Play On! is a play within a play in the time-honored tradition of Shakespeare's Hamlet and A Midsummer Night's Dream, Anton Chekhov's The Seagull, Tom Stoppard's Rosencrantz and Guildenstern Are Dead, and, more recently, Alan Bennett's The Habit of Art. In Abbot's case, this tried-and-true theatrical device is used to parody self-consumed playwrights who sacrifice realistic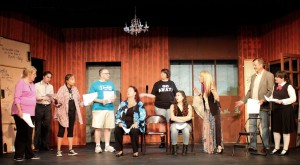 dialogue and plotting on the altar of pedantic literary constructs such as alliteration, consonance and Dues ex Machina.
Read here for the rest of this review.
_______________________________________________________________________
FGCU's 19th Annual Student Juried Exhibition opens in main gallery March 23 (03-10-17)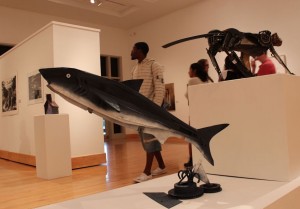 Art by students working in sculpture, drawing, digital media, printmaking, painting and ceramics goes on exhibit on March 23 in FGCU's 19th Annual Student Juried Exhibition. Demonstrating students' accomplishments and experiments, up to 70 works of art will be featured. The jurors for the exhibition are local artists, curators and art professionals.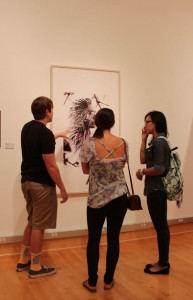 The 19th Annual Student Juried Exhibition is sponsored by FineMark National Bank & Trust, U. Tobe, Thomas Riley Studio, the Smith Family Foundation of Estero, The Beaches of Fort Myers and Sanibel, and the State of Florida, Department of State, Division of Cultural Affairs and the Florida Council on Arts and Culture.
The exhibition will be displayed in the main gallery at FGCU. It opens with a 5:00-7:00 p.m. reception, with presentations being made at 6:00 p.m. The exhibition will remain on view through April 6, 2017.
_________________________________________________________________
On view now in FGCU ArtLab is exhibition devoted to typography and creative writing (03-10-17)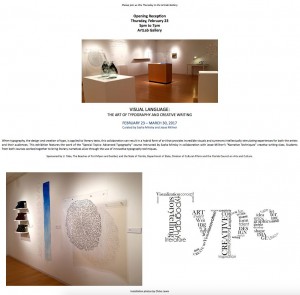 Typography is defined as the design and creation of type, and when it is applied to literary texts, this collaboration can result in a hybrid form of art that provides incredible visuals and summons intellectually stimulating experiences for both the artists and their audiences. On view now through March 30 in the FGCU ArtLab is Visual Language: The Art of Typography and Creative Writing, an exhibition that features the work of the Special Topics Advanced Typography course instructed by Sasha Minsky in collaboration with Jesse Millner's Narrative Techniques creative writing class. Students from both courses worked together to bring literary narratives alive through the use of innovative typography techniques.  The ArtLab gallery is located in Library East on the Florida Gulf Coast University campus.
________________________________________________________
Naples Art Association accepting Camera USA 2017 entries (03-10-17)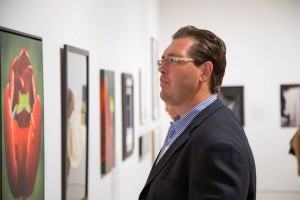 The Naples Art Association is inviting all photographers residing in the United States to submit one photograph taken in the United States after January 1, 2013 for Camera USA™ 2017: National Photography Exhibition and Award. The photography exhibition will be installed in the Naples Art Association's Frederick O. Watson Gallery at The von Liebig Art Center from June 19
through August 4, 2017. The Naples Art Association is located in Naples, Florida in the heart of the 5th Avenue South shopping, dining and entertainment district.
A maximum of 50 photographs will be included in the Camera USA™ 2017 exhibition. One photographer will be nominated for the $5,000 National Photography Award.
The deadline for entries is March 22. Jury results will be posted on Juried Art Services on April 17.
For more information and applications, please click here.
________________________________________________________________
Exhibition celebrating island and southern culture enters final days at Arsenault Studio & Banyan Arts (03-10-17)
JUMP UP! A Celebration of Island & Southern Culture at Arsenault Studio & Banyan Arts Gallery closes March 14.
Paul's watercolor painting, JUMP UP, was the inspiration for this show. The painting depicts spontaneous dancers Arsenault encountered on Dominca while island-hopping through the Caribbean. Similar carnivals and festivals take place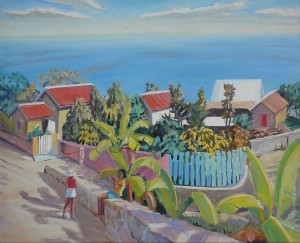 throughout the Caribbean and the world. The exhibition will feature the works of five artists, most of whom will be present.
The show contains new island landscapes, abstracts and musicians by Arsenault, James P. Kerr and Jean-Daniel Dornevil. Originally from Haiti, works portray the captivating richness of his culture.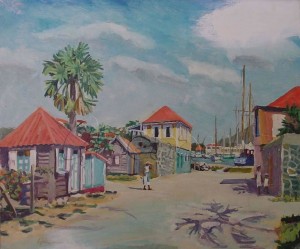 Paul is excited to welcome Juan Diaz to the gallery. Born in Columbia, Juan moved to Naples in 1995, where he was quickly discovered and mentored by Jonathan Green. Juan's paintings, drawings, and live art performances explore the complexities of life and the search for freedom, respect, and equality.
Columbus, Georgia artist Brian Perrymond is making his gallery debut in JUMP UP. Brian is an
artist and an illustrator with a passion for painting historical sports figures as well as jazz musicians. Many of his incredible portraits will be showcased.
Arsenault Studio & Banyan Arts Gallery features paintings by contemporary impressionist Paul Arsenault. The name "Banyan Arts" reflects the nearly century-long history of prominent visitors who have stayed at the Arsenault enclave under the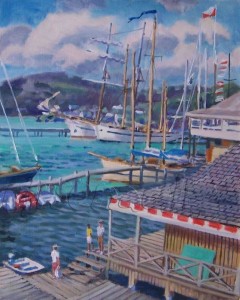 canopy of Naples' oldest banyan tree. Through the years, these luminaries have included Emil and Robert Gruppe, Robert Frost, John Ruthven, Richard Segalman, James P. Kerr, and many others. Just as the creative energy has been shared at their home, so does the Banyan Arts Gallery expand the artistic connection between Arsenault and visiting artists. In addition to revolving exhibits, the seven-showroom gallery is also an ideal venue for receptions, openings, lectures, and fundraisers. ​In addition to Arsenault's work, Banyan Arts Gallery is currently representing the work of impressionist James P. Kerr and landscape photographer Clyde Butcher.
Arsenault Studios and Banyan Arts Gallery is located at 1199 Third Street South in Old Naples. For more information, please visit www.arsenaultgallery.com or telephone 239-263-1214.
_______________________________________________________
Naples' Sheldon Fine Art welcomes grande dame of contemporary impressionism tonight (03-09-17)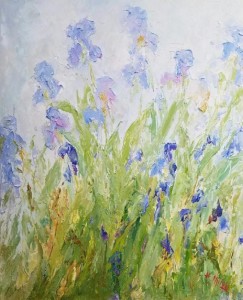 Sheldon Fine Art is welcoming the "grande dame" of contemporary Impressionist palette knife painting, Henrietta Milan, to the gallery with a meet-and-greet reception from 6:00-8:00 p.m. tonight. Milan's colorful floral landscapes have been delighting collectors for over 60 years.
Sheldon Fine Art Gallery is located at 460 Fifth Avenue South, Naples, FL. For more information, please telephone 239-649-6255.
____________________________________________________________________
SoCo's 2nd Saturday event continues March 11 (03-09-17)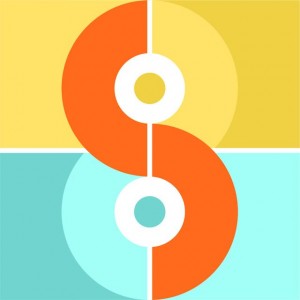 Another artful night will be held at the SoCo cultural district on March 11. The monthly SoCo Second Saturday event began last October and continues to grow, with more cultural venues, new vendors and a redesigned map; which includes all of the night's attractions and the details on how to win a great prize by one of the participating SoCo stops. On Saturday, March 11, patrons of the arts, collectors, art enthusiasts and all attending guests will have the chance to win another great prize, just by enjoying the SoCo Cultural Venues and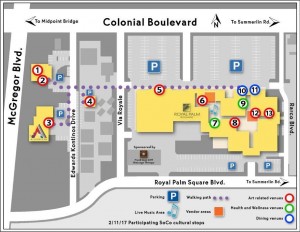 collecting the very popular Golden Tickets from each location. The winner will be announced one week after the event.
This month's participating SoCo Cultural Venues are:
Alliance for the Arts
DAAS CO-OP Art Gallery & Gifts
Gittleman Studios
Ocasiocasa
The Union Artist Studios and Crafted
Catch 22
Vamped Up Vintage
Yoga Bird
Living Vine Café
A Swedish Affair
Broadway Palm Dinner Theater
Suzanne's Dance Fitness
Studio Os Urbanos
In addition, more than 10 vendors, located at various locations of the Royal Palm Square will be offering their handmade, fine crafts during the event. There will be live musicians at the Art Loft in the Alliance for the Arts campus and at various locations of the Royal Palm Square.
The event starts at 5:00 p.m. and ends at 10:00 in the evening. This is a monthly event, rain or shine. The SoCo Cultural District location encompasses the block south of Colonial Blvd, from the corner of McGregor Blvd to Summerlin Rd, to Royal Palm Square Blvd and back to McGregor Blvd. More information about the event and vendor opportunity information is available at socoswfl.com.
____________________________________________________________________
Naples Artcrafters celebrates 50 years with craft show in Fleischman Park (03-09-17)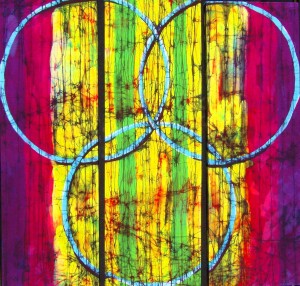 On Saturday, March 11, the Naples Artcrafters Fine Art & Craft Show celebrates 50 years as an arts organization with a craft show this Saturday, March 11, in Naples' Fleischmann Park. South. Naples Artcrafters is committed to promoting excellence in arts and crafts and to supporting established artists, craftspersons and students by providing a venue for the display and sale of their work in a beautiful setting. The fair and parking are free.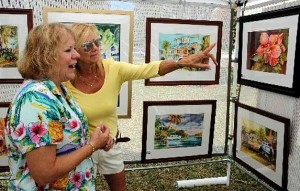 The Naples Artcrafters was founded 50 years ago by a local group of artists and craftsmen who shared a vision of an organization that brought together contemporary arts and crafts. They provided a local venue to sell the work of their juried members.For more information, please visit http://www.naplesartcrafters.com.
_________________________________________________________________________
'Painting + Object' on view through April 6 at Thomas Riley Studio (03-09-17)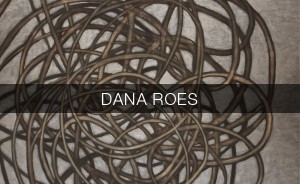 Thomas Riley Studio's next exhibition is Painting + Object. It features the work of three esteemed artists, Pamela Sunday, Dana Roes and Terry Krumm. The opening reception takes place tonight from 5:30-8:00 p.m. The exhibition runs through April 6, 2017. Thomas Riley Studio is located in the heart of the Naples Design District at 26 10th Street South, Naples. For more information, please telephone 239-529-2633.
_____________________________________________________________
Fort Myers Film Festival opens tonight with red carpet gala and two extraordinary films (03-08-17)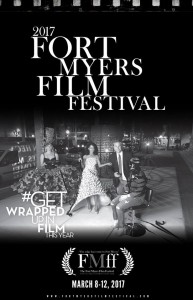 The 7th Annual Fort Myers Film Festival kicks off Wednesday night (March 8) with a red carpet gala and the screening of not one, but two films: Black Tide, a documentary film by Steven Johnson that explores the challenges faced by those who look to maintain clean Southwest Florida waters from water mismanagement and the influence of big business and politics, and Invisible Point, a poignant 5-minute film depicting a small group of females who dance with passion and vision in Iran, a land where dance is prohibited because it's considered a sin. Over the course of the next four and a half days, FMff will show more than 70 features, comedies and short films. Download the 2017 Fort Myers Film Festival Program Guide and start planning the films and events you simply can't live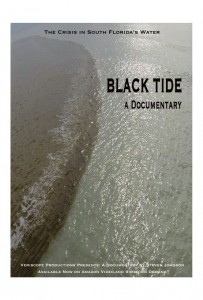 without! And so that you'll know what the films are about, Art Southwest Florida has previewed more than a dozen films, filmmakers and the actors who appear in them. Just click on the hyperlinks to get the information that interests you most:
___________________________________________________________________
Why you should see 'Women of Maidan' during Fort Myers Film Festival (03-08-17)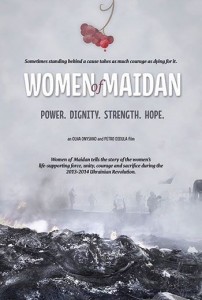 At 6:00 on Thursday, the Fort Myers Film Festival screens a 66-minute U.S. made documentary titled Women of Maidan. The film portrays the critical role that females have played and continue to play in the Ukrainian struggle for democracy and freedom. Through moving interviews and scenes that reveal the depth of Ukrainians' desire for freedom, Women of Maidan shines a light on the emotions, empathy, and steely resolve of the heroic women who supported a movement that began as a student protest in the Fall of 2013 and became known as the "Revolution of Dignity."
The rest of this story is here.
_______________________________________________________________________
Cole Porter's 'Anything Goes' is on Broadway Palm main stage through April 1 (03-08-17)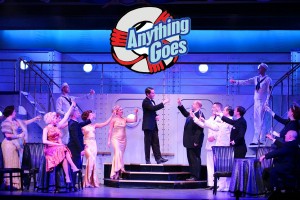 Is it possible for a musical written 83 years ago to still have relevancy today? With Cole Porter's Anything Goes, Broadway Palm Dinner Theatre answers this question with an emphatic yes! The classic musical is on the main stage at Broadway Palm through April 1:
__________________________________________________________________
Romantic comedy 'Things My Mother Taught Me' opens tomorrow Off-Broadway Palm (03-08-17)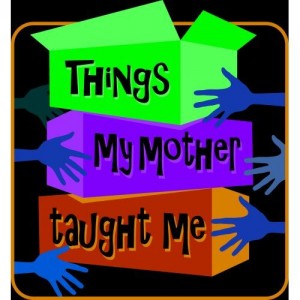 Opening March 9 at the Off-Broadway Palm is Things My Mother Taught Me, a brand new romantic comedy by Katherine DiSavino, author of the smash comedy Nana's Naughty Knickers.
Here's the plot: Olivia and Gabe are moving into their first apartment together. They've just packed up all of their belongings and driven halfway across the country to start a new life together in Chicago. But their moving day doesn't go exactly as planned. Imagine their surprise when both sets of parents show up unannounced to help! Can Olivia and Gabe's two bedroom apartment hold all of the love, laughs, worry and wisdom that's about to happen?
Read here for the rest of this announcement.
RELATED POSTS.
'Things My Mother Taught Me' play dates, times and ticket info
___________________________________________________________
'To Kill a Mockingbird' at Florida Rep closes March 11 (03-08-17)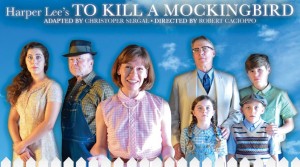 To Kill a Mockingbird closes at Florida Repertory Theatre on March 11. Adapted from the Pulitzer Prize-winning novel, To Kill a Mockingbird continues to inspire hope in the face of inequality. It tells the compelling story of racial injustice and loss of innocence through the eyes of six-year-old Scout,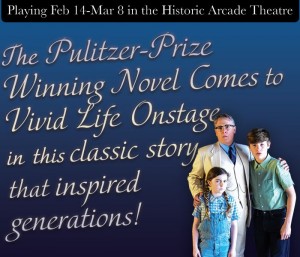 the tomboyish daughter of small-town lawyer Atticus Finch. As a tense tug of war between justice and bigotry heats up in their small town of Maycomb, Alabama, Atticus and his family must learn to temper violence and hatred with courage and compassion.
You can read the rest of this post here.
RELATED POSTS.
_______________________________________________________________________
Side-splitting comedy 'Play On!' opens Mat The Lab on March 10 (03-08-17)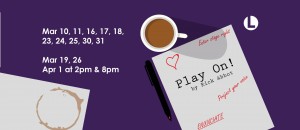 Playwright Rick Abbot's side-splitting comedy Play On! opens at The Laboratory Theater of Florida on March 10.
This hysterical story follows a community theater group trying desperately to put on a murder-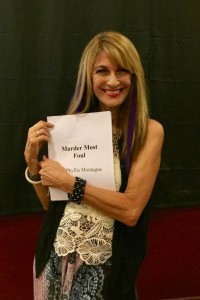 mystery titled "Murder Most Foul" in spite of maddening interference from a haughty playwright named Phyllis Montague, who keeps revising the script even though the opening is just four days away! Act I depicts a rehearsal of the dreadful show, during which the playwright repeatedly interrupts the actors with on-the-fly revisions. Act II portrays the near-disastrous dress rehearsal. And the uproariously funny final act showcases the actual performance in which anything that can go wrong does. When the author decides to give a speech on the state of the modern theater during the curtain calls, the audience is treated to a madcap climax of a thoroughly hilarious romp. Even the sound effects garner their share of laughter.
"This show is so funny, you might just fall out of your seat with laughter," warns Artistic Director Annette Trossbach. "This is one of the funniest shows I've ever read and is probably the funniest thing you'll see all season. Your face will hurt from all the smiling."
RELATED POSTS.
________________________________________________________________________
Theatre Conspiracy's production of 'Ma Rainey's Black Bottom' closes March 11 (03-08-17)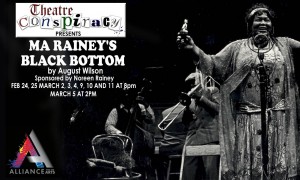 On stage at the Alliance for the Arts through March 11 is Theatre Conspiracy's production of August Wilson's Ma Rainey's Black Bottom. Brilliant and explosive, this play explores the complicated world of black musicians striving to make it at the height of the classic blues recording era in a culture denoted by both prejudice and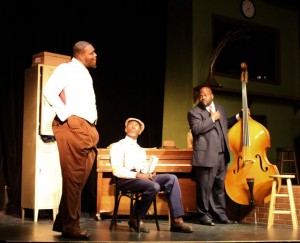 gender bias. Directed by Sonya McCarter, the show stars Cantrella Canady, Curt Sheard, Roosevelt Stewart, Cicero McCarter III, Elvis Mortley, Charlie Sloin, Patrick Day, Shaunte Manuel (as Dussie Mac), Vladimy Bellefleur (as Sylvester) and Austin Harn (as the police officer).
RELATED POSTS.
_____________________________________________________________
Celebrating women and healing power of art, 'Nice T!ts' coming to Alliance March 17-19 (03-08-17)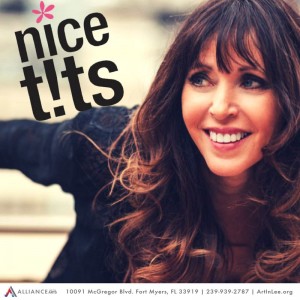 New York City based writer and performer Amy Marcs brings her critically acclaimed, autobiographical one-woman reconstructive comedy Nice T!ts  to southwest Florida on March 17, 18 and 19. Nice T!ts explores Amy's diagnosis and treatment for breast cancer with humor and heart-felt honesty. The show grapples with themes of femininity, womanhood, confidence and mortality. At its core, Nice T!ts  is a celebration of women and the transformative power of art to heal.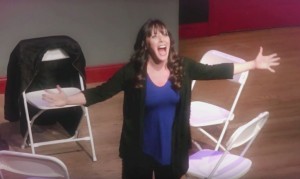 You can read the rest of this announcement here.
RELATED POSTS.
________________________________________
Best of show and award of distinction honorees named for March's Bonita Springs National Art Festival (03-08-17)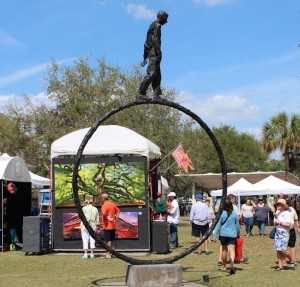 The third and final Bonita Springs National Art Festival of 2017 took place March 4 and 5, and Centers for the Arts Bonita Springs President Susan Bridges and Festival Directors Ehren Gerhard and Barry Witt have announced the Best of Show honorees and Award of Distinction recipients.
Fine art jeweler Tricia Young was the overall Best of Show honoree. Best of 2D was fine art photographer Igor Menaker with clay artist Debra Steidel being recognized as Best of 3D.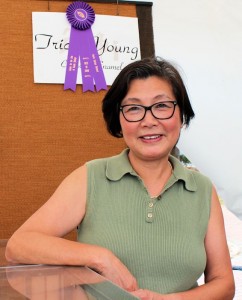 A dozen artists received Awards of Distinction:
Gustavo Castillo, oil/acrylic

Stephan Ray, oil/acrylic

Jeannie Maddox, oil/acrylic

Lee Jones, metal

Edward Loedding, digital

Erika Mock, fiber

Bruce Holmberg, jewelry

Julie Jelman Melka, jewelry

Julie Berndt, clay

Reza Pishgahi, sculpture

Kyle Wilson, photography
For more on the Centers for the Arts Bonita Springs' outdoor art festivals and the artists who have participated in them, please read here.