Kevin Hendricks gives master class in 'Cat on a Hot Tin Roof'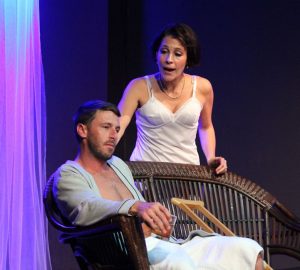 The final three performances of Cat on a Hot Tin Roof take place this weekend in the Joan Jenks Auditorium at Golden Gate Community Center. Included in the stellar Studio Players cast along with Rachel Borwein, Victor Caroli, Nancy Scanlan, Danielle Channell and Matt Flynn is Kevin Hendricks. He plays the part of Brick Pollitt.
Hendricks gives tour de force performance in this role, but what makes his achievement all the more praiseworthy is that much of the meaning, emotion and nuance he evinces as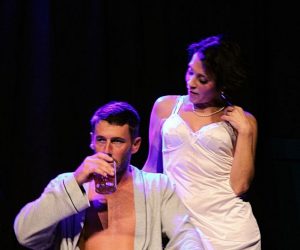 the dark and brooding son of a terminally ill wealthy plantation owner must be conveyed in long sequences during which he utters not a single line or word. As Brick, Hendricks gives a master class in how to express anger, hatred, loathing, disgust, depression and despair through a look or mere glance. He amplifies on this theme through body language and bearing, a process exacerbated by the fact that Brick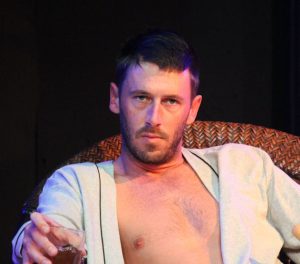 has turned his ankle and is hobbling around with a crutch. Through these devices, he builds an eye wall of tension that bursts like a Cat 5 hurricane when Tennessee Williams finally allows him to cathart with his father, Big Daddy.
Brick is a riddle of a man. A scowling hunk of dysfunctional, debilitating despair that is susceptible of multiple interpretations, like a Southern Mississippi version of Hamlet. And Kevin Hendricks adds even more nuance and ambiguity to one of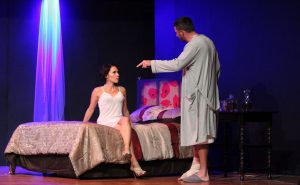 most complex characters to ever come from the creative mind of Tennessee Williams.
From the instant the audience first meets Brick, it is clear that he is estranged from his wife, Maggie (brilliantly portrayed by Rachel Borwein), his father, Big Daddy (powerfully played by Vic Caroli),
mother (Nancy Scanlan) and his brother, Gooper (Matt Flynn) and Gooper's wife, Mae (Danielle Channell). So much so that he seeks to blunt his feelings with Libbey glass after Libbey glass of bourbon (or whatever Brick's drink of choice happens to be). But Williams leaves it up to the audience to derive what lies at the heart of Brick's winter of discontent, although the iconic American playwright provides ample clues throughout the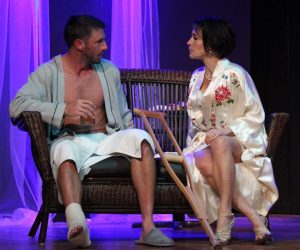 two-hour show.
A couple of theories quickly emerge from the alcoholic stupor that is Brick Pollitt.
The first is that Brick is a closeted homosexual who is so revolted by the prospect of his true sexual orientation that he is stridently  homophobic in his self-denial. But it is equally possible that he's just a deeply homophobic heterosexual who is so affronted that his wife and family think he's gay that he has cut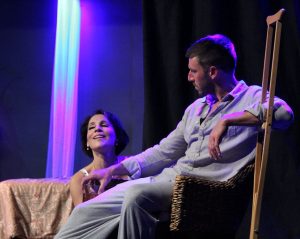 them off emotionally and is salving his wounded pride with enough alcohol to single-handedly an entire distillery.
Brick's feelings about homosexuality are inextricably tied to his problematic relationship with his father. Big Daddy ostensibly had a physical relationship with the plantation's previous owners, Jack Straw and Peter Othello. Their gay tryst may have even played out in the very room that Brick and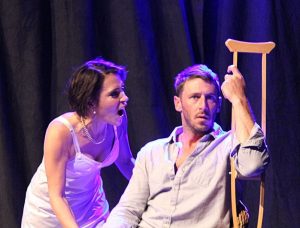 Maggie now occupy – a room which is "haunted by a relationship that must have involved a tenderness which was uncommon". There's even the implication that Big Daddy's bowel cancer may have resulted from the bottom for his surrogate dads.
Brick adamantly maintains that his orientation is unquestionably heterosexual. But as a much-admired star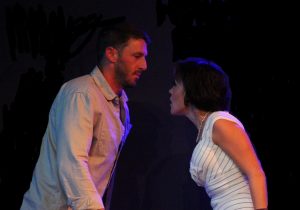 football player in college, he did establish an extremely close relationship with a teammate. Brick maintains that his relationship with Skipper was "something true and decent." But while that may have been true on Brick's part, Skipper ultimately confesses his love for Brick after Maggie confronts him about his feelings for her husband. Brick doesn't just rebuff Skipper's advances. He breaks off all contact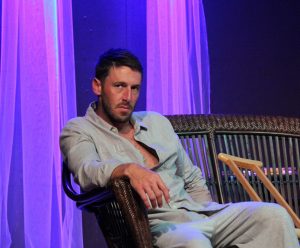 with him. Skipper is devastated and drinks himself to death.
If this analysis is accurate, Brick's monumental self-loathing is attributable either to guilt over his best friend's death or rampant homophobia turned inward because, deep down, Brick knows he is actually gay and that his marriage to Maggie is merely pretense – a poorly constructed façade so that society at large won't suspect his true sexual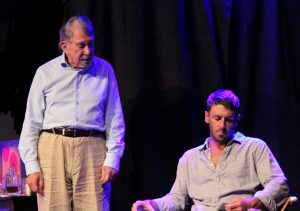 orientation.
Tennessee Williams seems to suggest that Brick is gay. For example, Maggie lauds the veritable disinterest that Brick displays when he makes love to her. But by accusing him of homosexuality and confronting Skipper about his feelings for Brick, she not only caused the end of their friendship and Skipper's ultimate death, she's challenged the illusion that Brick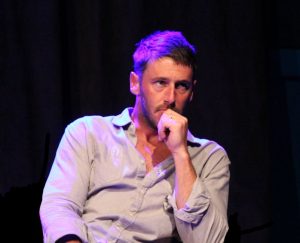 has indulged, not only where his family and society are concerned, but for himself as well. And why? Because Skipper represented a threat to her own ambitions and the hold she is trying to exert, through Brick, to the Pollitt family fortune.
But here's the genius in the way Hendricks plays the character. Hendricks opens up the possibility that Brick actually loves his wife but cannot handle the fact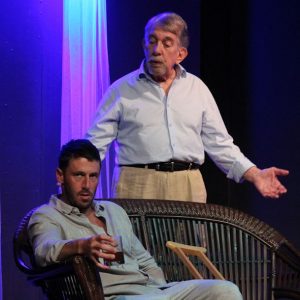 that she would think that he is "less than a man." What people think of him is critically important. He clearly revels in the adulation and hero worship that his parents, teammates and fans have heaped upon him over the course of his early life. He needs – nay, demands – the same level of adoration from his wife and when she deprives him of that, he cannot handle it. Love turns to resentment and hate.
While there are a number of hints throughout the show that give credence to this view, perhaps none is more important than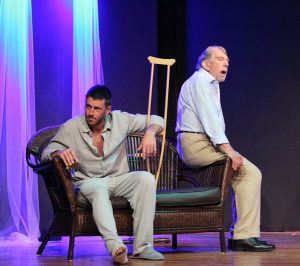 the tinge of jealousy that Hendricks displays when he recounts that Maggie took Skipper to bed in an ill-fated effort to prove to Skipper that he wasn't homosexual after all.
Of course, when you're talking Tennessee Williams, nothing is ever simple or straightforward. In addition to all of the man's other flaws and foibles, Brick Pollitt is highly narcissistic and has perfected the use of emotional armor to cocoon himself from any sign that the people he values most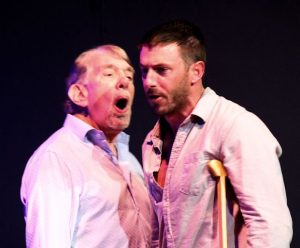 (Big Daddy, Big Mama, Maggie) might have taken him down – even for a moment – from that lofty pedestal he's inhabited from his earlies memories.
So if you relish complex characters amazingly portrayed by outstanding actors, don't miss Kevin Hendricks as Brick Pollitt in Tennessee Williams' Cat on a Hot Tin Roof.
Cat on a Hot Tin Roof winds up with 7:30 performances on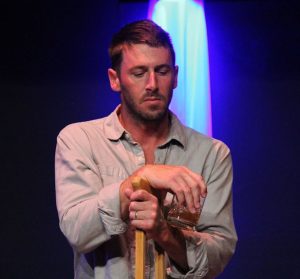 Friday and Saturday night and a 3:00 p.m. matinee on Sunday, March 1.
February 27, 2020.
RELATED POSTS.