'Cat on a Hot Tin Roof' play dates, times and ticket info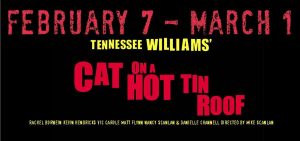 Play:  Cat on a Hot Tin Roof
Playwright:  Tennessee Williams
Synopsis:  The dysfunctional but wealthy Pollitt family gathers to celebrate aging patriarch Big Daddy's birthday. But there is more to this gathering than a family reunion–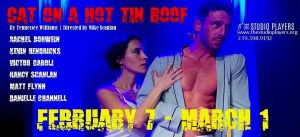 Big Daddy is dying of cancer, and he hasn't decided which of his sons will inherit the estate. His options include favorite son Brick, who drinks himself into oblivion in order to bear the oppressive expectations of his determined wife, Maggie, or his less-favored son Gooper, his fertile wife Mae, and their five "no-neck monster" children. While sensuous Maggie "the cat" tries to work her wiles to secure a future for them, Brick spirals deeper into despair, crippled by both physical pain and emotional loss. Lurking under every practiced interaction between the Pollitts is an ulterior motive, under every smile, a challenge, and under every statement, the specter of mendacity. For the Pollitts, the truth is as hazy as the late summer sun in Mississippi, and sometimes the only way to find it is to journey through the lies.
Director:  Mike Scanlan
Cast:
Maggie (the cat):  Rachel Borwein
Brick:  Kevin Hendricks
Big Daddy:  Vic Carole
Big Mama:  Nancy Scanlan
Cooper:  Keith Gahagan
Mae:  Danielle Channell
Doctor Baugh:  Matt Flynn
What the Critics Said:
"One of the most successful plays of our time…a play of tremendous dramatic impact…enormous theatrical power." — New York Post
"…Williams has fashioned his most compelling characters." — New York Journal-American
"This is a gripping and intensely moving play, a play that can hold its own with anything written in the post-O'Neill American theater…Brilliant scenes, scenes of sudden and lashing dramatic power, break open…There is, indeed, no one moment in the evening when the stinging accuracy of Mr. Williams' ear for human speech is not compellingly in evidence…Mr. Williams is the man of our time who comes closest to hurling the actual blood and bone of life onto the stage; he is also the man whose prose comes closest to being an incisive natural poetry." — The New York Times
Play Dates and Times:  
February 7, 8, 13, 14, 15, 20, 21, 22, 28 & 29 at 7:30 p.m.
February 9, 16 & 23 and March 1 at 3:00 p.m.
Tickets:  $28. Please telephone 239-398-9192 or visit http://www.thestudioplayers.org.
Place: Joan Jenks Auditorium in the Golden Gates Community Center, 4701 Golden Gate Pkwy, Naples FL 34116.

December 22, 2019.
RELATED POSTS.