Sharon Isern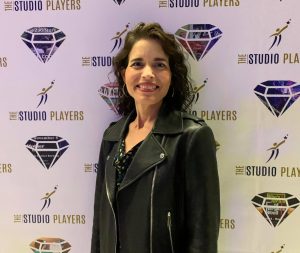 Sharon Isern is an actor, artist (steampunkphage.com) and recovering academic (@profpathogen) who'd spent her days teaching and doing virus research with undergraduate students as a Professor of Biology at FGCU. She now works from home making art and doing grants administration for the federal government. Her Zoom meetings feature vocals from Pippa, her African gray parrot, with special appearances from Diego, her high-energy rescue dog. 
She is playing Claire Fathi in Faceless for Theatre Conspiracy at the Alliance for the Arts. Her stage credits include Robyn in The Roommate and Dagmara in The Chechens for Theatre Conspiracy; bride-to-be Courtney in One Slight Hitch, a server in Saved by the Bell and the woman in Where is Man? (both part of The Studio Players' 3 Plays) and exasperated campaign manager Alex Klein in Jason Odell Williams' Church & State for The Studio Players; Susan White in America's Sexiest Couple, Judith Baxter Short in The Bare Truth and Wendy in On the Farce Day of Christmas for The Marco Players;  Rocker in Rockaby (one of four plays that ran concurrently in Ghostbird Theatre Company's Langford-Kingston Home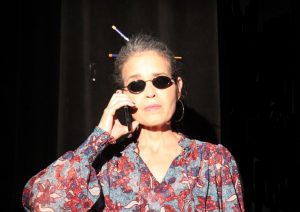 production of  Samuel Beckett's October House) and a mother fleeing war in Everyone on this Train for Ghostbird Theatre Company; and dutiful daughter Agnes in The Shadow Box (for New Phoenix Theatre). She has also performed with The Naples Players Radio Theatre.
Sharon was also scheduled to appear in the role of Camila Rosario in Lab Theater's production of In the Heights, but as with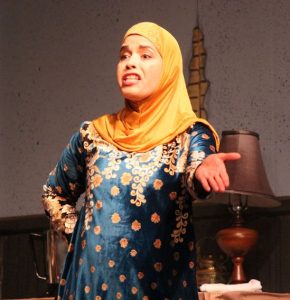 so many shows, the musical was postponed due to the COVID-19 pandemic and later canceled when Lab lost the rights to the show to Broadway Palm Dinner Theatre.
Sharon made her theatrical debut in Everyone on this Train where she was paired with Ghostbird vet Violet Shindler. "The duo's interactions as mother and daughter and their mid-show stargazing scene are two of the many highlights of this show," this author wrote at the time.
In The Shadow Box, Isern played a daughter caring for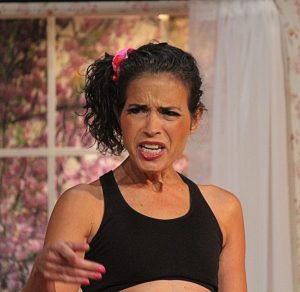 her terminally ill mother who suffers not only from Stage 4 cancer but dementia as well. Theirs is a sad dynamic. Agnes' sister is, and has always been, her mother's favorite – even though her sister died tragically of a hemorrhage many years ago. But mom doesn't remember her daughter's death. And to give her mother a reason to live, Agnes has been writing letters from her sister promising to visit soon. The subterfuge has worked too well. Now, buoyed by the promise of the chance to her daughter one last time, the old woman won't give up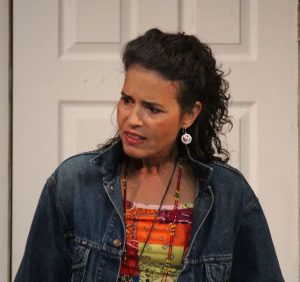 the ghost even though her pain is so intense and debilitating that it is beyond not only the pale of the imagination, but the efficacy of the painkillers the doctors can prescribe.
Agnes' plight is heartrending, and Isern wrings every ounce of emotion from the part without ever overplaying her role. She is simultaneously loving, sad, resentful and conflicted. Like many long-term caregivers, Agnes increasingly wishes that her mother would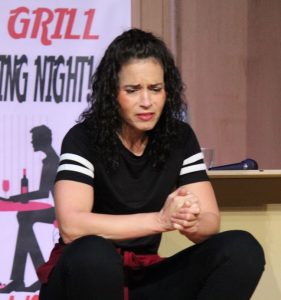 just die already and release her from the commensalistic relationship she shares with her mother. The concomitant guilt she feels is palpable, and gives rise to the most powerful scene and tearful moment in a play filled with tremendous poignancy and angst.
In Lewis Black's One Slight Hitch, her mother's plans for the "perfect wedding" go awry when the florist calls from jail needing bail money before he can deliver the flowers and Courtney's ex shows up unexpectedly in need of a shower and a hot meal. Isern knows a little something about weddings gone awry.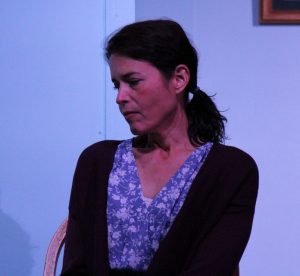 "My mom was like Delia [the mother in One Slight Hitch] that day, but instead of waiting for the flowers, she was waiting for the wedding cake," Sharon recounts. "The cake for my wedding was delivered last minute and undercooked. With no time to make or order a new cake, she did her best to mask the undercooked parts (the sopping middle) by adding extra frosting. Guests were left to wonder why they were only served thin slices from the outermost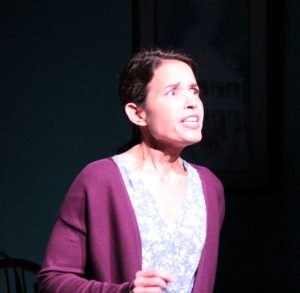 parts of the cake layers and turned away when asking for seconds or slices to take home."
Sharon has also ventured into the realm of stage management, having functioned in that capacity in The Studio Players' production of Walter Cronkite Is Dead and The Waverly Gallery as well.
Sharon also appears as the bartender in The Spotter, a public service announcement film produced by Jon Braddy in association with Florida Gulf Coast University Eagles Athletics (2020).
October 1, 2019; revised July 30, 2021.