Music in award-winning short 'Bird's Eye' encapsulates film's message of community and joy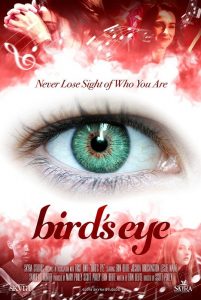 Last week, the Fort Myers Beach International Film Festival wrapped with a Sunday evening awards ceremony at Fish-Tale Restaurant. Skyra Studios' short film Bird's Eye was recognized as Best Florida Made Film. It's the film's third win in four Florida film festivals. It also won Best Florida Film at Tally Shorts and Best Short Narrative at the Bonita Springs International Film Festival.
Bird's Eye tells the story of a musical composer and instructor who is forced into teaching a class of at-risk students at St. Matthew's Academy after losing her sight due to a catastrophic retinal hemorrhage. As she takes refuge forlornly behind her piano, one of her students begins performing a rap piece he's written as an assignment. Haltingly, Dr. McAllister's fingers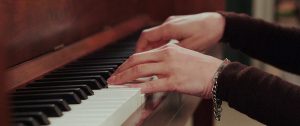 involuntarily glide over the keys, adding melody to the student's lyrics, creating an unexpected marriage of her own classical training with the spirit of hip hop.
The film operates synergistically on multiple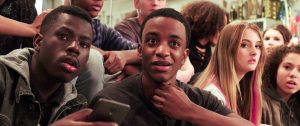 planes.
The acting is exceptional. Each of the film's main characters traverses a well-defined character arc that encompasses emotional depth and growth. And thematically, the picture is a full-throated ode to the human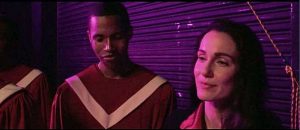 spirit and the upper reaches of creativity that can be unleashed when self-absorbed egocentricity blindly pursuing perfection is replaced by the spirit of collaboration exerted by a group of diverse and damaged individuals striving to achieve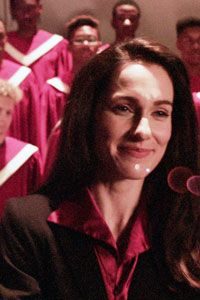 a higher purpose. [Read here for more on these aspects of the film.]
But it's the music that best summarizes and embodies what's taking place within the story.
"Both rigid professor and mistrusting students find each other's humanity through relationship, compassion and community; this can't help but be reflected in their music, and that was our goal," says Beute, who started out as a vocal performance major in college.
Beute and Poiley collaborated to create an original song to express the collision of the musical and cultural worlds of McAllister and her students.
"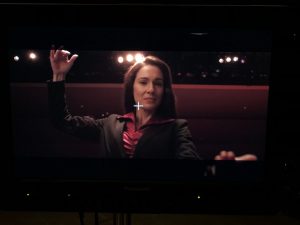 Dr. McAllister is an ivy-league classical musician–her students rap in cyphers to hip-hop. Each draws identity from the music indigenous to their respective culture – each is equally passionate and talented," Beute explains. "It took McAllister's life-altering hemorrhage to open her eyes to the deeper beauty of all musical story – both hers and her students'. The journey for McAllister to embrace this new view is the core of the story."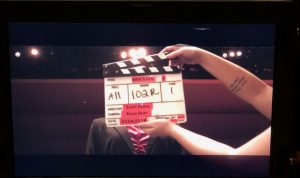 Poiley, a gifted writer and lyricist, contributed the rap lyrics. Beute wrote the a cappella music. "Then we layered that musical blend on top of a classical piece that supports and blends the styles and voices. It's somewhere between Ancient Rome and Kodak Black."
Or akin to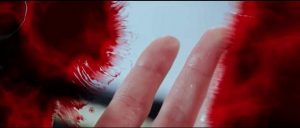 superimposing Drake or Usher over Handel's Hallelujah Chorus or a Gregorian Chant with a healthy dose of vocal percussion or beatboxing thrown in for good measure.
The result: "Alleluia," a driving, seductive and beguiling composition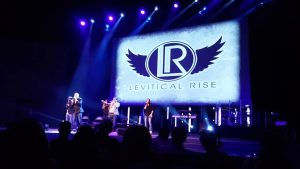 that lends support for and credence to the characters and action unfolding on the screen. In Greek, Hebrew and Latin, alleluia translates into an expression of joy, and the song fully captures and expresses that sentiment as backdrop for the film.
To record the track,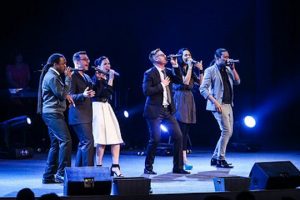 Beute and Poiley tapped Levitical Rise, a pop-rock a cappella group based out of Orlando, Florida consisting of Lester Rector, Holly Rector, Jackie Stressman, John Gibson, Sean Gerrity and Troy Dolendo. Interestingly, the band members weren't able to go to the studio as a group to record the song, so they went on separate days to lay down their individual tracks.
"Alleluia"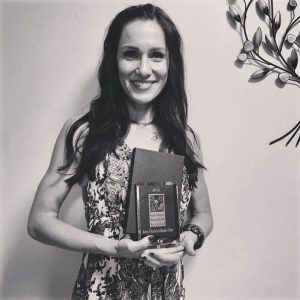 is Beute's first time writing music for an a cappella/vocal percussion group, but she's no stranger to musical composition. Although she considers acting her forte [read here and you'll probably agree], she's tinkered with musical composition since before her college days.
"When I have an idea, it just seems to flow, so I write it," Erin humbly demurs.
In addition to Levitical Rise, the film includes an opening number by Trinity Prep Chamber Trio (performing Mendelssohn's Trio in D minor)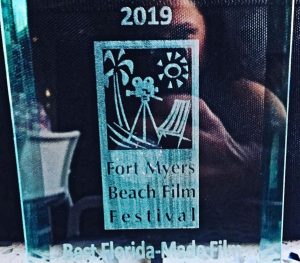 and UCF's top a cappella group, Voicebox, which performs "House of the Rising Sun" in the closing scene.
Bird's Eye ends with Dr. McAllister and her students waiting in the wings at a national music festival for their turn on stage. What Poiley and Beute needed was a group so good that there seems to be no way that McAllister's kids can beat them. Voicebox fit the bill.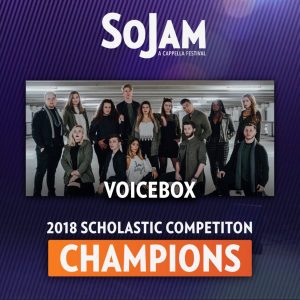 Established in the summer of 2014, Voicebox became the first group in UCF history to compete at the SoJam Collegiate Competition. Soon after they would not only be selected as one of four groups in the South to perform at the All Roads Festival Showcase, but they also would be crowned the 2015 South Quarterfinal Champions. Since then, Voicebox has traveled the east coast, opened for NBC's The Sing Off Live Tour, released a single, briefly appeared on the reality show Sing It On, and more recently placed 4th at the ICCA Finals – effectively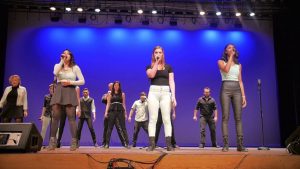 & competitively outperforming over 350 groups.
And they really bring it in Bird's Eye as well.
"We are so grateful for all of these stunningly talented groups making music shine front and center in our film," Beute quickly adds.
Building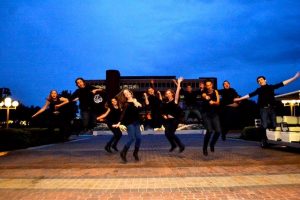 on the critical and popular acclaim that the short has achieved since its release, Beute and Poiley are now in the process of converting the story into a full-length feature. [Read here.]
"In the feature-length version of the script [which is already done], we have much more opportunity to see how these opposing musical strongholds first ceasefire, then merge, then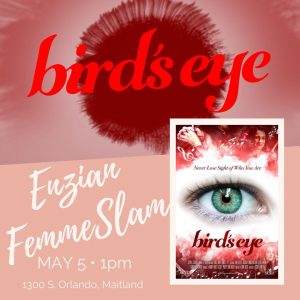 blend. And there will be a lot more music like 'Alleluia,'" Beute promises.
A tantalizing prospect, indeed.
Bird's Eye next screens at 1:00 p.m. tomorrow (May 5) during the Enzian Femme Slan, which represents the film's first screening in Orlando.
May 4, 2019.
RELATED POSTS.