Focus on Dennis Church's Camera USA 2018 entry 'Royal Poinciana Tree'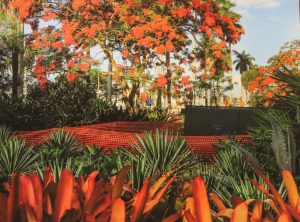 On view now through August 3 at the Naples Art Association is the Camera USA 2018 photography exhibition. One of the images juried into this year's show is Royal Poinciana Tree, Palm Beach, Florida by Bonita Springs photographer Dennis Church.
"I have a seemingly inexhaustible curiosity for looking at the world and experiencing my visceral perception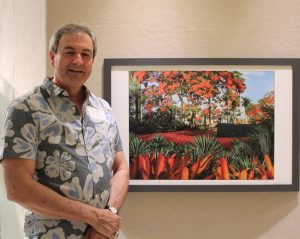 of the moment," relates Church in the Artist Statement accompanying his image. "This method of finding connection happens most often in the street or on the road to wherever I am headed. These perceptions teach me who I am and what is my authentic self, the whole point to living, exploring and finding meaning."
Church focuses on that which we do not see in the traditional landscape. Using color and shape, he improvises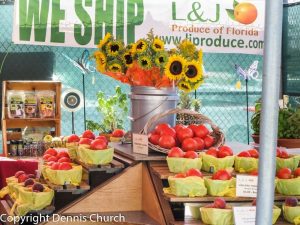 thoughtful images that are simultaneously simple and complex, challenging yet peaceful, and which ultimately offer the viewer a satisfying view that reflects the beauty and grace so often overlooked in the mundane world around us.
"My insistent discovery and experimentation is a serious but fun game, playing with the traditional and invented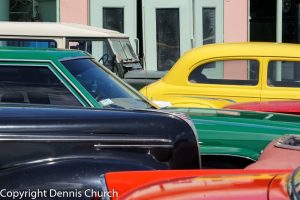 pictorial devices that evidence a diary of souvenirs of these moments," Dennis adds. "This method, by definition, inevitably creates varied picture styles, different visual languages – based on my mood, the light, my equipment and where I am in the universe."
Church was also juried into Camera USA 2017 with a photograph titled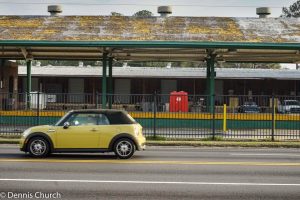 Muffler Shop, North Fort Myers, Florida 2017 (photo 7). It was a classic Church formulation in which he imposs order on a scene of visual confusion.
"Each day we move through a barrage of visual information that results in a cacophony of architecture, advertising, nature, color, and cultural symbols – all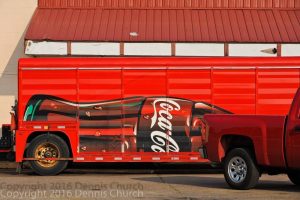 creating a landscape that is often chaotic and mind numbing," Dennis has said of similar and related images. Tinkering with, and often dismantling single-point perspective, Church creates planar and semi-planar documentary style pictures of ordinary and overlooked views in the lineage of Evans-Eggleston.
"Sometimes it is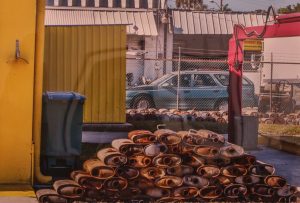 the challenge of 'how many balls one can juggle' in the picture frame and create a picture that works," Dennis says of Muffler Shop in particular. "Also, my interest may be intrigued by simple echoing color harmonies and/or jarring harmonic discord, even in the same picture. My intent is akin to improvising music, pictures that are to be felt, 'listened' to. This practice, infinite in the creative possibilities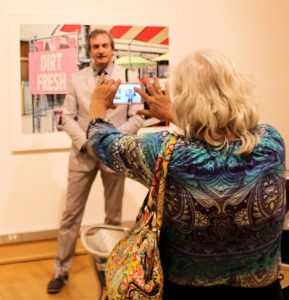 of the viewfinders' rectangle, keeps me in the present moment, an engaging perceptual practice that I find enduringly exciting and satisfying."
Church's fine art photographs have been exhibited in a number of galleries in the United States, and has been featured in many online and hard copy publications in the USA and Europe (including Wonder Magazine, Moscow, Fine Art Photographer, Prague, Image in Progress, Rome, Lens Culture and Lenscratch, Paris, The Oxford American and The Southern Photographer in the USA).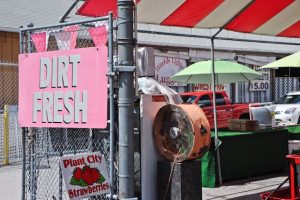 In 2012, Church was a finalist in The Michael P. Smith Fund for Documentary Photography overseen by The News Orleans Photo Alliance. His work is represented by The Photography Room in Canberra, Australia and DAAS CO-OP in the SoCo Cultural District in Fort Myers.
For more on Dennis Church and his work, read his profile on Art Southwest Florida here.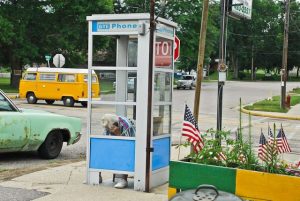 June 10, 2018.
RELATED POSTS.