Focus on Camera USA 2018 Merit Award winner Constance Brinkley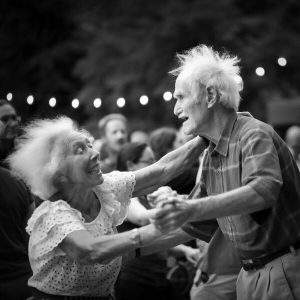 On view now through August 3 at the Naples Art Association is the Camera USA 2018 photography exhibition. One of the images juried into this year's show is Celebrating Life by Seattle, Washington photographer Constance Brinkley.
Between 2011 and 2017, Brinkley photographed a project known as Dancing 'til Dusk. It's an event that Seattle Parks and Recreations produces and which Dance for Joy organizes free of charge in parks around Seattle. "I happened upon this event while photographing the streets of Seattle and it brought back memories of my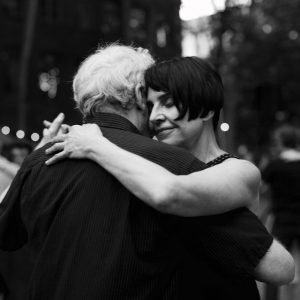 mother's love of dancing the polka," states Brinkley in the Artist Statement that accompanies the image.
"It is wonderful to see thee interconnection that takes place between the partners as opposed to seeing solo interaction with technology," Brinkley amplifies. "I feel such joy as I watch the learning and playful behavior that takes place among friends, spouses and strangers that come for a night of social interaction, human touch and dance. I think Martha Graham sums up my feelings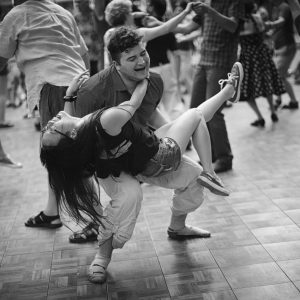 about photographing these events in her quote, 'dance is the hidden language of the soul.'"
Through the work in this series, Brinkley seeks to draw attention to the activity in the streets we miss out on by being so consumed by our devices and other electronic gadgets. "The human touch is for healing, loving and the affirmation of living, playing and friendship."
Brinkley received her BA from the University of Northern Iowa in Cedar Falls in 1974 and moved to Washington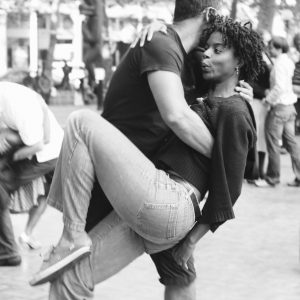 to pursue her masters at the University of Washington. She recently retired as a director of operations from a Fortune 25 company and has continued her photography studies through Photo Center NW. She co-founded and exhibited her work at Studio F, a collaborative gallery in Pioneer Square that hosts emerging and established artists working with photo based imagery. Currently she is part of the fotofemmes collective focused on photography projects, mentoring, and education. Based in Seattle, Washington, she has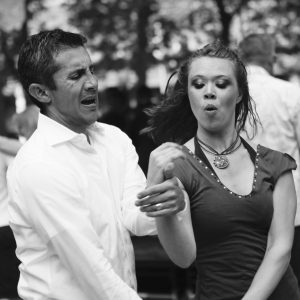 exhibited her work nationally in various juried shows.
June 10, 2018.
RELATED POSTS.