Arts for ACT Gallery & Boutique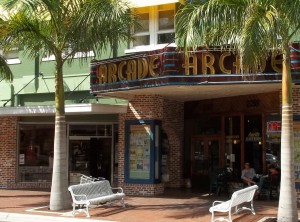 Arts for ACT Gallery & Boutique is an award-winning, pace-setting gallery that moved to downtown Fort Myers in 2001, long before the area was dubbed the River District and years before any other gallery arrived on the scene. The gallery continues today to lead the way by introducing one avant-garde artist after another and providing leadership as the River District begins to transition into the final phase of its on-going redevelopment plan.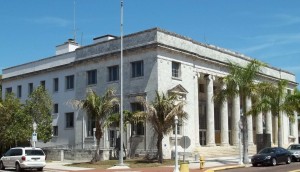 Location. Arts for ACT is located at 2265 First Street in a portion of the 103-year-old Arcade Building in which Thomas Edison watched early motion pictures with friends Henry Ford and Harvey Firestone. The space was also once home to the historic Sidney Davis Men's Shop which served the haberdashery needs of Fort Myers' elite professionals and business men for nearly four decades. Located just steps from the Sidney & Berne Davis Art Center (right), Arts for ACT enjoys a prominent place in the very heart of the Fort Myers River District.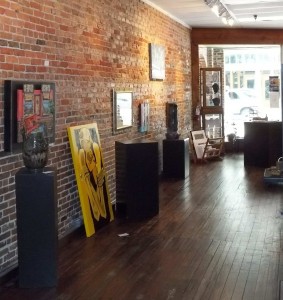 Facilities. The gallery's 2,200 square feet of space is divided into a main exhibition hall and five smaller rooms in the back of the leasehold. The front gallery conveys a definite Soho feel with its distressed brick walls, twelve foot ceilings and restored natural wood floors. Further in, the space is divided into five smaller showrooms that range from formal to funky to a little claustrophobic. However, this arrangement allows each artist in the gallery's monthly group shows to separately showcase their artwork, which is customarily significantly different than that of their co-exhibitors.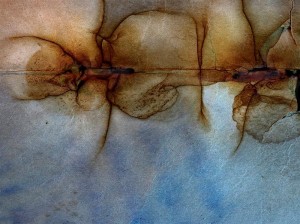 Genres and Media. Within the confines of its quaint, inviting walls, art lovers and potential collectors will find an eclectic variety of contemporary original art, as well as photographs, prints and giclees. Represented genres include pop art, surrealism, naïve and primitives, and abstract expressionism in an array of mediums including oil, acrylics, watercolor, pen and ink, graphite, mixed media (collage) on canvas, linen and wood panel, photography (right), glass art and art cards. The gallery displays a limited amount of sculpture, but does exhibit gourd art, raku and clay. Boutique items include silver and glass bead jewelry, hand-made fine crafts, art clothing, handbags and shoes.
Representative Artists. The gallery represents approximately 75 member artists, including metal sculptor Roy Benton III (whose uncle is internationally-renowned artist Darryl Pottorf), Cape Coral marine watercolorist David Belling and abstract expressionist Cheryl Faussel. However, the front gallery showcases the work of Arts for ACT's featured artists and changes monthly, with opening receptions scheduled to coincide with Art Walk. As a result, there is virtually something new to see and collect every time you enter the glass storefront doors.
Hours. M-F 11-4:30. Call for Saturday hours at 239-337-5050. Expanded hours 6-10 p.m. the first Friday of every month for Art Walk and artist reception.
Telephone Number and Website. The gallery's phone number is 239-337-5050, and it can be found online at www.artsforactgallery.com and at Facebook at http://www.facebook.com/artsforactgallery.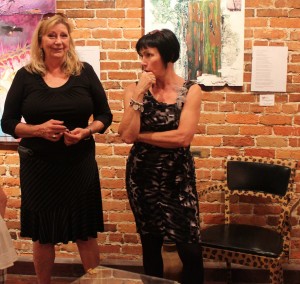 Ownership. The gallery is owned and operated by Abuse Counseling & Treatment, Inc.  ACT is a non-profit agency that serves Lee, Hendry and Glades counties with a 24-hour crisis hotline, forensic examinations, and safe shelter for victims of domestic violence and sexual assault, as well as their families and the new and temporarily homeless. At any given point in time, ACT feeds and houses approximately 100 men, women and children in two shelters, and provides them with counseling, advocacy, education, information and referrals. Proceeds from the sale of fine art and boutique items in Arts for ACT Gallery help support these operations. Jennifer Pottorf Benton (in black, left) serves as ACT's chief executive officer and is frequently found in the gallery, particularly during the first-Friday meet-the-artists receptions held in conjunction with Art Walk each month.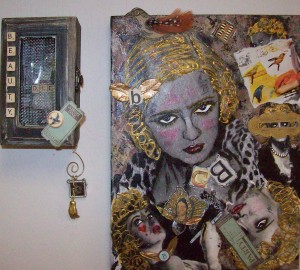 Directors and Curators. Claudia Goode (in white, above left) serves as the curator and director of operations at Arts for ACT Gallery, a post she has held for more than ten years. An accomplished mixed media collage artist herself (right) who has exhibited her work extensively throughout southwest Florida, Claudia brings a creative sensibility to the art and artists the gallery includes in its permanent and rotating exhibitions.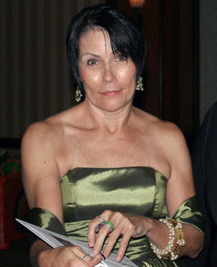 Bright, insightful and energetic, Claudia not only handles every aspect of the gallery's daily operations including meet-the-artists receptions on the first Friday of every month, she is a founding member of Art Walk, organizes the associated First Saturday Art Fair in Patio de Leon and Dean Street, and chairs the steering committee for the annual Arts for ACT Fine Art Auction and gala that is the talk of the entire town every August. For the last three holiday seasons, this mother of two and new grandmamma has also orchestrated "A Hand-Made Christmas," an outdoor art fair that takes place along First Street that gives more than 60 vendors an opportunity to sell their arts and crafts to holiday shoppers. Among the many accolades lavished on this superlative representative of the local art community is a Lee County Alliance of the Arts 2011 Angels of the Arts nomination for Art Organization Leadership.
Currently on Exhibit. The links below provide information about the group show that's presently on exhibit, as well as the one planned for next month.
2014 Articles and Links.
2013 Articles and Links.
2012 Articles and Links.
2011 Articles and Links.