An Overview
[This entry provides an overview of all the incredible destinations to see while you are in the downtown Fort Myers River District. For more detailed information about the area's art galleries, public art installations and art events, either click on the included hyperlinks or return to the home page and select from the choices provided in appropriate drop down menus.]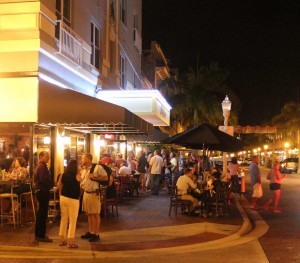 There is an incredible amount to see and do in downtown Fort Myers' historic River District. Many come just to visit the avant-garde art galleries, trendy boutiques, antique shops and relaxing cafes and restaurants. With top-notch financial and professional offices bookended by nearby high-rise condominium complexes that provide thousands of residential units, the River District is a thriving commercial hub by day and uplifting cultural center at night.
Galleries, Boutiques and Antiques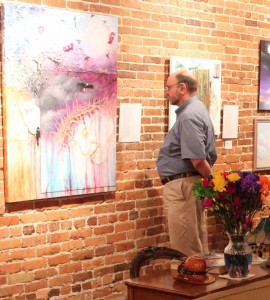 Collectors, art enthusiasts and cultural tourists will find work by local artists at (alphabetically) the Art League of Fort Myers, Articulture Art Gallery & Tattoo, Arts for ACT Gallery, Ocasiocasa Studio Gallery, Reverie & Rock Art Gallery, Sidney & Berne Davis Art Center, Space 39, The Franklin Shops on First, The Shoppes on Broadway and UNIT A Contemporary Art Space. Nearby antique shops include Main Street Antiques & Collectibles and Ivy Cottage, with Enjewel, the Franklin Shops on First,  and Arts for ACT adding chic, stylish boutique shopping to the downtown landscape.
Restaurants, Cafes and Bars
For rest and relaxation between gallery visits and before or following theater performances at night, art lovers can dine or simply enjoy a drink at Ford's Garage, The Firestone, French Connection, Los Cabos Cantina, Morgan House, Twisted Vine Bistro (formerly H2), Veranda, Ichiban Chinese & Japanese Cuisine, United Cafe' Bar & Bistro, Downtown House of Pizza, What's Up Dogs, Starbucks Coffee, Hideway Sports Bar, Spirits of Bacchus and The World Famous Cigar Bar.
Artistic Landmarks. The City of Fort Myers has an aggressive public arts program which has elevated the region's cultural standing and fostered an appreciation of both the visual and performing arts. Some of the city's more notable artistic landmarks include:
The Sidney & Berne Davis Art Center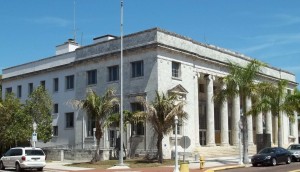 Identified by its slender coral and limestone Ionic columns with stacked bases and scrolled capitals, the Sidney & Berne Davis Art Center is a venue that immediately captures the eye as you walk or drive down First Street in the heart of the River District. The building dates back to 1933, when it was dedicated as the U.S. post office. It later served as a federal courthouse. When a new courthouse was built in the late '90s, the building was abandoned and fell into disrepair. But the City of Fort Myers purchased the landmark and leased it to Florida Arts, Inc. for 99 years on the condition that Florida Arts restore the edifice to its former glory and transform the building into a cultural center.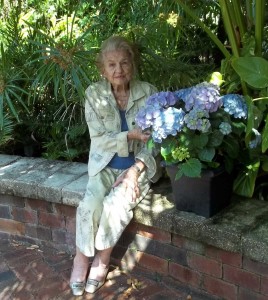 Florida Arts determined that more than $6 million would be necessary to rehabilitate the building, and set up a naming rights program to attract donations. Philanthropist Bernese Barfield Davis stepped forward in 2006 with a $1 million gift that she made to honor her late husband, Sidney, a civic leader who "thought Fort Myers was heaven on earth." Since then, Berne Davis has been at virtually every important art center event, and every head turns when "the First Lady of Fort Myers" enters the Davis Art Center's grand atrium.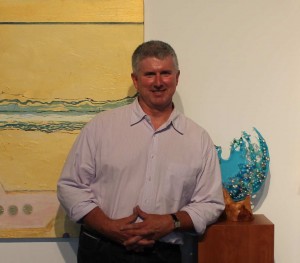 Under the direction of Julliard-trained and Naples Philharmonic Orchestra violist Jim Griffith, the center exhibits cutting-edge contemporary art by emerging visual artists and produces world-class musical concerts and theater performances featuring nationally and internationally renowned musicians, dancers and actors. Still in its infancy, 65,000 people took part in performances, exhibits, galas and other events that took place at the cultural center in 2010. [More]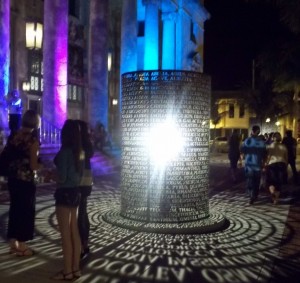 Caloosahatchee Manuscripts
On the sidewalk at the foot of the art center's steps is Caloosahatchee Manuscripts, a light sculpture that Florida Power & Light donated to the City of Fort Myers in 2001, a handful o years before Florida Arts started the process of renovating the old courthouse and turning it into a cultural venue. The sculpture consists of two bronze cylinders into which sculptor Jim Sanborn incised letters that light up the Sidney & Berne Davis Art Center and surrounding buildings at night. The text ties into Fort Myers' rich historical heritage, but that merely adds to the aura and ambiance of this part of town during art shows, concerts and other cultural events. [More]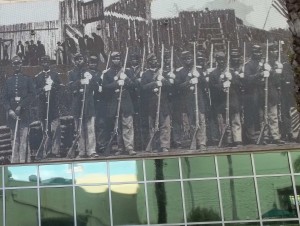 Fort Myers: An Alternative History
Overlooking a casual courtyard shared by Hotel Indigo, Starbucks, Lush Bakery and the new federal courthouse is a 20 foot tall by 100 foot wide ceramic tile mural created by former University of Florida photography professor Barbara Jo Revelle. To make it, she synthesized then digitized several old photographs that depict Fort Myers' history as an army outpost during the Third Seminole Indian War, a union stronghold during the Civil War and dusty cattle town during the last half of the 19th Century. The courtyard is just off First Street, but well worth the detour, and you can relax with a cup of coffee or a cool iced tea from Starbucks while you take in this overwhelming art installation. [More]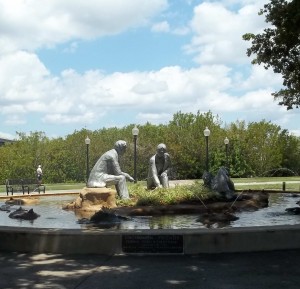 Uncommon Friends
Fort Myers is fortunate to claim Thomas Edison, Henry Ford and Harvey Firestone as three of its most illustrious winter residents. Individually and together, these pioneers of 20th century industry laid the predicate for the information age in which we live and the mobility we prize in modern-day society. Edison, Ford and Firestone were far from common, and their friendship was unique as well. Local sculptor D.J. Wilkins pays homage to these uncommon friends in a sculpture set inside a reflection pool and fountain that he also crafted. It sits at the entrance to Centennial Park, a 10-acre public plaza on the banks of the scenic Caloosahatchee River that celebrates the 100th anniversary of the founding of the city of Fort Myers. [More]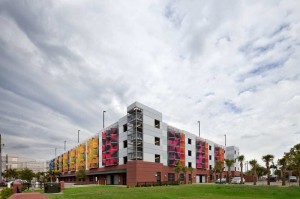 Parallel Park. You might not associate a 5-story concrete parking garage with fine art, but then again, you're not innovative architect Kevin Williams. Responding to a city ordinance that requires parked cars to be screened from view, Williams came up with the idea of attaching art panels to the Lee County Justice Center Parking Garage. After a nationwide search, the city's Public Art Committee commissioned world-famous New York artist Marylyn Dintenfass to do the honors. The result is a 30,000 square foot outdoor art installation that has first time visitors asking "Is that the fine art museum?" [More]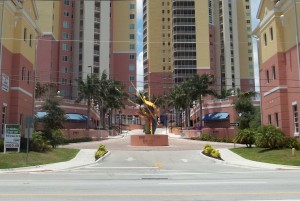 Naiad. The city's public art ordinance grants developers the option of putting in their own public art in lieu of making a cash contribution to the city's public art fund. When it constructed St. Tropez Condominium and adjoining Beau Rivage, Riviera Development Corporation elected to commission their own art and engaged New York sculptor Albert Paley to create a homage to the Caloosahatchee River, on which the St. Tropez sits. The result is Naiad, a 30 foot tall polychromed steel sculpture that sits on a stuccoed pedestal in the center of a brick paver turnaround at the entrance into the high rise project. [More]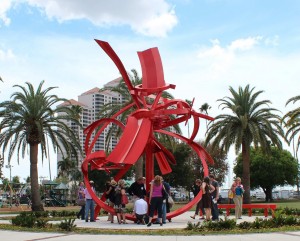 Fire Dance. The most recent addition to the city's public art collection is a 25 foot tall all-red modern sculpture called Fire Dance. The sculptor is David Black, and he was selected from a field of 162 artists who responded to a national call for submissions. Black has won 35 national and three international sculpture competitions, and Fire Dance encapsulates the energy and vitality of its soon-to-be-home, Centennial Park, where it will join Uncommon Friends some time this summer.
Historical Monuments.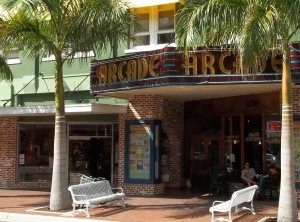 The River District is replete with historical buildings and monuments, as any gallery owner, merchant or restauranteer will gladly relate. For example, Space 39 in Patio de Leon was once the ticket office for the Ritz, a large wooden Vaudeville theater that burned to the ground in 1925. Arts for ACT on First Street occupies a portion of the century old Arcade Building in which Thomas Edison, Henry Ford and Harvey Firestone watched early motion pictures and in which civic leader Sidney Davis operated his haberdashery. Virtually every old building in the restored and renovated downtown has a story to tell. Just ask.
Or you can visit the Southwest Florida Museum of History, which is within walking distance, or the Edison Estate, Ford Home or the Imaginarium, all of which are just a five minute drive (and will one day be connected to the downtown by a state-of-the-art trolley system).
Future Plans.
The River District is not done growing either. In the first quarter of 2012, the city broke ground on First Street for a new 40,000 square-foot library. Under the design of architect Kevin Williams (see Parallel Park, above), the new $20 million facility will feature large glass windows shaded by canvas or canopies, a second floor outdoor reading terrace, and space for permanent and traveling art exhibits. A site-specific installation is being considered for the library as well, which will only serve to further enhance an area that is already the envy of many small communities and beginning to rival cultural centers like Sarasota, Tampa, Palm Beach and Miami.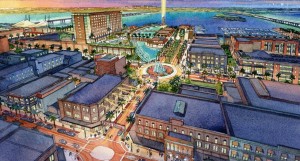 Consistent with a $200 million riverfront redevelopment plan adopted in 2010, downtown Fort Myers constructed a 1.8-acre water basin that brings an inlet from the Caloosahatchee River to the corner of Hendry and Bay Streets. Designed to collect and filter stormwater run-off from the surrounding hardscape so that it won't pollute the river, the basin also serves as a visual hub and site for dozens of additional public artworks.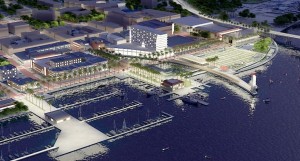 Also planned are a 12-story, 220-room convention-quality hotel overlooking the basin, an 82,000 square-foot addition that will more than double the size of the Harborside Event Center, and more outstanding restaurants and shops on Hendry Street along the basin, plus a parking garage to accommodate these new facilities. The city plan includes plenty of public plazas, open areas and expanded marina facilities, which are sure to add to the city's already-prodigious public art collection.
When completed, the Fort Myers River District will be the visual and performing arts center of southwest Florida.
Related Articles and Links.