Fire Dance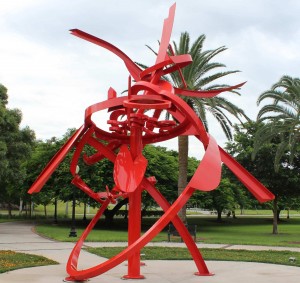 Fire Dance is the first commission awarded to an artist by the City of Fort Myers Public Art Committee. Located in a circle where Bay Street dead-ends at the eastern edge of Centennial Park, the 25-foot-tall Dupont red aluminum sculpture is a magnet that draws art lovers from far and wide. A medley of circles, spirals and counterbalances, Fire Dance inspires children playing on the swings and in the nearby playground to become the visual artists, sculptors, architects, civil engineers and city planners of tomorrow.
T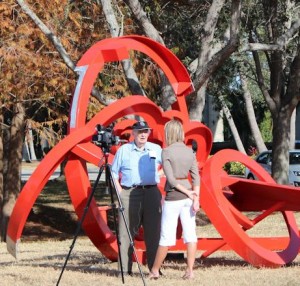 he sculptor is David Black (depicted on right being interviewed by WINK News reporter Rachel Rafanelli). He was chosen by the Public Art Committee from a field of 162 artists who responded to the City's RFQ, a national call to artists interested in submitting their qualifications and proposals. It is not the first time Black has won a competition for a public art commission. In fact, he's won 35 national and three international sculpture competitions, one in Nagano, Japan, a second in Berlin and the third in Canada.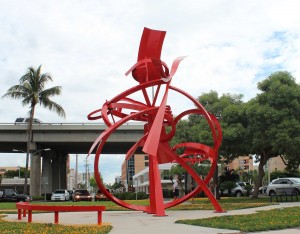 Black characterizes himself as a "hands-on" sculptor-innovator with a wide interest in architecture, past and present. He calls his public sculpture "proto-architecture" because it combines architectural elements such as pillars, arches, canopies and the use of light with the energy and references of sculpture. His community landmarks engage their environments spatially as well as culturally, connecting strongly with the viewer.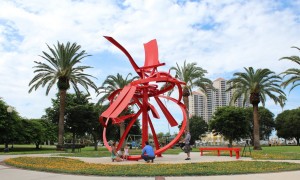 "When designing a sculpture," Black observes, "you have to consider the site. Here, I wanted my piece to be taller than the surrounding palm trees. You must consider the elements as well. Because of southwest Florida's intense sunlight, I've had Dupont add UV protection, like sunscreen, to the paint to retard fading."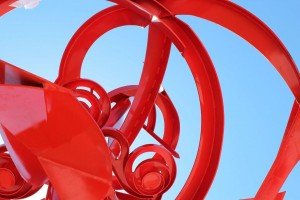 The sculpture is open so that people can walk through it and look up. "Inside the piece are four hidden spirals that create a story for your imagination," Black told the crowd who gathered for the March 2, 2012 dedication and ribbon cutting ceremony. "I like the idea of letting people walk around the sculpture and see it from underneath," Black says. "I want them to enjoy the piece from every angle."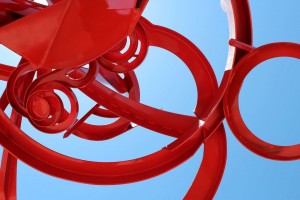 that end, Fire Dance has been encircled by a sidewalk and landscaping, and is framed by park benches so that visitors to Centennial Park can freely interact with the sculpture from every conceivable vantage.
Fire Dance represents Black's interpretation of the park's energy and vitality during events. "My wife, K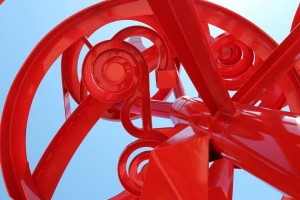 arlita, and I first visited Centennial Park at night. We walked right into a jazz festival. Fire Dance incorporates the sounds of the music and the noise of the crowd. Circles within circles; it's active, open, airy and rhythmic, just like jazz. And being originally from Gloucester [Massachusetts], I had to include some blades and sails in the design," Black explains, making reference to the sculpture's location close to the banks of the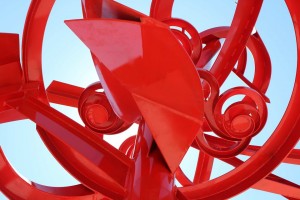 Caloosahatchee River.
"Imagination is always the fire; improv the heart," says the sculptor of his creation. "It is my hope that Fire Dance will lift each viewer's spirits and deepen their sense of community with Fort Myers by engendering a sense of civic pride."
[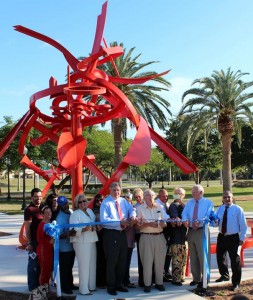 Pictured above at ribbon cutting ceremony are (from left) Public Art Committee member David Acevedo, fire dancer Christar Damiano, Barbara Hill (Florida Association of Public Art Professionals), Fort Myers Public Works administrator Donna Lovejoy, Mayor Randall P. Henderson, Jr., Public Art Committee Chair and member, Ava Roeder and Sharon McAllister, sculptor David Black, his daughter and former mayor Jim Humphrey.]
Why David Black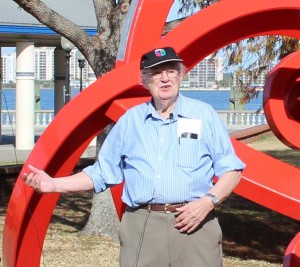 Black's illustrious career in monumental sculpture dates back to 1980, but long before he began working with industrial aluminum, Black, now 84 (depicted to left with Fort Myers Public Art Committee member Sharon McAllister), spent 12 years crafting ceramic sculpture. He then morphed into bronze casting while on a fellowship grant in Mexico and refined his skills in Florence while in Italy on a Fulbright scholarship. From there, Black went to Berlin on a two-year fellowship during which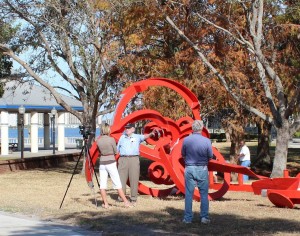 Die Neue Nationalgalerie commissioned a 22 foot tall sculpture named Skypiece for its sculpture courtyard and held a major one-man exhibition of his gallery-size sculpture, "David Black in Berlin."
His present-day love affair with aluminum was serendipitous. After winning an "Individual Artist Grant" from the National Endowment of the Arts, Black returned to the United States and became a professor emeritus in art at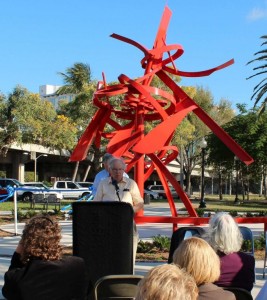 The Ohio State University. "I heard one day that an aircraft company in Columbus, Ohio [Northern Aircraft] had ceased making F-14s, leaving them with tons of surplus aluminum plates that they'd previously used to make the fighter jet's wings," Black said at the dedication for Fire Dance on March 2, 2012. Each honeycomb aluminum slab was 28 feet long, 10 feet wide, an inch thick and weighed a whopping 3,000 pounds. "I didn't know what I was going to do with them, but I bought 24 plates. I had to. They were virtually giving them away. Scrounge, scrounge, scrounge. That's how you start out as a sculptor."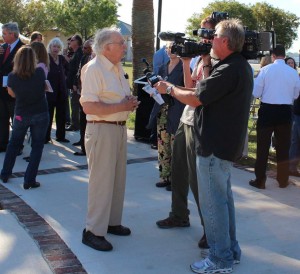 So Black hired two flatbeds to pick them up and deliver them to an open field behind Ohio State's ceramic department. "I found I could cut them with a power-driven concrete saw, the kind they use to cut up city streets, and that's when I started making this kind of public sculpture."
Only there was a glitch. He had no prospective buyers for the four immense sculptures he made from the scrap aluminum. Nevertheless, he retired from full-time teaching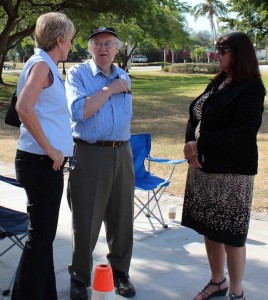 in 1984 and a year later his monumental Windpoint won the Shikanai, the grand prize in the prestigious Henry Moore International Sculpture Competition in Nagano, Japan. Windpoint is permanently installed at the entrance to the Utsukushi-ga-hara Art Museum there. "I didn't have the opportunity to visit the site before Windpoint was installed," Black reminisces. "It's at the top of a mountain peak, and I'll never forget how excited Karlita and I felt when we came around the corner and saw it for the first time."
By the end of the decade, Black was at work on a monumental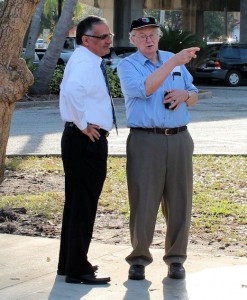 statue for the plaza of the Joel D. Valdez Main Library in Tucson, Arizona. As he studied the site and the region's desert environment, Black rendered a series of drawings which served as a blueprint for a "maquette" or model of the piece.  The model and related drawings were given to Steelcon, Inc., a Tucson fabricator, who turned the model into the resulting 32,800 pound, 25' high by 43' wide sculpture named Sonoma (right), which was was dedicated on July 4, 1991.
Like Fire Dance, it is all red. In Sonoma's case, Black chose the vibrant color to enliven the drab black and white of the library and soften the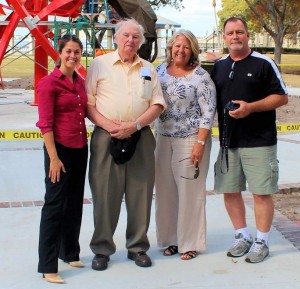 building's stark edges.  Funding for Sonoma was provided by the City of Tucson's "One Percent for Art Program." The initiative directs one percent of all bond-funded capital improvement programs to be spent on public art. Black was selected from 74 entries submitted to a jury consisting of the Pima County Public Library, the Joel D. Valdez Main Library, the Tucson Museum of Art, and local architects and artists.
H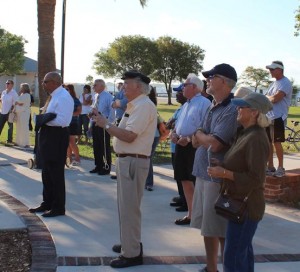 is commission prior to Fire Dance resulted in a yellow canopy-like piece called Lift Off that was installed in 2010 in front of Busboys and Poets at the corner of 5th St. NW and K Street NW in the Mt. Vernon district of Washington D.C. Black describes Lift Off as "kinetic as one passes by – reflecting the spirit and vibrancy of the new neighborhood." All Busboys and Poets feature public artworks, and Andy Shallal, the owner of the restaurant in Mount Vernon, lauds public art as "a way to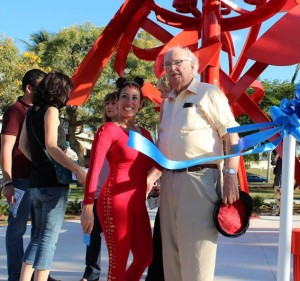 connect those living in a neighborhood with each other's humanity. It soothes the soul, lifts the spirit, and touches everyone who passes by in a way nothing else can. Having such grand art next to Busboys and Poets has forever defined the corner of 5th and K NW in the boldest terms."
Of course some have poked fun at the piece, describing it as "an unfinished building construction, clad in taxi cab yellow, on steroids." But stirring controversy and stimulating a dialogue on public art is also one of its functions.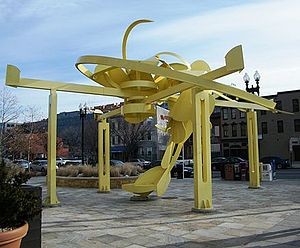 Black was chosen for the Lift Off project by a collaboration between the DC Commission on the Arts & Humanities, the Office of City Planning, the Mount Vernon Triangle Community Improvement District and community organizers who wished to inspire interaction and use of the new neighborhood plaza.
At 47 feet tall by 140 feet long, Flyover is Black's largest public art installation. Located in Dayton, Ohio, it is a memorial to the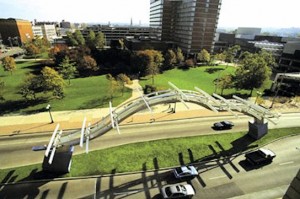 Wright Brothers first powered flight (which covered a distance of 120 feet (36.6 meters) and a time of 12 seconds). The stainless steel sculpture was chosen by the National Council of Structural Engineers Association for a national "Special Projects Award" in Seattle. When asked to explain the discrepancy between the sculpture's length of 140 feet and distance covered by the Wright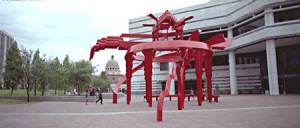 Brothers first powered flight, Black smiles coyly and answers, "You have to add in the length of the plane, which was 20 feet from tip to tail."
Exhibitions and Educational Achievements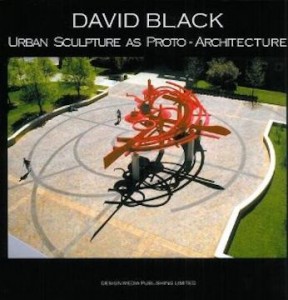 David Black has mounted major exhibitions at museums and galleries throughout the United States and Europe, including the Contemporaries Gallery and PS One in New York, The Gilman Gallery in Chicago, the Taft Museum in Cincinnati, the Indianapolis Museum of Art, the Columbus Museum of Art, the University of Iowa Art Museum, the Dayton Art Institute, Die Neue Nationalgalerie and Amerika Haus in Berlin and the Lehmbruck Museum in Duisburg, Germany.
Black was a professor of art at Ohio State University for 30 years.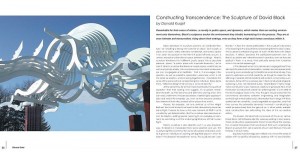 A native of Gloucester, Massachusetts, he received his B.A. cum laude from Wesleyan University, where he was also Phi Beta Kappa, and his M.A. from Indiana University.
Other Red Landmark Sculptures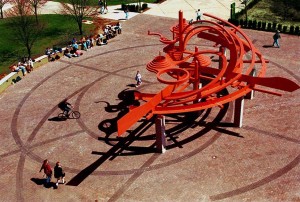 Turning Points sits outside University Hall at Wright State University in Dayton, Ohio. It sits on six granite pillars and above complementary reddish/orange pavers. Cast in aluminum, Turning Points stands 17 feet tall by 26 feet wide and 26 feet deep. It was dedicated in 1998.
Located in the Zanesville Art Center in Ohio, Outlook stands 23 feet tall and is 27 feet wide by 17 feet deep. Also made of aluminum, Outlook was dedicated in 2007.
Fun Facts.
While in Italy on a Fullbright scholarship, David and Karlita resided in the same villa that Leonardo DaVinci lived in during the four years DaVinci spent in Florence. "It was awe-inspiring to know that I was looking out the same window and seeing the same view of the city as the greatest artist who ever lived."
While in Berlin on a two-year fellowship, Die Neue Nationalgalerie arranged for David and Karlita to stay in a mansion that was owned by the wife of Goering and Goebbels' interior designer. "I found his notebook containing drawings of the furniture he placed in their residences and at Carinhall." Black did the right thing. Recognizing the journal had both historical and sentimental value, he turned over the journal to the woman's daughters following her suicide one wintry night some months after David and Karlita first took up occupancy in the mansion.
David and Karlita are avid antique hunters. They once purchased a vase for $2 that turned out to be a museum-quality Zuni Indian religious ceremonial jar worth more than $20,000.
The fabricator Black used for Fire Dance is located in Ohio, 130 miles from Black's home. Fire Dance is the 14th public art installation that they have made for David.
The sculpture is fabricated and delivered in pre-engineered, pre-drilled parts.
The fabrication team for Fire Dance consisted of Don Barrett (orange shirt), Mike Anderson (black shirt and ball cap) and Ben Johnson, who have assembled most of the 14 sculptures produced by the Ohio fabricator.
The driver had delivered five other sculptures for Black.
Black often listens to Stravinsky while designing and making cardboard and wood models of his sculptures. "My basement, which we refer to as 'the sandbox,' is full of models," confesses Black, who is always working on a new concept or idea.
While in Fort Myers to supervise Fire Dance's installation, Black insisted on taking a walking tour of the River District so that he could see D.J. Wilkins' Uncommon Friends, Marylyn Dintenfass' Parallel Park, the Marlin Miller American bald eagle on Main Street and the Barbara Jo Revelle ceramic tile mural (Fort Myers: An Alternative History).
Fire Dance is Black's first public art commission in the state of Florida.
Black was delighted at the dedication and ribbon cutting ceremony by fire dancer Christar Damiano's interpretation of the vitality and energy of his sculpture.