Marlin Miller American Bald Eagle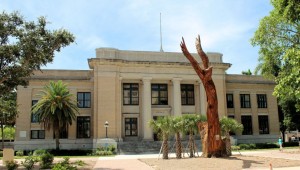 In front of the old Lee County Courthouse on Main Street is a chainsaw sculpture of an American bald eagle just beginning to take flight. It was carved in 2011 from a majestic oak tree that first put down roots around the time the United States Constitution was being drafted in Philadelphia. The tree was already 120 years old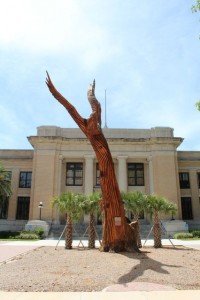 when the courthouse was built, and 225 years old when it became infested with termites in 2001. Lee County spent more than $60,000 to brace and treat the tree in a valiant effort to save it. But after several large limbs broke off and crashed to the ground in 2010, the Lee County Commission decided the tree had to come down and it appeared the oak was destined for a wood chipper.
The plaque at the base of the eagle tells what happened next:
"A suggestion came forth to consider using the tree base and part of the stump to immortalize the landmark that had graced the courthouse for so long. A year long study as to how to accomplish this ensued, and it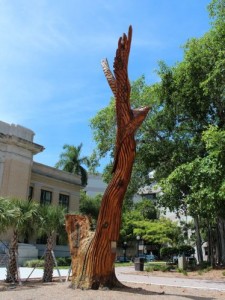 was finally decided to bring in nationally acclaimed wood working artist, and Florida resident, Marlin Miller, and have him create from the tree the very symbol of Liberty, an American Eagle in flight. Before you flies his magnificent creation, guarding forever the work done for our citizens at the center of government."
The sculpture towers more than two stories. Miller carved the tree pro bono, asking the county to merely cover his out-of-pocket expenses.
How he did it
On June 9, 2011, Miller donned a lightweight shirt, heavy chaps and gloves, ear protection and a breathing apparatus, then climbed into a hydraulic lift that carried him ten, twenty, thirty feet above the ground while below, a crowd gathered to watch him work. From his perch, Miller used his chainsaw to shave huge chunks of bark and wood from the trunk of the termite infested tree, the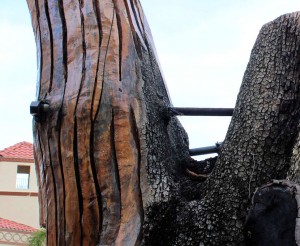 sawdust acting as an insulator against the heat and ravages of the torrid summer sun.
"When I see a tree, Mother Nature has already put the sculpture there, so I'm just opening it up," Miller explains of the creative process that guides him as he cuts, shaves and sculpts away. In spite of the ear-splitting noise, Miller is filled with a seemingly incongruous serenity. "I feel like I'm painting on a canvas out on a quiet beach somewhere."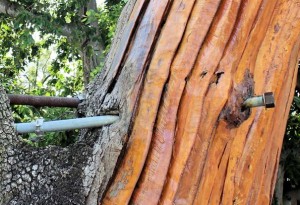 Miller completed the project in just five days on June 14th. Miller left the anchors and braces that had been drilled into the trunk years ago to stabilize the tree and keep heavy branches from dropping to the ground in high winds and heavy rainfall. Miller added even more support. "It is heavily reinforced to withstand a hundred years of anything mother nature throws its way," Miller said with satisfaction after completing the eagle which he hopes will provide inspiration to Fort Myers residents and visitors for generations to come.
Who is Marlin Miller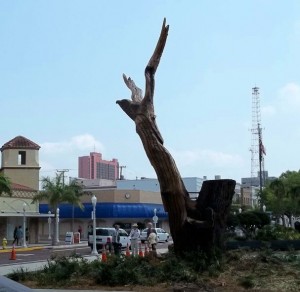 Miller is a fourth generation artist who grew up on a family farm in Manson, Iowa. He graduated from Hawaii Pacific University with a minor in art and served two overseas tours in the USAF.
The 50-year-old father of five who now resides in Fort Walton Beach, Florida made a name for himself in the wake of Hurricane Katrina. Following the storm, Biloxi Mayor A.J. Holloway and Public Affairs Manager Vincent Creel initiated a project with Mississippi chainsaw artist Dayton Scoggins to sculpt marine animals and figurines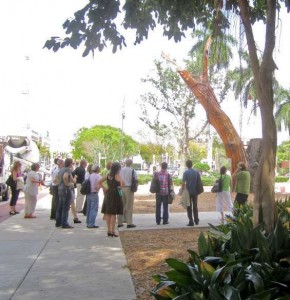 from dozens of trees in the median of Beach Boulevard in Biloxi that were killed as a result of the saltwater storm surge 16 months earlier. Miller saw Scoggins' initial five sculptures and was inspired to get involved "in reciprocity for the help Biloxi had extended Fort Walton Beach in the aftermath of Hurricane Ivan."
"I was originally only going to do two sculptures, but it evolved into a bigger project than I had anticipated." For four years, he donated his time and talent carving a trail of "Katrina Sculptures" along a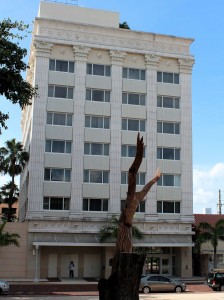 40-mile stretch of Mississippi coastline from the trunks of the immense storm-ravaged oak trees. The 40 perched pelicans, soaring eagles, playful dolphins and, yes, occasional marlin, some towering three stories high, have become the number one tourist attraction in the area. Fifteen are located in Biloxi (which lost 51 residents to Katrina), and now serve both as tourist attractions and poignant reminders that our native animals and marine life are irreplaceable local treasures.
Miller has been featured on the NBC Nightly News with Brian Williams, The Today Show, CNN and PBS. His work has been featured in Southern Living Magazine, Coastal Living, Southern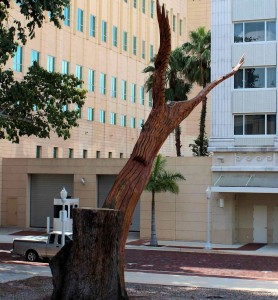 Breeze and Woodcarving Illustrated. On August 29, 2010, the American Profile magazine featured Marlin on the front cover. This magazine has a readership of nearly 20,000,000 in all fifty states.
Miller exhibits his conventionally-sized wood sculptures at Negrotto's Gallery in Biloxi, Gulfport Galleria of Fine Art, Caboose Art Gallery in Long Beach, Maritime Museum in the Edgewater Mall, Maggie May's in Bay St. Louis, and the Gallery in Ocean Springs. For more information, please visit www.marlinmillergallery.com.
Location and Measurements.
The Miller American bald eagle is located at 2120 Main Street, Fort Myers, FL 33901.
The eagle's coordinates are 26d, 38′ 33.666″ N longitude and 81d 52″ 12.614″ W latitude.
No information has been obtained regarding the precise height, width and depth of the sculpture.
However, the trunk is 7 feet wide and 8 feet deep at ground level.
Fast Facts.
In the process of carving the bald eagle, Miller salvaged between 4,000 and 5,000 pounds of wood from which he plans to make fountain pens and bowls that the county can bestow as awards and at ceremonial events.
Information about the artist and his work is available at http://www.marlinmillergallery.com.