Art Walk – The First Friday of Each Month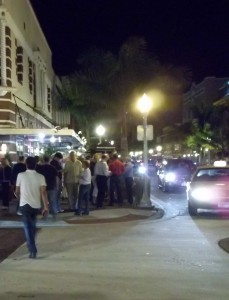 There are thirteen art galleries concentrated within four blocks of  the downtown Fort Myers River District, and on the first Friday of each month, rain or shine, thousands of art lovers stroll along Broadway, Dean, First, Hendry and Jackson streets taking in new art exhibitions, art demonstrations and meet-the-artist receptions. It's called Art Walk, and it's an event which has revitalized the downtown and kindled in Fort Myers residents and visitors a new passion for and understanding of both the visual and performing arts.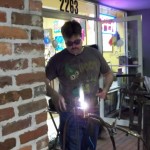 In anticipation of each month's Art Walk, the River District art galleries locate, curate and exhibit exciting new artists and the latest in contemporary to avant-garde oils, acrylics, watercolors, mixed media, collage, sculpture, art jewelry and fine crafts. All the galleries host receptions for their featured artists, and many arrange for demonstrations of everything and anything artful (such as the lost art of repoussage, art cards, Zentangle, glass fusion, bead making and the creation of jewelry made from Tagua nuts).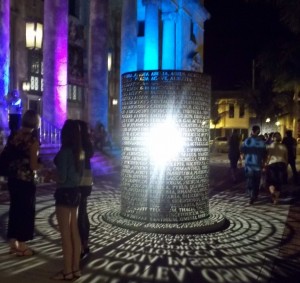 The art stops include the Art League of Fort Myers on Monroe, Art of the Olympians in the City Pier Building at the end of Hendry Street, Articulture Gallery & Tattoo, Arts for ACT Gallery, Enjewel, HOWL Gallery/Tattoo, Ocasiocasa, Space 39 and the Sidney & Berne Davis Art Center, which is known for its neoclassical revival architecture, graceful Ionic columns, and the Jim Sanborn light sculpture, Caloosahatchee Manuscripts, which bathes the building's façade, limestone steps and surrounding sidewalks in lighted letters to the delight of the Art Walk crowd.
Art Walk begins at 6 p.m. and the galleries stay open to 10 or even later depending on the show and the crowd.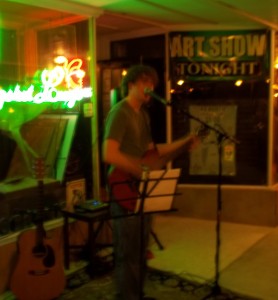 Art Walk is also characterized by live entertainment, spirits and great food. HOWL Gallery books a live band in the courtyard behind the gallery (which is dominated by a large sepia-toned ceramic tile mural titled Fort Myers: An Alternative History). The Sidney & Berne Davis Art Center provides a jazz band in its grand atrium. And Syzygy treats its guests to the musical stylings of singer/songwriter Terry Lynn, who pipes her performance to a worldwide virtual audience. The entire downtown is converted into a medley of live performances by diverse street musicians, some hired to play and others being "volunteers" who just want to add to the festive atmosphere of the occasion. But the musical highlight of the evening is the Friday Night Live free concert in Patio de Leon.
Before, during and after Art Walk, the River District restaurants cater to the throng of hungry and thirsty art lovers. Morgan House Restaurant, French Connection Cafe', Twisted Vine Bistro (formerly H2) United Cafe', Bar and Bistro (formerly Cafe' Matisse), Veranda, Ichiban Chinese & Japanese Cuisine, Downtown House of Pizza, What's Up Dogs, The Oasis Restaurant, Starbucks Coffee, Hideaway Sports Bar, Red Rock Saloon, Spirits of Bacchus and The Cigar Bar all welcome Art Walkers with special menu items and convivial service. Spirits of Bacchus is also the scene of the Art Walk After Party, which begins at 10 and continues late into the night.
Both as badges of honor and to promote the event, Art Walkers can obtain Art Walk buttons and tee-shirts (in red or black). The latter are available for a $12 donation at the Iberia Bank gallery showcase. Although they are not really necessary, each art stop stocks free maps showing the location of each gallery, boutique and other art stop, as well as the pick-up points of the free shuttle service furnished courtesy of Select Transportation, Inc.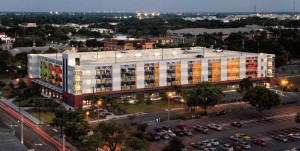 The River District is well-equipped to accommodate the traffic drawn to the downtown by Art Walk. Free parking is available at the Harborside Event Center, the Monroe Street parking garage and the Lee County Justice Center Parking Garage on Martin Luther King Boulevard, which incidentally, is the site of Parallel Park, a 30,000 square-foot outdoor experiential art installation comprised of 23 open-weave panels of Kevlar and fiberglass 33 feet tall by 22 feet wide that are imprinted with the riotously-colored abstracts of internationally-renowned New York artist Marylyn Dintenfass.
Art Walk was conceived by a handful of local gallery owners and curators, including Andy Howl (HOWL Gallery), Claudia Goode (Arts for ACT) and David Acevedo (daas Gallery). It debuted in October, 2008 and has been growing in popularity ever since. It is now a River District Alliance event.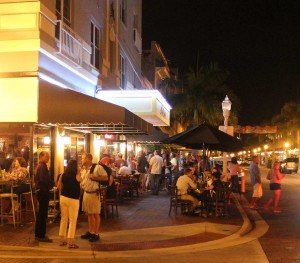 Each of the galleries, restaurants and other establishments previously mentioned are Art Walk Partners, as are AmeriDry, Browtopia, Cool Hand Luc's, First United Methodist Church, Florida Repertory Theatre, Fort Myers Redevelopment Agency, The Franklin Shops, Hampton Inn & Suites, Happenings A&E Magazine, Hotel Indigo, Ivy Cottage Antiques & Treasures, Legacy Harbour Hotel & Suites, Main Street Antiques, Market American Realty & Investments, The Oasis Luxury Condominiums, Potomac Bead Company, Renaissance Creativity Center, River District Alliance, SKS Photoshoot, and the Young Artists Award Program.
Related Articles and Links
About the Author