UNIT A Contemporary Art Space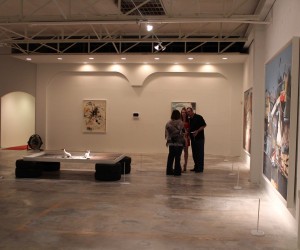 Located around the corner from the Lee County Tax Assessor's Office on Evans Avenue, Unit A is technically part of downtown Fort Myers although a bit off the path beaten by Art Walkers during the River District's monthly self-guided gallery walking tour. Nevertheless, the art inside this contemporary art space more than justifies the 10-block jaunt or short drive by car or the trolley from the action that takes between Bay and Main and Monroe and Lee streets during Art Walk. You see, UNIT A Contemporary Art Space is devoted to the display of the brilliant and historically significant work of local artist Marcus Jansen.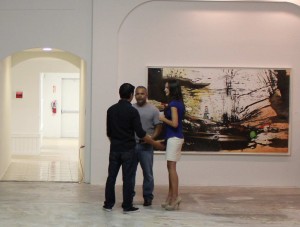 Location. UNIT A is located at 1922 Evans Avenue in a sprawling warehouse on the eastern edge of downtown Fort Myers. The space has two parking lots which are accessible from both Evans Avenue and Thompson Street.  There are no other galleries, studios or spaces like Unit A in the vicinity, but it is an ideal location for them and UNIT A looks forward to the art district expanding in its direction.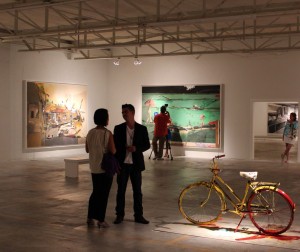 Facilities. Unit A occupies a 7,000+-square-foot warehouse that has been converted into a raw New York style urban loft. Once inside, visitors will find on their right a glass-enclosed gift shop where they can buy limited-edition prints, DVDs and books. Across the hall is a cozy limited-access VIP room that displays new work fresh from Jansen's studio. But it's in two cavernous rooms at the end of the hall where guests will find selected works from Jansen's collection.
Designated simply Rooms A and B, the viewing areas are tall, wide-open warehouse bays. White painted steel joists run in parallel lines from sidewall to sidewall beneath the ceiling that towers high overhead. Spotlights project from the bottom chord of the joists to illuminate Jansen's large-scale post-apocalyptic, dystopian paintings, which are hung just inches off the unfinished, pock-marked floors. Though once tiled, Jansen had the ceramic chipped up, leaving bare concrete, jackhammer scars and the faded outline of the tile squares which the artist regards as an art form itself.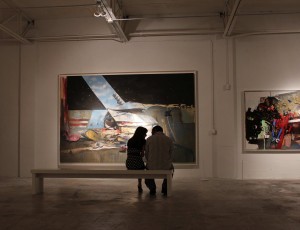 The paintings are hung only inches from the floor. Jansen's canvases "characteristically depict interiors that have been opened to the outside, often by way of an absent or partly shattered ceiling, but also by an ambiguous depiction of space itself," observes Dan Cameron, former curator of New York City's New Museum and founder of U.S. Biennial, Inc. Because the rooms in his pictures are blocked in with slab-like planes of paint that require the viewer to enter the space from above, if you hang the paintings too high, you'd destroy that perspective, so each one has to be set lower on the wall in order to accommodate the framework Marcus intended.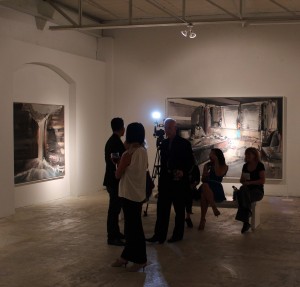 Jansen chose not to finish the concrete block walls in Rooms A and B, and purposefully avoided adding architectural embellishments such as baseboard, chair rail or other moldings. But as luck would have it, the space came with a plethora of interesting cut-outs, boxed columns and archways that provide visual definition, negative spaces, and resting and transitions points that separate one work from the next. He and his design team toyed with the idea of painting the walls gray, but they opted to apply a coat of stark white paint instead in order to accentuate the cultural aspects of the architecture and provide maximum contrast for the abstract shapes, chaotic colors, decayed buildings, rubble and solitary figures who populate his jumbled post-apocalyptic landscapes. "It would have been too institutional," Jansen explains of the choice of white over gray for his wall color. "Would have taken away some of the character of the building."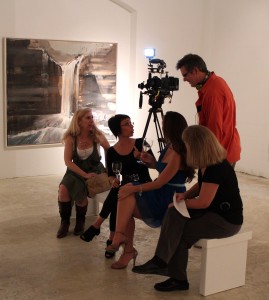 Also scattered about Rooms A and B are select topographical pieces (some appropriately set atop stacked car tires), a brightly colored bicycle (seemingly plucked from one of Jansen's aerial landscapes) and several white contemporary wood benches ideal for those who wish to park awhile as they navigate visually and  intellectually through each piece. Interspersed on the walls among the paintings are graphics that contain commentary by various art critics as well as excerpts from Jansen's bio.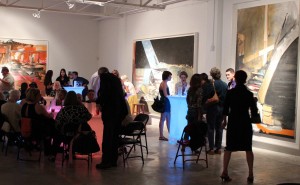 In sum, UNIT A  is a suave, sophisticated ultra-modern viewing environment ideal for appreciating Jansen's artworks or enjoying some other event, such as a gallery talk, corporate meeting, hip fashion show, charity gala or similar event.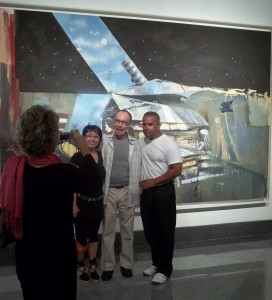 Concept. Although he has only been painting professionally since his discharge from the United States Armed Forces in 1997, Marcus Jansen has already attained recognition as the leader of modern urban expressionism, an artistic movement that is an amalgam of graphic design, graffiti and contemporary art rendered via a marriage of complementary media that includes oil paints, enamel and various elements of collage art. "I became pretty well known within a very short time," Jansen told an Art Talk audience at Florida Gulf Coast University in February, 2012. He credits his growing notoriety to commissions from Absolut Vodka, Warner Brothers and the Ford Motor Company, and the inclusion of his work in the permanent collections of  New Britain Museum of American Art, Kemper Museum of Contemporary Art, Moscow Museum of Modern Art, National Taiwan Museum of Fine Art, Smithsonian Institution and Absolut Vodka Museum in Sweden.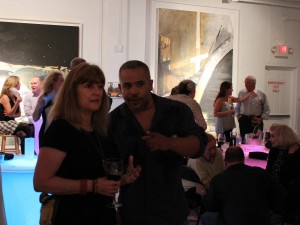 This attention mandated the necessity of creating a space in which other museums, galleries and corporate and private collectors can view the more than 200 original paintings, mixed media works and 3-D collages that together comprise Jansen's private collection and working body of for-sale artworks. However, due to the size and dimensional perspective (see above) of the majority of Jansen's works, not just any viewing space would suffice. "Paintings like Marcus Jansen's need space to breathe … space in which viewers can interact with the paintings individually," notes art critic and Jansen expert Veron Ennis.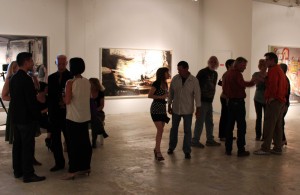 What Jansen needed was a warehouse, with 14-foot ceilings and large expanses of empty white walls. Although he exhibits predominantly in major cities such as New York (where he was born), Chicago, San Francisco, London, Paris, Berlin and Rome, the Lehigh Acres resident decided to locate UNIT A in downtown Fort Myers in order to contribute to his local community. In so doing, he joins Art of the Olympians and the Sidney & Berne Davis Art Center in making Fort Myers the hub for his international operations.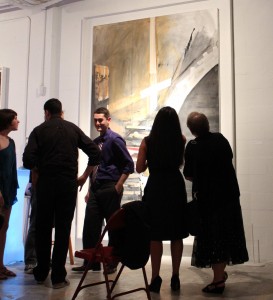 In addition to hosting museum curators, gallery directors and corporate and private collectors, UNIT A welcomes tours by universities and other art institutions who are interested in learning more about the art and career of Marcus Jansen. In addition, the space will serve as a venue for the screening of art documentaries, lectures and business and corporate meetings. "The idea is to get people involved in the arts and create a dialogue," says Jansen.
Hours. Beginning June 1, 2013, Unit A will be open to the public from 10 a.m. to 3 p.m. Monday through Friday, as well as from 6-10 p.m. on the first Friday of each month for Art Walk. Otherwise, it will open for special occasions and by appointment only.
Telephone Number and Website. You may reach the gallery online at http://www.unitaspace.com or by telephoning 239-338-8449.
Ownership. UNIT A Contemporary Art space is owned by Expressive Culture, LLC, a Florida limited liability company for which Marcus A. Jansen serves as the managing member.
Artist Agent. Former Space 39 gallery owner Terry Tincher serves as Jansen's artist agent. Tincher is primarily responsible for Jansen worldwide career building, placing works, organizing international showcase scheduling and finding new markets, as well as being the point of contact for Jansen's European and Asian gallery partners
Fun Facts.
UNIT A touts itself as "the largest and only contemporary art space of its kind in southwest Florida. However, it is virtually unprecedented for a living artist to create a museum-quality facility devoted to the public display of, and education about, his art. Most spaces devoted to the collected works of a single artist are typically museums like the Dali Museum in St. Petersburg, Florida or the Clyfford Still Museum in Denver, Colorado that are created by the artist's estate following his death to advance the understanding and appreciation of the artist's art and legacy through the presentation, research, interpretation, preservation, and stewardship of its unique collections.
The grand opening for the space took place on Friday, March 2, 2012.
Jansen made the public announcement of the opening of Unit A Contemporary Art Space before the 2012 Greater Lehigh Acres Chamber of Commerce banquet held on January 28, 2012 at the Gateway Country Club.
Said Fort Myers Film Festival curator Eric Raddatz at the opening, "I love UNIT A. I've lived in Fort Myers for a decade now, and I can't believe we have an international with Marcus Jansen's work here in Fort Myers."
Related Articles and Links.
2014
2013
2012
2011