Marcus Jansen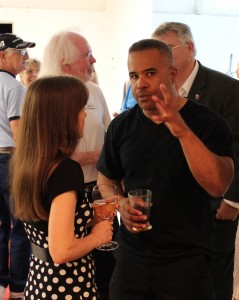 Name: Marcus Jansen
Genre: Modern Urban Expressionism, Abstract
Galleries: UNIT A, Fort Myers, FL, HW Gallery, Naples, FL
Website: http://www.marcusjansen.com
Facebook: http://www.facebook.com/pages/Marcus-Jansen/133755503337499
His Art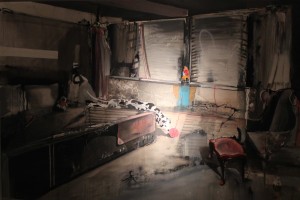 "It is seldom that you find a painter who combines technical skill and expertise with a profound sense of purpose and a truly unique awareness of the world," writes Justin Ferraro. "Discovering such an artist is truly an invigorating undertaking, at once inspiring and utterly refreshing. Such was my experience when I found Marcus Jansen."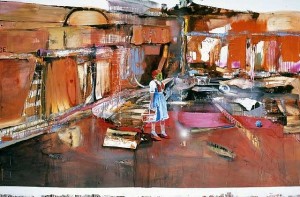 Ferraro echoes the sentiment of the late Vanguard Exhibition curator Jerome A. Donson, who called Jansen "my last find." High praise indeed when one considers that Donson worked closely with painters like Jackson Pollock, Robert Rauschenberg, Franz Kline and William de Kooning during the years he spent directing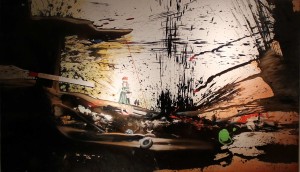 traveling exhibitions for MoMA, the New York Museum of Modern Art. Says art critic and historian Donald Miller, "There isn't anyone I know who's doing what he's doing …. [T]hey have their own niche. They're totally unique …. I have a Roladex in my mind of all the paintings throughout history … and I've never seen anything like [Jansen's work]."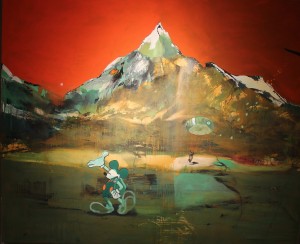 Although the 44-year-old has only been painting professionally since 1997, Jansen is already regarded as one of the most exciting new painters to emerge during the early part of the 21st Century. In fact, Donson pegged him as the father of modern urban expressionism, a term that refers to a style of German expressionism Jansen learned during a two-year apprenticeship in Germany which is informed by his experiences in graphic design, graffiti art and urban landscape painting.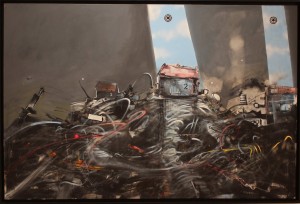 The landscapes appear to show strong North American influences, but Jansen himself refers to them as universal in nature and not site specific. They evolve from his extensive travels, which include not only the years he resided in Moenchengladbach, Germany, but time spent visiting family and friends in the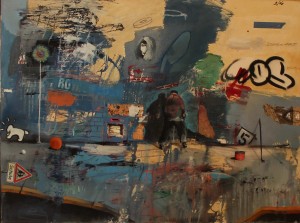 Netherlands, France and Italy, as well as his assignment in Iran in 1990 during Desert Storm after he enlisted in the U.S. Armed Forces. Jansen's fascination with graffiti art goes back to his youth when, as a kid, he rode the subway from homes in the Bronx and Long Island to the other parts of New York City in cars decorated by aerosol artists with painted cartoon-like characters and colorful letters. In fact, the intrepid Jansen even cajoled Manhattan graffiti legend WESTONE to take Jansen under his wing.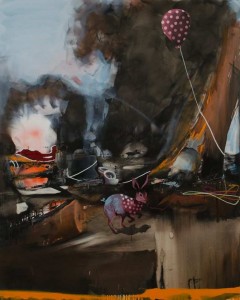 "You can physically see the influence of various life stages intermingling as Jansen weaves together a quilt from his intellect and experience," observes ArtPulse correspondent Irene Sperber. "His sharp eye sees meaning in all things: reflection, texture, color, shape, movement, mood, gesture, emotion – all collide in the complicated street life ambiance." Or as Ferraro observes, "It is clear to see elements of graffiti coupled with symbol-rich graphic design. Jansen shares Shepard Fairey's taste for eye-catching iconography, though with a more subtle touch. Some of Jansen's paintings display the hip-hop sensibility of image sampling, borrowing such recognizable figures as Mickey Mouse and the crew from The Wizard of Oz. Jansen utilizes these popular images to create a sort of political subtext to his paintings, a statement on the state of society."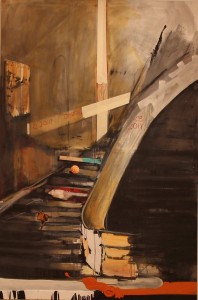 It is this very social and political commentary that Jansen's international patrons most embrace. They relish that Jansen is not afraid to be ideological. His highly dystopian, post-apocalyptic urban landscapes reflect turmoil, chaos and the simultaneous construction and destruction that typify contemporary life and interpersonal relationships. They bare the spiritual wounds, voids and apathy that give rise to our present-day cultural discord and personal nihilism. "He reconciles opposites, identifying the elegance in the tawdry and decrepit, glorifying the pure object severed from conventional beauty, balancing ugliness with lightness and delicacy, and juxtaposing grimness with playfulness. Open vistas erase time as they sweep us from present to past and back again. His art asks us, are we in the midst of disassembling or rebuilding, and it warns us of the danger of mistaking one process for the other. Decay, wreckage and neglect co-exist with orderly functional urban scenes." Stolenspace Gallery, London.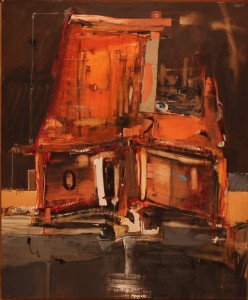 Even Jansen's technique is raw and rebellious. His brushwork possesses a highly gestural physicality. He is not afraid to use spatulas and palette knives to achieve a desired effect. Paint globs, drip marks and layered washes fill his compositions like building blocks, and he mixes a multitude of  media, including oil paint, enamels and elements of collage, in order to create rifts of swift, interconnected textures that infuse each canvas with a syncopation that draws viewers in. It all works together to communicate immediacy, as if the painting were a quick sketch. But, cautions art critic Veron Ennis (who served as director of Jansen's UNIT A Contemporary Art Space until September 7, 2012), "the composition remains incredibly controlled with no sign of carelessness."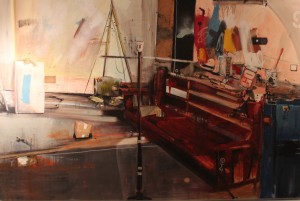 Jansen's paintings possess a longevity born of multi-tiered symbolism that takes time to unravel and digest. "Jansen's powerful depictions of issue-charged environments include a cast of symbolic imagery that works in harmony to engage our innate concern for humanity's well-being," notes Ennis. "Faceless figures embody entire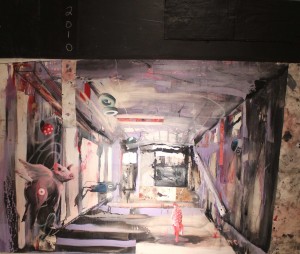 genres of people , from demons of society to the poverty-stricken forgotten victims of natural and economic disasters. Tires strewn about the composition, abandoned or actively flying out of plane, call to mind the unfortunate tendency to waste resources and carelessly cast away material deemed disposable – now a slowly decaying toxic mass. Spotted toy balls whimsically alleviate the weight of the darker subject matter, alluding to childhood. They give a glimpse of innocence, an invitation to look at life through a child's eyes."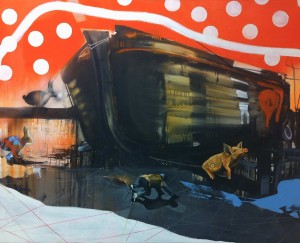 That said, the symbolism "is more about dialogue to me, and deciphering the works," says Jansen. For example, much has been written about the meaning of the old tires that populate many of his two and even three-dimensional works. "But initially, the tire represented me and the miles I left behind," Jansen deflects. "I use a lot of collage elements in symbolic terms, but there's no end meaning to my work. Personally, I leave [my work] open to interpretation as far as what people read into it. I'm more concerned about having an impact on people and having them engaged in the work in some way and having them critically analyze it."
If that's the artist's personal measure of success, then Marcus Jansen is truly one of the most accomplished painters of the early 21st Century.
Bio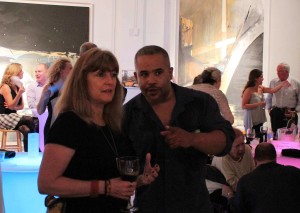 Born in 1968 in Manhattan, New York City, Marcus Jansen was educated in Europe during his young adult years. He studied Design and Commercial Painting at the Berufskolleg fur Technik ind Medien, Monchengladbach, Germany, in 1985. After his first year, he rejected the school's teaching methods. He joined the U.S. Armed Forces in 1989 and was assigned in 1991 to combat duty in Iraq during the First Gulf War. A year later (1992), Jansen was diagnosed with PTSD, but he served five more years before being discharged 1997.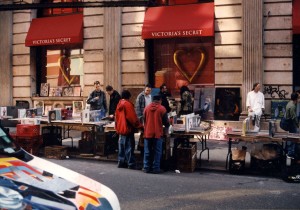 After eight years in the military, Jansen devoted himself to art, initially opting to sell his paintings on the corner of Prince Street & Broadway in Manhattan. Seven years later (in 2003), Jansen was discovered by art historian Jerome A. Donson, who organized travelling exhibitions at MoMA (the Museum of Modern Art in New York),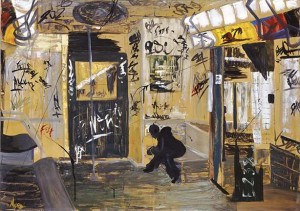 where he had worked closely with action painters including Jackson Pollack, Willem de Kooning, Robert Rauchenberg and Jasper Johns. In his forward to Jansen's first book, Donson describes Jansen's work as "reminiscent of the Ash-Can School," referring to Jansen as the "innovator of Modern Expressionism."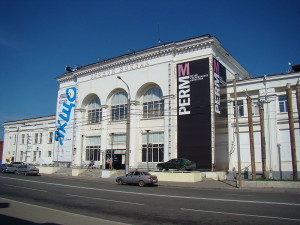 Since then, Jansen's work has received considerable local, national and international acclaim. His work can be found in the permanent collections of the PERMM Museum of Contemporary Art in Russia (left), the New Britain Museum of American Art, the Moscow Museum of Modern Art (MMOMA), the Kemper Museum of Contemporary Art and the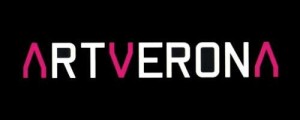 Smithsonian Institution. It has been exhibited at international art fairs including Art Chicago and Art Basel in Miami Beach, and will be exhibited in October by his European representative, Maria Bianca Rizzi & Matthias Ritter Gallery in Milan, Italy, at Art Verona International Art Fair. The fair is a prelude to a solo museum show in Italy in 2014.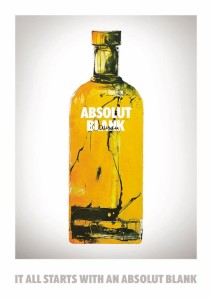 Jansen's paintings have garnered favorable reviews in Art News, Art in America, The Boston Globe and The New York Times. Jansen is also one of the Absolut Vodka artists, joining iconic artists like Andy Warhol, Damien Hirst, Keith Haring,  Douglas Gordon, Louise Bourgeois, Ellen von Unwerth and Spike Jonze in representing the distiller's brand worldwide. Just recently, Jansen's Pink Zebra on Edge was one of 123 works out of 1,226 submissions to be juried into the Fleurieu Art Prize in South Australia, one of the most significant landscape competitions in the world.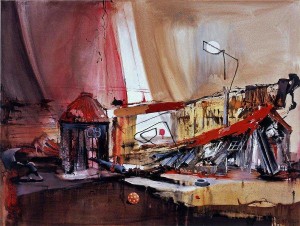 In December of 2012, Jansen won the Dave Bown Projects Award, and started off 2013 with a win at the Aesthetica Art Prize in the United Kingdom. In March, 2013, Jansen's The Storm (right) received a special merit award at the March, 2013 Art Laguna Art Prize in Venice, Italy, where he was the only American painter selected by the show's prestigious international panel of jurors.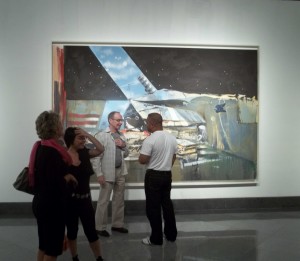 Marcus was first introduced to the Southwest Florida art community at the Sidney & Berne Davis Art Center in May, 2011. His solo A Painter's Allegory exhibition still ranks as the Art Center's most popular show to date. Roughly a year later (March, 2012), Jansen founded UNIT A Contemporary Art Space in downtown Fort Myers, and the Unit serves as both his studio, international headquarters and viewing environment for new releases and older works in his personal collection. In 2014, Jansen's work will be auctioned at the international auction house Phillips de Pury, Moscow and Geneva, representing an important milestone in his career for museums and private collectors.
Faceless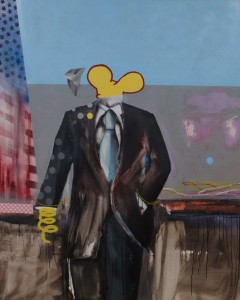 In 2012, Jansen launched a new series that he named Faceless. The series is a departure from Jansen's post-apocalyptic dystopian urban environments. Jansen wanted to experiment with classical portraiture, but felt that the genre was a little too staid for his tastes. Whereas traditional portraiture focuses upon a visual depiction of the subject (such as the Mona Lisa or Henry VIII), Jansen's brand of portraiture is premised upon the supremacy of the painter's artistic feeling about the subject.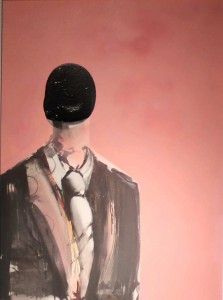 So in Faceless, Jansen has created a macabre metaphorical gallery of the faceless corporate power brokers who make decisions that affect our world behind the anonymity of corporate board rooms – whether on Wall Street or somewhere in the world of business. And in the tradition of Russian Suprematist Kazimir Malevich, Jansen expresses his internal reaction through basic geometric forms such as circles, squares, lines and rectangles painted in a limited range of monochromatic colors.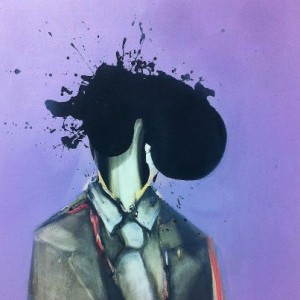 Selected works from the series have been included in a travelling exhibit that has visited Gallerie Urbane in Dallas, Texas in November, 2012 and Art Basel in Miami in December, 2012. Works from Faceless were also included in Anonymous, a group exhibition by 34 artists from around the globe that opened November 22, 2012 at Russia's PERMM Museum of Contemporary Art (right). Anonymous explores the theme of anonymity, not just in modern art, but in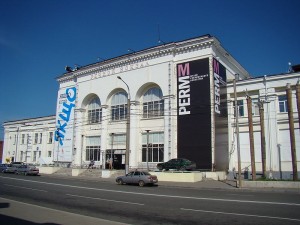 business, government and a social fabric increasingly dominated social media, the blogosphere and Internet marketing. The exhibition reflected in particular upon the motives and semantics of anonymity in modern art through displays that addressed topics ranging from modalities that provide protection against adverse reactions by corporate and government authorities to new forms of portraiture that reject the traditional stylized rules that have governed the genre from the Byzantine era to the present day. Jansen's new Faceless Series falls within the latter grouping.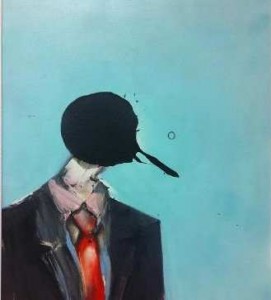 Incident to the exhibit, the PERMM Museum of Contemporary Art purchased Jansen's Faceless #3 (left). The PERMM acquisition was made by its chief curator, Marat Guelman, who is widely regarded as one of the top judges of artistic talent in Russia. His assessment of Jansen's talent corroborates commissions by Ford Motor Company, Warner Brothers and Absolut Vodka, which invited Jansen to participate in their ABSOLUT BLANK global marketing campaign in 2011 along with 17 other internationally-acclaimed artists.
Aerial View Series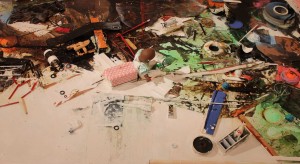 New in 2012 is Jansen's "Aerial View" series. The series evolved innocuously enough. A collector visiting Jansen in his studio took note of one of Jansen's color palettes, an old table top he uses for mixing paint. "You know what? This is really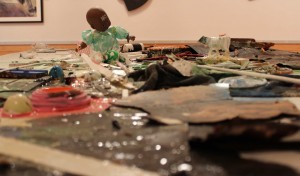 interesting," the collector remarked, prompting Jansen to view the mounds of paint accumulated on the wood surface with fresh eyes. Its topography reminded him of a front line combat zone he'd flown over in a chopper during his Gulf War tour in 1991. On the desert landscape below, he could see the devastation that had been wrought by U.S. forces. And that mnemonic connection gave impetus to a new series of 3-D works that Jansen calls aerial views. "I'd been painting largely two-dimensional landscapes from traditional angles for the past 15 years," Jansen told an Artist Gallery Talk audience at Florida Gulf Coast University on February 23, 2012, "and thought it would be interesting to provide viewers with a different perspective."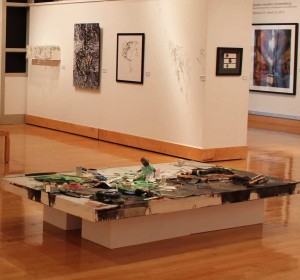 So Jansen decided to see what he could carve out of the experience, which seemed plausible given that he rarely pre-plans his compositions, preferring instead to explore the theme and subject matter as the painting process unfolds. His first two aerial pieces sold as soon as Jansen showed them, which encouraged Jansen to do four more, and the 3-dimensional work he took to Art Basel, Rock a bye baby (above and to the right) was similarly well-received.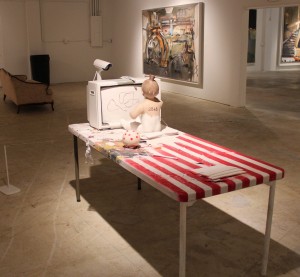 "The [Aerial View] paintings are still ambiguous, perhaps even more immediate and raw, and could be mounted horizontally as a table (as his gallerists did for the first time at Art Basel) or [hung] on walls for viewers to experience what at first sight may appear chaotic but yet in order," Jansen writes of the series. "My subject matter continues to investigate what is happening in the current century and follows a fast moving transformation of the world order and the condition of populists and earth, and reflects my personal experience through landscape gestural paintings."
"It's a new venue," Jansen summed up in his FGCU Gallery Talk. "I'm exploring it. I like it. It's very spontaneous. (Most of my work is spontaneous.) It's more impulsive. More like action painting."
Absolut Blank Marketing Campaign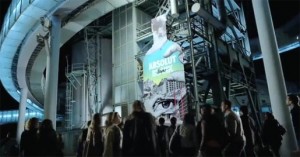 Swedish distiller, Absolut, produces and markets brands that include Absolut Vodka, Malibu, Kahlua, Wyborowa, Luksusowa and Frïs. Absolut Vodka is the world's fourth largest premium spirits brand. Sold in more than 150 countries,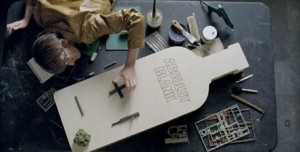 Malibu is the number one coconut-flavoured rum in the world, and Kahlua coffee liqueur is likewise the world leader in its category. To market its products, the distiller has collaborated over the years with artists in campaigns that challenge artistic conventions. AndyWarhol, Keith Haring, Damien Hirst, Douglas Gordon, Louise Bourgeois and, more recently, Ellen von Unwerth and Spike Jonze are some of the icons with whom Absolut has partnered in this way.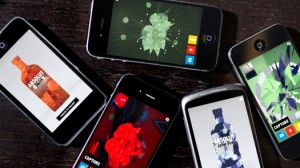 In July of 2011, Absolut invited a new generation of artists from around the world to help them introduce ABSOLUT BLANK, a global campaign that includes paintings, film, print and outdoor advertising, consumer experiential events and a digital art piece that lives and evolves on mobile phones. For the campaign, Absolut had canvases made in the shape of its iconic bottle and then asked their participating artists to fill it with their own unique brand of creativity. "The result depicts how artists and creativity are inspired through Absolut," says Mark Hamilton, Global Marketing Director at The Absolut Company. Underlying the marketing campaign is Absolut's desire to serve as a catalyst for cutting edge creativity and a recognition that cool, hip art resonates with Absolut's target audience of young, creative, urban-based consumers.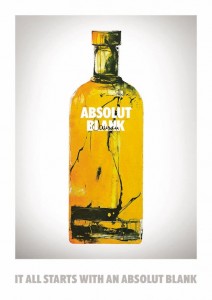 The 20 artists participating in ABSOLUT BLANK represent a variety of creative disciplines from across the globe; from drawing, painting and sculpting to film making and digital art. Among the artworks are UVA's high intensity, bright and striking light installations, Mario Wagner's attention-grabbing cut-out imagery, the colourful and playful graphic design of Aesthetic Apparatus, the bold illustrations of Kinsey, and the detailed work of Good Wives and Warriors."With ABSOLUT BLANK, we want to contribute to a global creative movement. Ultimately, making the world even more vibrant and exceptional. It all starts with an ABSOLUT BLANK."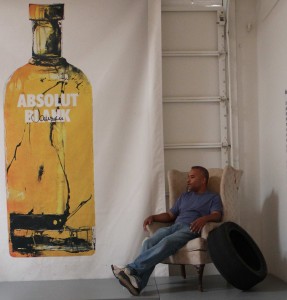 In choosing Marcus Jansen to participate in ABSOLUT BLANK, the company said: "For Bronx-born artist Marcus Jansen, accidents are just a matter of perception. He lets them happen in his paintings because they tap into something the conscious mind leaves out. He has an analogous view of graffiti. Returning from service with the U.S. army in Saudi Arabia in 1990, Jansen looked at his surroundings differently – and his work evolved dramatically. He felt that most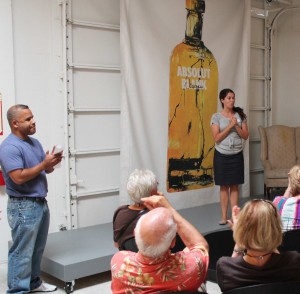 paintings of urban landscapes left out the dirt, graffiti and feeling of the place. His 'urban expressionism' seeks to capture the reality of urban landscapes. The New Britain Museum of American Art, the Kemper Museum of Contemporary Art, The Moscow Museum of Modern Art and the National Taiwan Museum of FineArt have all purchased works by Jansen." Also factored into Absolut's decision to include Jansen in their new generation of artistic partners was Jansen's appearance as cover artist for New American Paintings (no. 94, southern edition).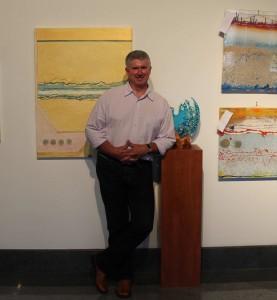 For Sidney & Berne Davis Art Center CEO Jim Griffith, Absolut's choice of Jansen came as no surprise. "To date, his [Painter's Allegory solo exhibition at the Sidney & Berne Davis Art Center in May, 2011] has been the most successful show we have hosted and it drew people from across the country to see it. One of his larger works was sold to a young lady in San Francisco." And of a painting Jansen donated to a fundraiser to further the SBDAC's ongoing renovations of the 1933 neoclassical revival edifice, Griffith adds, "that painting ended up selling as the highest priced item in our auction that year and it now hangs in the corporate lobby of Crowther Roofing."
[N.B.:  The other artists selected by Absolut for ABSOLUT BLANK are Adhemas Batista, Aesthetic Apparatus, Brett Amory, Kinsey, David Bray, Eduardo Recife, Fernando Chamarelli, Good Wives & Warriors, Jeremy Fish, Ludovica Gioscia, Mario Wagner, Morning Breath, Robert Mars, Sam Flores, Thomas Doyle, UVA and Zac Freeman.]
New Russell Simmons Project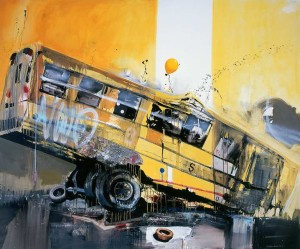 According to reviewer Justin Ferraro, "perhaps the biggest development in [Jansen's] career is his involvement in Russell Simmons' new project. The Art  Album, a collaboration between hip-hop musicians and visual artists. Featuring musicians and artists such as Jay-Z, Ludacris, Lil Wayne and Shepard Fairey, The Art Album promises to be a groundbreaking art book that showcases the art behind hip-hop lyrics compared to the themes in contemporary visual art." Well, not only is Jansen participating in the project, his painting Spotlight on Education (right) has been chosen for the book's cover. (See article posted below.)
Fast Facts.
Jansen's painting, E Pluribus Unum, a 48×60 inch mixed media work on canvas, won the Aesthetics Creative Works Competition in 2010. Aesthetica is a British-based art and culture publication that engages with contemporary art and culture both in the UK and internationally, combining dynamic content while exploring the best in emerging and established contemporary arts and design. For the competition, Aesthetica received an astounding 4,000 entries, which judges Cherie Federico, Dr. Kate North and Rachel Hazelwood narrowed to 96 finalists and Jansen's Best of Show.
In December of 2012, Jansen won the 5th Semiannual Dave Bown Projects competition, an online contest that featured the work of 25 visual artists from around the world. Founded in 2005, the Dave Bown Projects focuses on advancing the field of visual arts by conducting research and providing unrestricted monetary awards to visual artists. Many of the artists who have exhibited in the Dave Bown Projects have exhibited at prestigious museums and institutes worldwide, including MoMA, the Whitney Museum of American Art, Tate Britain and the Venice Biennale.
Jansen has enjoyed a number of solo exhibitions, including Frontline Report in November 0f 2012 at Dallas' Galleri Urbane (which represents emerging and established artists whose work reflects a variety of both national and international art movements (such as Michael Berman, Theo Wujcik, Kate Carr, and Jessica Drenk) and the prestigious Sidney & Berne Davis Art Center in Fort Myers, Florida in 2011.
Jansen has also participated in Art Basel in December, 2012, Anonymous, a group show at PERMM Contemporary Museum of Art in Russia in November of 2012 that featured more than 100 works produced by 34 artists from around the globe, Art Southhampton in July, 2012, and Lessons in Expression, Conceptualism and Abstraction at the Florida Gulf Coast University Art Galleries in February/March 2012 that also featured Richard Mueller and Joan Sonnenberg.
Jansen will represent the United States in 2013 in Art Warning the World, a show taking place at the Parais de Tokyo in Paris. Curated by Klaus Guingand in collaboration with Leo Castelli and Pierre Restany, the exhibition will feature artists from 199 countries with a common mission: raising awareness of the global risks we face if we do not take remedial action immediately (a message underscored by super storm Hurricane Sandy).
Jansen has a DVD out about his work and his life. It is entitled, Marcus Jansen: A Painter's Allegory.
Related Articles and Links.
2014
2013
2012