Alina Eydel's surreal, otherworldly female portraits part of FGCU's '20/20′ exhibit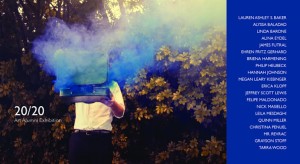 On view through September 21 in the Wasner and ArtLab galleries at FGCU is 20/20: Art Alumni Exhibition. It features works by twenty art graduates who were invited to help the university celebrate its 20th anniversary. Included in this select group is 2014 graduate Alina Eydel.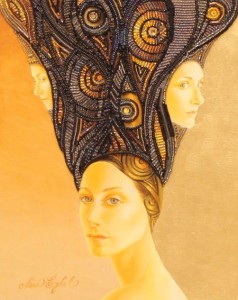 The work that Alina displays in 20/20 comes from her series focusing on contemporary women from all walks of life. Each subject has a uniquely surreal, magical and otherworldly appearance that is accentuated by its distinctive Byzantine iconic edge that juxtaposes flat, two-dimensional texture-filled geometrical shapes and abstract patterns with the hyper-real portrayal of each woman's unblemished facial features. The latter seem to jump off the canvas with a depth, dimension and animus informed by shadows, shading and Eydel's adept blending of flesh tones. This contradistinction is homage to the technique of inverse perspective in evidence in many 15th C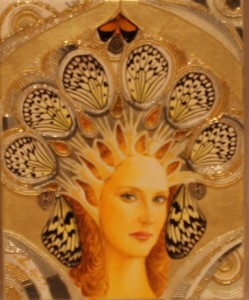 entury Byzantine iconic paintings and mosaics.
"I combine traditional portrait painting with my signature, more contemporary mixed media technique in which Gold leaf, semi-precious stones, glass beads and eco-friendly butterfly wings combine to create mosaic jewels that play with contrasting textures," Alina explains. She got the idea from the floor-to-ceiling Murano glass mosaics in St. Mark's Cathedral in Venice during a trip to Italy when she was 13.
"The mosaics glowed from within, and the entire cathedral was like a giant jewelry box," says Alina reflecting back on the experience. "It was i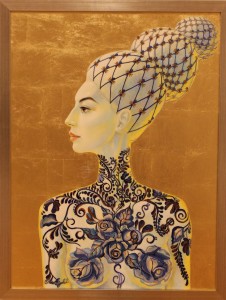 ncredibly inspiring. When I came home, I synthesized the idea of mosaic with my … paintings by gluing glass beads, Swarovski crystals, pearls, turquoise and other items onto the surfaces of my paintings."
All of these elements are on full display in 20/20. Icon (Portrait of Sarina Nichols) is acrylic on wood panel with 24k gold leaf, glass bead mosaic and precious stones. Icon (Portrait of Asia Danielle Johnson) adds butterfly wings to 24k gold leaf and glass bead mosaic in her acrylic on canvas. But perhaps the most intriguing of the three paintings that Eydel is exhibiting in 20/20 is Tattooed. It is a self-portrait of the artist, as many of those attending the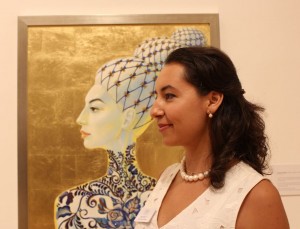 opening reception noticed when they saw Alina standing next to the painting.
The mosaic aspect of her paintings is not just incredibly detailed, intricate and time-consuming. It possesses a meditative aspect as well. It's a magical process, says Alina, "through which I can focus on vibrations of love, health, and gratitude and thereby 'charge' each piece with those energies." T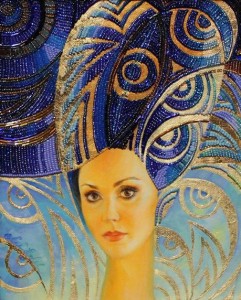 he portraits thereby become gilded, mosaic icons of modern women – a metaphysical twist on the concept of divinity.
And that's entirely appropriate as Eydel's artwork is a manifestation of her spiritual practice. "I believe we are the physical manifestation of Divine Consciousness. The entire universe is within our cells; we are the creators of it, created from it, and creating our physical experience in it."
FGCU's portable works collection includes one of Alina's paintings, a work titled High Five. In addition to a number of other public collections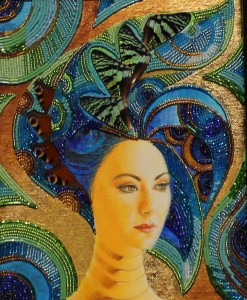 around Florida, Eydel's work can be found in private collections throughout the United States, Puerto Rico, the U.K., Australia, the Netherlands, Belgium, Russia, Spain, Japan and China. Her painting High Five is part of FGCU's permanent collection.
September 4, 2017.
RELATED LINKS.