For FGCU alum Megan Kissinger, art is quest for super realism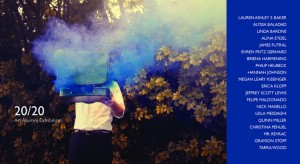 On view now through September 21 at Florida Gulf Coast University is 20/20: Art Alumni Exhibition. As the name connotes, twenty alumni of the FGCU art program are exhibiting their work in celebration of the university's twentieth anniversary. Among the twenty is artist Leila Mesdaghi, a member of the class of 2016.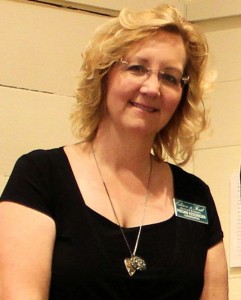 Perhaps it is her background in scientific illustration that helps her to present the beauty and the connectedness that she sees in every aspect of the natural universe, but it is Megan Kissinger's passion that drives her attempt to "make viewers aware of how everything in the world is connected in some way." Toward this end, Kissinger loves to get up close to things that normally aren't accessible, like birds and butterflies, to bridge the magical distance that wild things have learned to maintain for their safety.
A Florida native and an award-winning acrylic painter, Kissinger's specialty lies in wildlife conservation art and botanical illustration.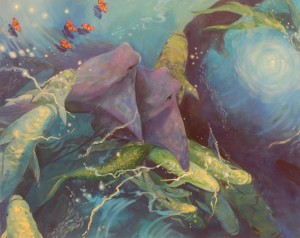 She is a member of Artists for Conservation International and is one of the ten charter artists working with the Florida Wildlife Corridor.
Megan employs classical painting process to craft her realist works.
"In my acrylic paintings, I work traditionally with canvas and begin every new piece with charcoal sketching and under-paint i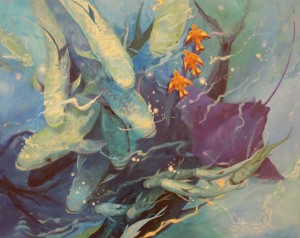 n a wash of complementary color before beginning the final painting," Megan divulges. "I apply the paint in many thin layers, sometimes hundreds, using both glazes and scrubbed-in paint to get the feeling of light and shadow." While she sketches and takes photographs of her subject matter while on location, she prefers to paint in her studio so that the light is consistent and she can take her time t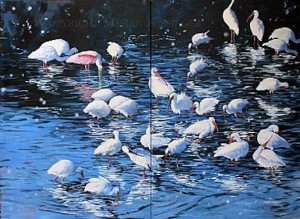 hinking about and planning her composition.
While admittedly a realist painter, she strives for a sort of super-realism where everything is a little brighter, a little more in balance, and closer to perfection than life really ever is.
"I love to portray the rare, almost magical moments when wild things exist in a state of balance and perfection," Megan continues. Her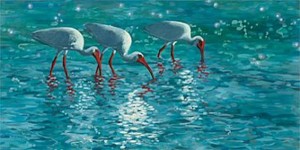 compositions reveal a fascination with light and line, and are complemented by combinations of radiant colors in the sweeping settings depicted by many of Kissinger's paintings.
"I can get lost in late afternoon and twilight shadows – s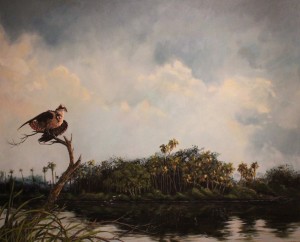 weeping and arching lines – and in scenes like dappled light in oak hammocks and pine scrub."
She often paints scenes along the Caloosahatchee River near the Town of Alva because it overlooks a couple of oxbow islands. "I've always loved these river islands because they are so much a part of Old Florida—when you kayak around them, you still see how the river looked when it was allowed to make its own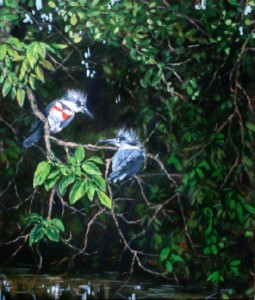 decisions on where it wanted to go.
Megan is a member of the class of 2004. She resides in Fort Myers, where she works as a museum conservator and exhibition designer at the Lee County Alliance for the Arts. She is represented by Tower Gallery on Sanibel and Wild Child Gallery on Matlacha Island.
August 27, 2017.
RELATED POSTS.