For '20/20,' art alum Tarra Wood combines cacti and historical portraiture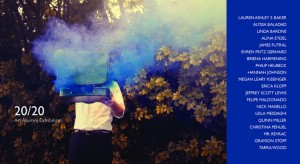 On view now at FGCU is 20/20: Art Alumni Exhibition. It is a commemoration and celebration of the university's 20th anniversary by 20 of its art alumni. One of the art alumni taking part in the show is Class of 2011 graduate Tarra Wood.
Wood's recent work blends her interest in art history with her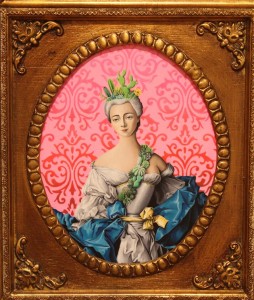 love of desert-dwelling cacti and succulent plants. "While I have been painting and illustrating cacti for some time, I happened upon melding the two with a surrealist sensibility," says Tarra. "I enjoy juxtaposing realist imagery and themes in a way that is unexpected and perhaps even confusing, while still maintaining the elegance of the elements."
In Resurgence of Cacticeae, Wood melds cacti and succulents into a Rococo portrait of a woman draped in luxuriant folds of drapery. "There is something both fascinating and satisfying about the intricacies of h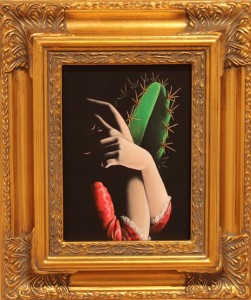 istorical portraiture," says Wood of the painting. She is attracted to 18th Century European painting because it allows her to indulge her passion for highly ornate, detail-oriented work.
"Obscure and unknown portraits also hold my curiosity because I find myself wondering about the stories and personalities behind the nameless faces," Tarra adds. So she adds strange and exotic plants that you would never expect to see in that kind of setting to give her anonymous subjects a story about which she and her viewers would want to know more. It is unquestionably a novel and interesting artistic hook.
Her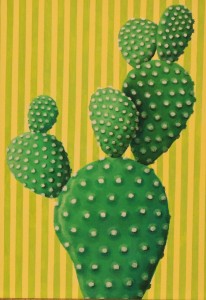 penchant for detail was similarly on display during Reunion: Carrell Courtright, Megan Davis and Tarra Wood, a group show that graced the ArtLab in the Fall of 2015. Her work for that show consisted of five sculptural wall hangings. When you first approached those pieces, it looked as though Tarra had epoxied piles of coffee beans, cigarette butts, candy, pills and crack into small rectangular cubes. But upon closer inspection, it became clear that she had separately crafted each bean, butt, piece of candy and pill from oven-baked polymer clay which she then bonded together into a cohesive whole before colorizing them with acrylic paint.
In that series, Wood set out to explore various vices and addictive s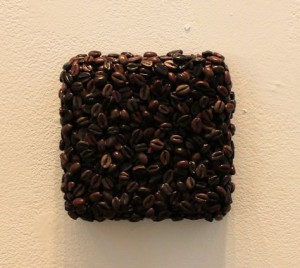 ubstances, such as coffee/caffeine, cigarettes/nicotine and candy/sugar. What she discovered is that her extremely intricate and time-consuming process became an addiction of its own.
While ceramic sculpture may be Wood's first love, she has always and continues to be a gifted realist painter who excels at portraiture.
As Tarra discovered during her time at FGCU, college is more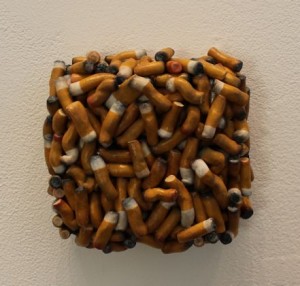 than just mastering a body of knowledge. "What I took away from FGCU was work ethic, self-motivation and the ability to complete projects," Wood emphasizes. More than facts, figures, process and technique, she learned how to size up a project, break it into steps, and then fashion a timetable for completing each step and the overall project as well.
At present, Wood resides in Naples, where she works as a freelance graphic designer and photo editor. She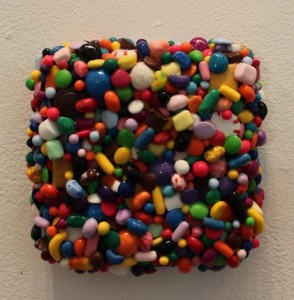 continues her pursuit of artistic expression through gallery exhibitions as well as running her art-based Etsy business, Walrus & Toad. Primarily working with acrylic and watercolors, she also enjoys sculptural work as well as digital media.
August 31, 2017.
RELATED POSTS.