Acevedo's 'Different Strokes' work evinces naturalistic, primordial sensibility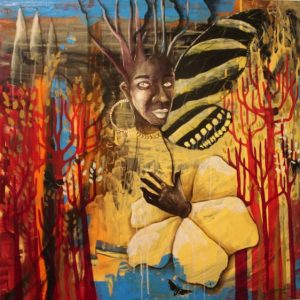 David Acevedo is one of 72 artists with work included in the Alliance for the Arts' member show Different Strokes, on view now through August 28. His painting AJA is a representation of the African goddess of nature.
"I was inspired by these chaotic times [in which] we are living, where nature itself seems to be sending a message that most of us ignore," David explains. "Also, I'm experimenting with busy, abstract backgrounds with detailed portraiture in contrast, combining both with a cohesive theme. This piece is the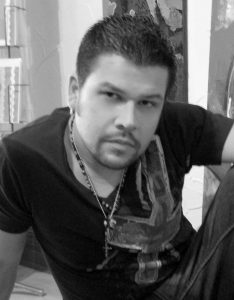 first one of this line and I am really pleased with the reaction it has received."
AJA is something of a departure from the paintings in his Introspection series that he featured in his solo show at the Sidney & Berne Davis Art Center a year ago during the height of the pandemic. Those works contrasted people, influences and experiences from Acevedo's past against a blend of abstract and surrealist imagery that gave them an otherworldly sensibility. AJA, on the other hand, possesses a more naturalistic, even primordial feel that connects with the viewer on a more organic, emotional plane.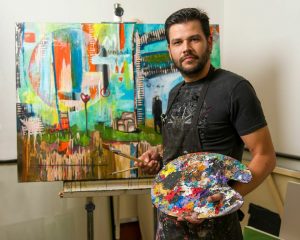 Some commentators have labeled Acevedo as an abstract expressionist, but David characterizes himself more as an intuitive artist and that's clearly in evidence in AJA. You can see this work and the rest of Different Strokes in the Alliance main gallery through August 28.
Acevedo graduated Cum Laude with a degree in Visual Arts from the prestigious University of Puerto Rico, Mayaguez Campus. He is the recipient of two City of Fort Myers Arts & Culture grants,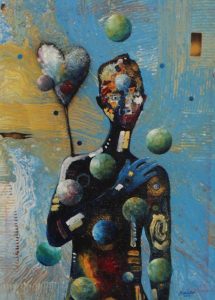 been twice named as the featured artist for the Arts for ACT Fine Art Auction and Gala and been recognized by D'Latinos and Gulfshore Business as an individual who reflects and celebrates positive values and ethnic and racial diversity within our community.
Go here for more on David and his evolving body of work.
July 17, 2021.
RELATED POSTS.