'Those Damn Cocks' nostalgic, therapeutic and damn popular too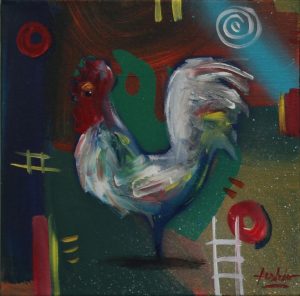 In his current solo show in the grand atrium of the Sidney & Berne Davis Art Center artist David Acevedo introduces three new series. One of them is titled Those Damn Cocks. Individually and collectively, they're an intriguing amalgamation of representative imagery juxtaposed against both a foreground and background of abstract and pop symbolism such as fat concentric circles, spirals, orbs and ladders. The color palette vacillates from vibrant to subtle, from fiery, sensual reds, orange and yellows to calming and meditative violets and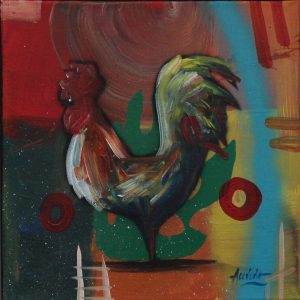 blues.
From first glance, Those Damn Cocks exert an instinctual appeal. Sexual connotations aside, there's a nostalgic aspect to Acevedo's flat poster-like rooster depictions that evoke vernacular parallels to Toulouse-Lautrec or Theophile Alexandre Steinlen's chat noir domestic scenes. After all, most of us are introduced to the art of learning and the currency of language through the sights and sounds of barnyard animals and spirited renditions of  the beloved childhood anthem "Old MacDonald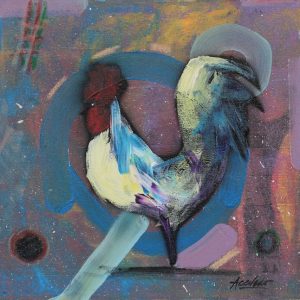 Had a Farm." In fact, farm animals have been the go-to teaching tool in children's books since John Amos Comenius published the world's first children's book, Orbis Pictus, in 1658. Pigs, ducks, roosters, cows and horses become ingrained in the very way we learn to speak and think by teaching us how to pronounce words, create building blocks for sentences, develop categorizing skills and provide early lessons in empathy and the importance of caring for and formation attachments with the creatures with whom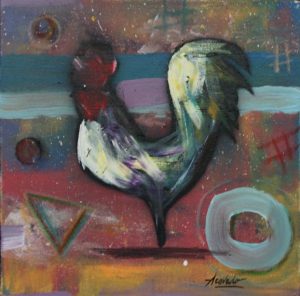 we share this fragile planet. Is it any wonder, then, that Those Damn Cocks resonate on a subconscious, visceral level?
But the appeal of Those Damn Cocks operates on another plane as well. "Art is the transfer of emotions from one person to another," Leo Tolstoy once wrote. In the past decade or so, an increasing number of artists have come to believe that the artist's mood or emotional state at the time he (or she) creates an artwork can be transferred subliminally to viewers without them even noticing.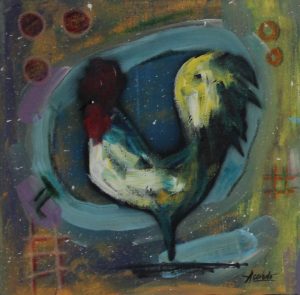 If that's true, then Those Damn Cocks don't just trigger the feelings we associate with our childhood. They invoke the happy feelings that lie embedded in our psyches and souls about our childhood home.
"They [the cocks] remind me of the island," says Acevedo of his go-to motifs. And while roosters are not a national symbol of Puerto Rico, they are a cultural icon. They're everywhere on the island. So much so that tourists expect to find wild or stray chickens darting through squares, dodging cars and dancing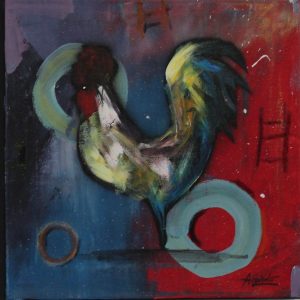 between the legs of passers-by.
In fact, they're so inextricably tied home and the island that Acevedo incorporates them in his other series from time to time as well.
"The pieces sometimes just don't feel complete unless they have one, like a stamp, to make it more like mine," David observes introspectively.
As a result, the versatile silhouettes have become something of a trademark or "thumb print" that are associated with his art in much the same way that car tires and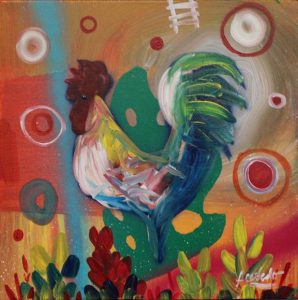 inner tubes make repetitive appearances in the dystopian urban landscapes of Marcus Jansen.
"There's not a lot of thought that goes into them," David concedes. "I repeat them because I enjoy doing them. They're therapeutic. They're escapism. They're nostalgic."
And they're extremely popular.
Tight and compact, Those Damn Cocks sell for a tenth of what Acevedo's larger, more elaborate compositions command.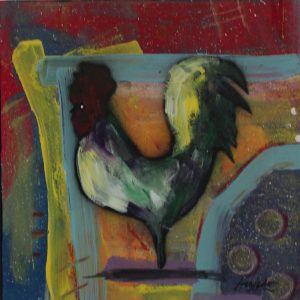 So if you've always wanted an Acevedo on your wall, here's your chance. Introspections, Islands in the Sky and Those Damn Cocks will remain on display in the grand atrium of the Sidney & Berne Davis Art Center through July 31.
July 20, 2020.