Acevedo's 'Islands in the Sky' prove that islands do cry
In a café in Aguadilla on the northwestern tip of Puerto Rico, a farewell unfolds that's being repeated thousands of times each month. A longtime customer, more a friend than a patron, drops by for one last cappuccino before he and his family board a plane for Florida, Texas or some other destination within the continental United States. It's part of a mass exodus that began in 2006, but which has been exacerbated by Hurricanes Irma and Maria and a series of earthquakes that have rocked the island since December of last year. Each leave-taking, each departure is as poignant as it is sad, as popular local artist David Acevedo expresses through his mixed media installation Island in the Sky,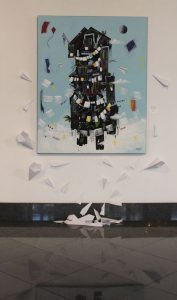 on exhibit currently in the grand atrium of the Sidney & Berne Davis Art Center.
Acevedo knows from personal experience just how difficult it is to leave behind family, friends and a lifetime of tradition to seek opportunity elsewhere.
"Twenty-one years ago I did the same thing [that people are doing now]."
But circumstances prevailing now are drastically different than those that existed in 1999.
The island hadn't recovered from the deep recession that wracked the island in 2006 or the ensuing debt crisis that followed eight years later. Then came Irma and Maria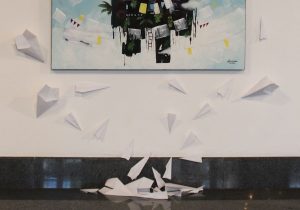 in 2017, just fifteen days apart. The powerful tropical cyclones left structures, roads, bridges, cell towers and the power grid in tatters.  And just as residents and business owners were piecing their homes, shops and factories back together again (like all the king's army and all the king's men), a seemingly never-ending series of earthquakes splintered, cracked and collapsed them all over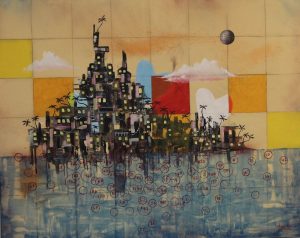 again.
A second painting in Acevedo's Islands in the Sky series titled Epicenter provides a testament to the latter natural disasters. While the 6.4 temblor that struck Tallaboa got most of the news coverage here in the States, more than 9,300 earthquakes have rattled Puerto Rico in the past year. More than 11 were a magnitude of 5.0 or greater.
To read statistics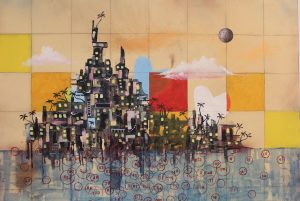 like these is shocking enough, but Acevedo is an adroit and perceptive visual artist. The works in this new series are not only well rendered, they're carefully conceived and meticulously researched. He depicts of the swarm of quakes that are making life miserable for those living in Puerto Rico through circled numbers that bubble up from the depths of the seas surrounding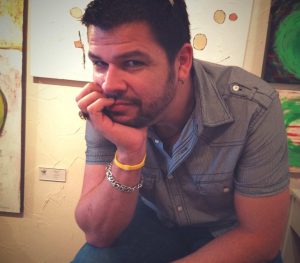 the island.
David would be the first to tell you that neither the numbers nor his renderings come close to telling the tale of the physical destruction and emotional turmoil caused by the island's incessant shaking. More than 8,000 homes are in need of substantial repairs. Many will need to be completely replaced. In fact, roughly 2,500 have been condemned as uninhabitable.
As a result,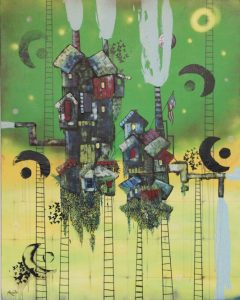 tens of thousands are either living in shelters, tents, their vehicles or under the stars. Lack of plumbing and toilet facilities adds to the inconvenience and danger. Fear hangs in the air. The U.S. Geological Survey says that aftershocks will continue for "years to decades" and that there is up to a 30 percent chance of an aftershock as big as the 6.4 magnitude quake that struck on January 7.
Especially hard hit have been Puerto Rico's schools. More than 150 schools had to be closed – and that was before the Coronavirus pandemic.  And so, increasing numbers of middle class people with school age children are making the hard choice to move elsewhere in order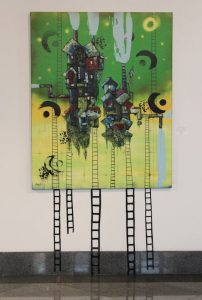 to give their kids a decent education and alleviate the anxiety that they and their children live with hour to hour.
While some are able to pack up their belongings, others have to leave them behind because their homes and contents are too damaged to salvage. Even those that are intact are difficult to sell. There are few buyers, even at the distressed prices that property in the middle of the island now commands. Many leave with little more than their clothing and family photos.
That's the reason for all the paper airplanes dangling from Island in the Sky.
"The paper planes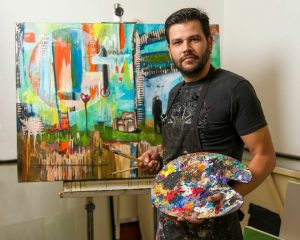 signify that we didn't take anything with us to start a new life except what we could carry," Acevedo reflects.
That and the resolve to make a better life somewhere else.
Unfortunately for Puerto Ricans, the exodus is likely to worsen. Tourism is Puerto Rico's leading industry. As many people visit the island each year as live there, namely 3 million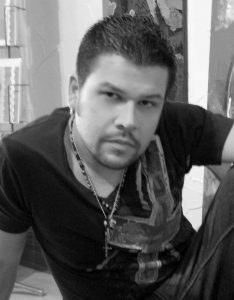 folks each year. But the shut-down compelled by COVID-19 has completely closed down the cruise industry and all but squelched air travel. So those working in hotels, restaurants, cafés, bars and tourist attractions may have little choice but to seek employment prospects on the mainland, further reducing Puerto Rico's thinning population.
Only the wealthy and people 65 and older seem to be staying put for now.
But Acevedo is still optimistic about his beloved island's longevity and durability. He knows first-hand that Puerto Ricans are incredibly strong, spirited and resilient.
But their mettle is being sorely tested as emergency management officials have yet to demonstrate any cohesive strategy to keep survivors safe, help them deal with the emotional strain caused by the frequent tremors and the advent of a new hurricane season, or assist them financially and otherwise in making needed repairs. The response, or lack thereof, is exacerbated by the fact that not only is Puerto Rico is bankrupt, but the revenues it derives from its resident, business owners and tourists has been drastically reduced if not completely interrupted.
"We can still see each other, still help each other as a country," David says resolutely. "Regardless of circumstances, we're still standing."
And still independent, as signified by the fact that Acevedo's islands hang in the sky, floating above the troubled waters that surround them.
But that's not to say that those still living on the island have, to quote Simon & Garfunkle, "no need of friendship." Hence the ladders of connection and support that David carefully includes within the structure of several of his compositions.
While a rock may feel no pain, an island can cry – a reality that the paintings in Acevedo's Islands in the Sky series bring home in a powerful, heart-rending thought-provoking way.
Introspections, Islands in the Sky and Those Damn Cocks will remain on display in the grand atrium of the Sidney & Berne Davis Art Center through July 31.
July 22, 2020.