David Acevedo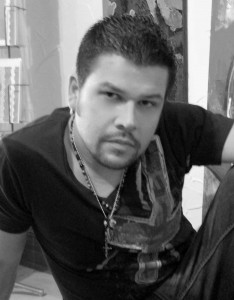 Name:  David Acevedo
Genre:  Pop, Abstract
Gallery:  The Union Artist Studio
Website:
His Art:
Acevedo is known for his impeccable colors, rich textures and clever compositions. The hidden messages and symbols that form an integral part of his depictions serve to draw viewers into each piece and offer them a continual source for contemplation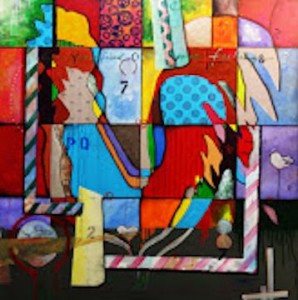 and wonder.
Some commentators have labeled Acevedo as an abstract expressionist. For his part, however, David characterizes himself instead as an intuitive artist. "I … learn from myself with every brush stroke and allow my mind to wander the state of sub-consciousness that I fall into during my creative process," David expounds. "My work does not speak about politics or demands you to recall the stresses of everyday living. The color palette I utilize varies from time to time because of an ever-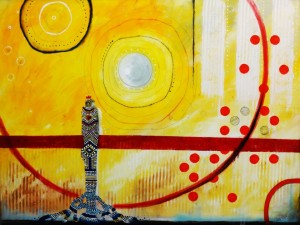 changing mind that dictates it. Never one to follow recipes, I create my own mixture of mediums until I feel content. My process includes a long stare at a blank canvas, a look around my studio for inspiration and finally a decisive moment of whether to grab a brush and paint or the keys to my car and leave."
David utilizes a plethora of materials to create his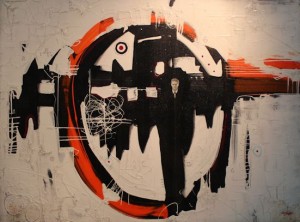 compositions, including photographs, magazine cut-outs, acrylic paints, gesso, inks, pencils, dry and oil pastels, oils, enamels, colored markers and pens – all applied to cotton rag paper or stretched canvas. "A particular painting of mine could have all of these mediums or as little as one," David remarks. "It all depends on my vision at the moment and, most importantly, my mood."
Education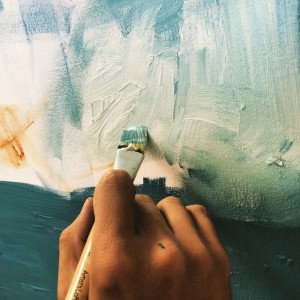 David graduated Cum Laude with a degree in Visual Arts in 1998 from the prestigious University of Puerto Rico, Mayagüez Campus.
Awards and Recognition
David is the recipient of two City of Fort Myers Arts & Culture Individual Artists Grants (2014 and 2013), has twice been named as the Featured Artist for the Arts for ACT Fine Art Auction and Gala (2014 and 2011) and, most recently, been
recognized by D'Latinos and Gulfshore Business magazines with a 2016 Face Award in Arts & Culture as an individuals who reflects and celebrates positive values and ethnic and racial diversity within our community.
Impact on Southwest Florida Arts & Culture Community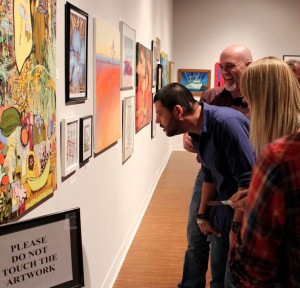 Acevedo is celebrated for the transcendent impact he has exerted on the local art scene since relocating to Fort Myers from his native Puerto Rico in 2000. He owned and operated the transformative daas Gallery with his partner Xavier Brignoni from 2008 until its closing in 2012, was one Fort Myers Art Walk's founding members, co-founded The Union Artist Studio in 2012, and is presently joining forces with Brignoni to establish a new cooperative art gallery in the Royal Palm Square Center under the name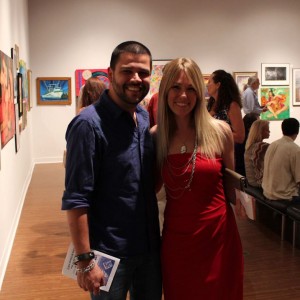 DAAS CO-OP Art Gallery & Gifts. Named Visual Artist of the Year in 2009 by the Alliance for the Arts' Angels of the Arts Selection Committee, David also served on the City of Fort Myers Public Art Committee from 2011 to 2012.
Acevedo also co-founded the Vibrant Arts Movement with Scottish artist Ronnie Ford and introduced Ford's art and VAM to Southwest Florida during a 2009 show at daas Gallery. "Having this international connection has been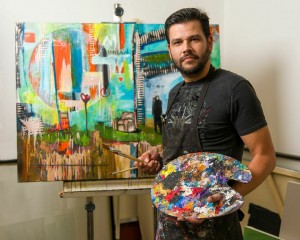 crucial to my artistic career," says Acevedo. "Thanks to Ronnie, I have been able to show my work in Scotland, Germany and in Hong Kong, not to mention the blessing of having such an experienced and amazing artist as a friend and mentor."
Acevedo also advances the arts in Southwest Florida as Contributing Arts Editor for TOTI Media, which publishes Gulf & Main, Bonita &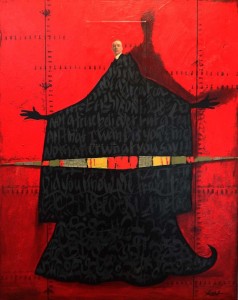 Estero and RSW Living magazines.
Fun Facts:
The artist's interest in art came at the tender age of four, when he would sit for hours analyzing, page by page, an old illustrated bible that he found in a closet. After that, drawing and coloring books became an obsession.
David's devoted sisters keep his illustrations of imaginary characters and other drawings like treasures.
After David discovered the world of comic books, he practiced copying the graphics and analyzing the colors for years, developing a keen eye for proportion, value and hue. This influence is noticeable in his work today, with the bold and dark lines that frame his colorful images becoming a trademark of an Acevedo painting.
ARTICLES, LINKS AND RELATED POSTS
Local artist David Acevedo art jamming in Hong Kong in September (08-11-15)
Fort Myers artist Marcus Jansen has closed his gallery to the public this summer as he prepares to launch a two-year worldwide musuem exhibition tour. But he's not the only local artist building an international resume. David Acevedo has recently announced that he will be joining forces in September with artist Vera Chiu in a collaborative project taking place at Hong Kong's popular 22 Degrees North mega store.
The event is being called Acevedo/Chiu: Worlds Collide, and involves an art jam during which the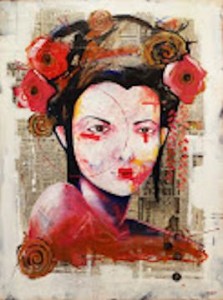 two artists will create works of art live using their distinctive styles, which coincide in terms of vibrancy and intuitiveness. "With lots of acrylic paint, a bit of found objects from their own culture, and echoes of laughter, the two artists battle through art jam to show you their abstract art style," states the Hong Kong press release announcing the show. "Whether you are an art fanatic or just looking for some weekend fun, you are welcome to drop by and join in the splat and splashes."
The artworks made by the art-jammers will remain on exhibit at 22 Degrees North from the September 12 art happening through October 2.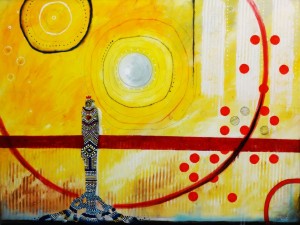 Vera Chiu is an abstract artist and educator living in Hong Kong. Acevedo is known throughout Southwest Florida not only for his energetic pop art compositions, but for the transcendant impact he has exerted on the local art scene since relocating to Fort Myers from his native Puerto Rico in 2000. He not only owned and operated the transformative daas Gallery with his partner Xavier Brignoni, Acevedo co-founded Fort Myers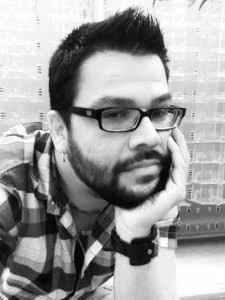 Art Walk and The Union Artist Studios in the Williams Building on the campus of the Lee County Alliance for the Arts.
Chiu and Acevedo not only share complimentary artistic styles and sensibilities, they are both friends with Scottish artist Ronnie Ford. Ford and Acevedo co-founded the Vibrant Arts Movement and it was Acevedo who introduced Ford's art and VAM to Southwest Florida during a 2009 show at daas Gallery. "Having this international connection has been crucial to my artistic career," says Acevedo. "Thanks to Ronnie, I have been able to show my work in Scotland, Germany and now in Hong Kong, not to mention the blessing of having such an experienced and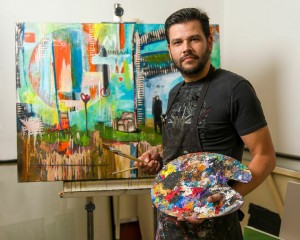 amazing artist as a friend and mentor."
Acevedo also advances the arts in Southwest Florida as an avid arts writer for TOTI Media, which publishes Gulf & Main, Bonita & Estero and the international RSW Magazine. For more information about David and his work, please visit http://www.acevedostudio.com. The Union Artist Studios is located at 10051 McGregor Boulevard, Suite 202, in Fort Myers.
____________________________________________________
David Acevedo one of this year's '4 Artists of ACT' (09-14-14)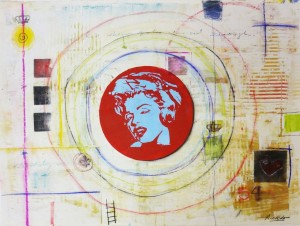 Each year for the past quarter of a century, Abuse Counseling and Treatment, Inc. has conducted a fine art auction in order to raise funds to support its operations. It also selects a small coterie of artists to set the tone and spearhead the effort to draw the public to the associated gala, which is being held this year on November 8 in the Harborside Event Center. This year, the group consists of four artists, Martha Dodd, Todd Babb,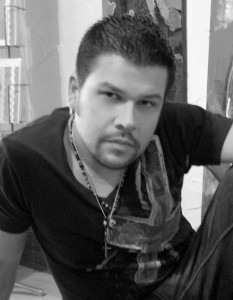 Patty Sole and David Acevedo.
Acevedo is a gifted, highly-motivated artist, curator, art writer and editor. In August of 2012, he joined with local artists Xavier Brignoni, Paul Rodino, Troy and Danielle Thomas, Joe Lemay and Willow to open the popular and well-attended Union Artist Studios in the Edwards Building on the Alliance for the Arts campus on McGregor Boulevard. A year ago (in September of 2013), he joined the staff of TOTI Media as a Contributing Editor and arts writer. In the latter capacity, he has published numerous art articles and profiles in Gulf & Main, Times of the Islands, RSW and Bonita & Estero magazines. But David is best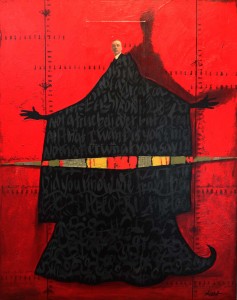 known for his distinctive artwork, which combines abstract and pop art elements to make bold and definitive thematic statements.
At present, David is moving towards a more intuitive style that entails experimenting with different mediums including spray paints, impasto as well as some interactive sculptures. "The Pop Marilyn I made for ACT encompasses some of the newer techniques I am applying," Acevedo reveals, providing context for the piece. "I am mixing acrylics with texture mediums to create the desired effect and then I am using old-fashioned serigraphy to stamp my images onto the piece." He details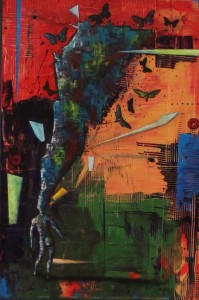 sections with pencils and dry pastels, mixing mediums to an even greater extent than what his collectors and viewers have previously experienced.
His new work marks a metamorphosis that began a couple of years ago. After closing his beloved daas Gallery in the summer of 2012 with Empty Box & Me, a collection of then-experimental work, David took a self-imposed artistic hiatus in order to reinvent himself and his technique. He debuted a series titled The Protest Proposal at Arts for ACT Gallery in the downtown Fort Myers River District last October. It presented a dramatically different side of the artist, who was known at the time throughout Southwest Florida for vibrantly pigmented,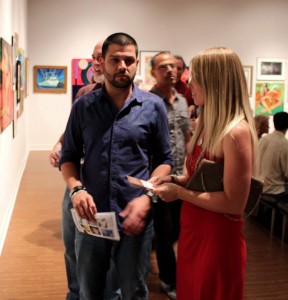 aggressively textured paintings with impetuous whimsy. The Protest Proposal, by contrast, featured collage and mixed media pieces filled with darker, more suggestive motifs and deeper message and meaning.
"Color is still a big part of my work," David said at the time. "I am simply exchanging the tones because the style of these new paintings demands it. I am opening up a bit more in regards to my personal beliefs, disbeliefs, points of view and social opinion." Where the transformation leads him remains to be seen –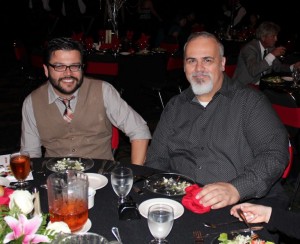 with the unveiling undoubtedly taking place at his impending solo show at the Sidney & Berne Davis Art Center in May, 2015.
Acevedo was born in Arecibo, Puerto Rico in November, 1975. He graduated cum laude in 1998 from the University of Puerto Rico, Mayaguez Campus with a bachelors degree in Visual Arts. He moved to Southwest Florida in 2000 and has held various positions with the U.S. government,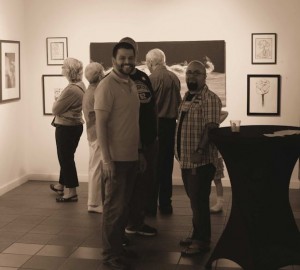 currently supervising a unit of twelve employees. In 2007, he opened his first professional art studio in Fort Myers. In 2008, he moved his studio and transformed it into the highly-acclaimed daas Gallery in downtown Fort Myers, where he banded together with other gallery and business owners to co-found Fort Myers Art Walk, which helped resurrect the River District after four years of road construction and detours associated with the Downtown Utility and Streetscape Improvements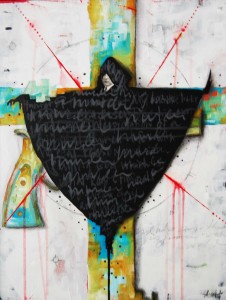 Project.
In 2009, David was awarded Visual Artist of the Year during the Lee County Allliance for the Art's Angel of the Arts ceremony. During four years as a gallery owner, he and daas partner Xavier Brignoni discovered and promoted many emerging artists including Veron Ennis, Joe Lemay, Troy Thomas, Willow, Dan Venditti, Oliver Dominguez, Scott Guelcher and others. He curated numerous exhibitions for daas and other art spaces around town and collaborated with international artist Ronnie Ford in the creation of the Vibrant Arts Movement or VAM, which promotes arts through exhibitions, performance and culinary arts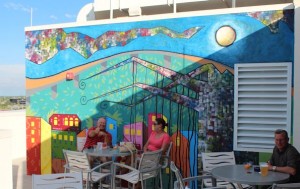 in Europe and the United States. He continues to curate new cutting-edge exhibitions. Just this past March, he put together and participated in the "Latin Beat" exhibition at Big Arts on Sanibel Island.
The artist has also left his permanent mark downtown in the form of a commissioned mural in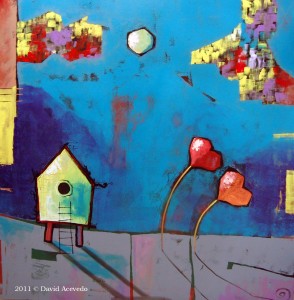 the Phi in the Sky rooftop lounge at downtown Fort Myers' Hotel Indigo. Completed in 2011, The Heart of the City's Sky overlooks another mural, Fort Myers: An Alternative History, the 20′ x 100′ sepia-tone ceramic tile mural that graces the east facade of the federal courthouse and dominates the brick courtyard it shares with Hotel Indigo and the Kress Building occupants.
"I feel incredibly privileged to have a permanent piece in my beloved downtown and grateful to the administration of the Hotel Indigo for trusting me with the project," Acevedo states.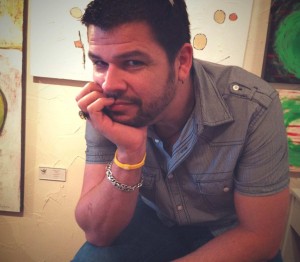 Among his more recent accomplishments, David was awarded an Individual Artist Grant from the City of Fort Myers in December, 2013, started the monthly Wine & Art nights in July, and became an instructor in August for the Alliance for the Arts, where he currently teaches beginner and intermediate acrylics. He is represented by Tincture in Fort Myers and participated in the gallery's first opening group exhibition.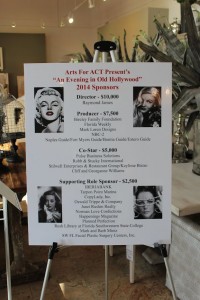 You can preview David's Pop Marilyn and all the work that will be included in both the live and silent auctions inside the Rush Library on the Lee campus of Florida SouthWestern State College on October 10. The live auction and gala takes place on Saturday, November 8, at the Harborside Event Center. The red carpet event begins at 5:00 p.m.
Abuse Counselling & Treatment (ACT) provides safe shelter and counselling services to victims of domestic violence (and their children), survivors of sexual assault (and their families) and the new and temporarily homeless. ACT also provides a 24-hour crisis hotline, forensic examinations, advocacy, education, information and referrals. The agency was incorporated in 1978 and serves Lee, Hendry and Glades counties. ACT's annual fine art auction and gala serves as a major source of funding.