ArtFest Fort Myers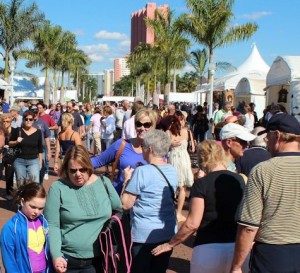 Name: ArtFest Fort Myers
Dates: February 2 & 3, 2019 (the first weekend in February every year), with preview on Friday night, February 1
Hours:
From 6-9 p.m. on Friday, February 5
From 10 a.m. to 5 p.m. on Saturday and Sunday, February 6 & 7
Place. ArtFest Fort Myers takes place along the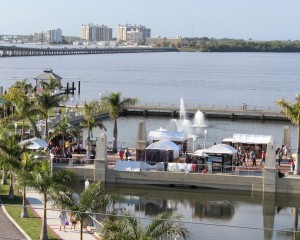 banks of the Caloosahatchee River along Edwards Drive from Jackson to Heitman Street. This is part of downtown Fort Myers' historic River District, where inventors and industry pioneers Thomas Edison, Henry Ford and Harvey Firestone once worked and played. In fact, festival goers can take in D.J. Wilkins' sculpture and fountain dedicated to these three Uncommon Friends at the entrance to Centennial Park, on the western edge of the festival grounds, which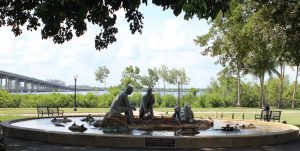 is also home to another of Fort Myers' historically-significant sculptures, Clayton, a monument dedicated to the 2nd Regiment of the USCT (United States Colored Troops), who defended Fort Myers from a Confederate attack on February 20, 1865.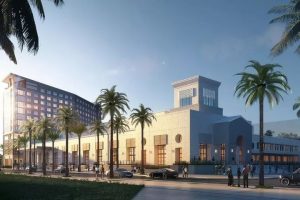 This year, the big change to the downtown cityscape is the recently-opened 12-story 243-room Luminary Hotel, part of the prestigious Autograph Collection of Marriott International. Inside, guests and visitors will find five featured food and beverage outlets – Ella Mae's Diner, Dean Street Coffee, the Lobby Bar, and the hotels signature Silver King Ocean Brasserie and Beacon Social Drinkery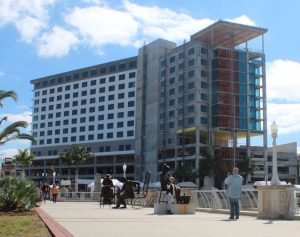 rooftop lounge. Festival goers will also notice that the former Harborside Event Center has been completely renovated and renamed. It now goes by the moniker of Caloosa Sound Convention Center & Amphitheater.
Not only is the Luminary mere blocks from the art galleries, trendy boutiques, retail shops and savory restaurants that populate Fort Myers' historic, but completely refurbished, downtown, it overlooks a 1.8
acre basin that does more than provide a unifying, visual hub for the hotel, convention center and surrounding retail shops, galleries and restaurants. The basin actually serves the utilitarian function of filtering and cleaning the stormwater that runs off from the surrounding 15-acre hardscape before it joins the waters of the Caloosahatchee River and downriver estuaries.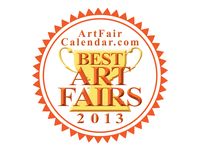 Awards and Recognition. ArtFest Fort Myers was chosen in October of 2013 as the "Best OVERALL REGIONAL Art Fair" in Southwest Florida in a survey conducted by ArtFairCalendar.com, the #1 website for art fair event listings. Whereas Sunshine Artist Magazine and Art Fair Insider rank festivals based on voting by "art fair insiders" such as artists and show staff, the America's Best Art Fairs Awards are
predicated on online voting by artists, organizers and art fair patrons and collectors, both regionally and nationally. As such, it is the first national online survey of the nation's art fairs designed to reward those festivals that excel at creating opportunities that bring together artists and communities to celebrate the arts.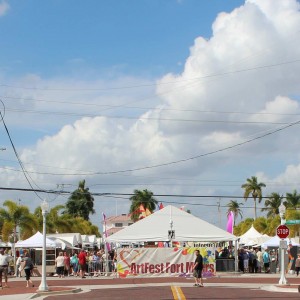 "ArtFest Fort Myers has always been popular among art fair lovers in Southwest Florida, but our new national Best Art Fairs Awards survey proves that both art collectors and artists nationwide love it, too," said ArtFairCalendar.com Publisher Connie Mettler in announcing the award. "We're happy to give a "Best OVERALL/REGIONAL Art Fair Award to ArtFest Fort Myers today."
Please scroll down for articles on the numerous additonal awards that ArtFest has garnered in recent years.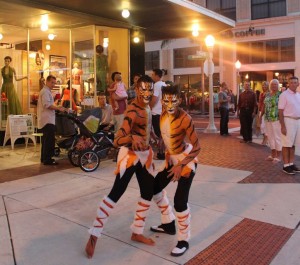 ArtFest Meets Art Walk: On Friday night, February 1, downtown Fort Myers celebrates Art Walk, a monthly self-guided tour of new art exhibits and streetside craft demonstrations taking place in the River District's art galleries and boutiques, the Art League of Fort Myers on Monroe, Arts for ACT Gallery, Reverie & Rock Gallery, Space 39, and the Sidney & Berne Davis Art Center.
Sometimes called the "Fort Myers Parthenon,"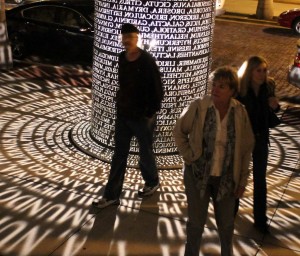 the Sidney & Berne Davis Art Center is known for its neoclassical revival architecture, graceful Ionic columns, and the Jim Sanborn light sculpture, Caloosahatchee Manuscripts, which bathes the building's façade, limestone steps and surrounding sidewalks in lighted letters to the delight of the Art Walk crowd. ArtFest Fort Myers adds to the festivities by allowing the Art Walk crowd access to 65 of the festival's finest artists from 5 until 10 p.m.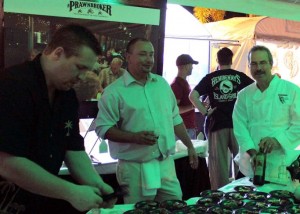 The opening night of ArtFest is more than just a tantalizing preview. It's time for the ArtFest Friday Night Party inside ArtFest's glowing VIP garden tent, where the conversation is lively, the laughter raucous, and delectable treats, great wines and spirits are provided by some of the area's finest restaurants. But the VIP experience doesn't end when the party does. The VIP pass is good for all
three days, and comes with reserved parking, access to the VIP Terrace overlooking the festival grounds, and complimentary lunch, all-day beverages and refreshments on Saturday and Sunday, and the gift of a commemorative festival poster.
The VIP Experience is $125 per person and your support contributes to the year-round ArtFest Fort Myers' art education outreach programs. To enjoy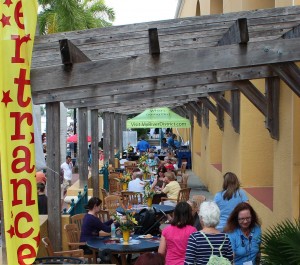 the ArtFest Fort Myers VIP Experience and the 200 artists as a Very Important Patron visit Upgrade To VIP at ArtFestFortMyers.com or call 239-768-3602.
The Festival. More than 90,000 people attend ArtFest over the course of its three-day run. Both the serious art lover and novice collector will find ArtFest Fort Myers the perfect place to learn about the world of art and add to or begin a unique collection as 203 artists from 39 different states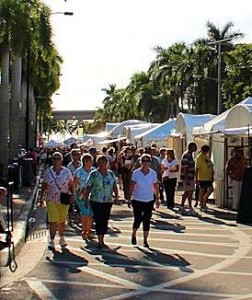 display paintings in oil and acrylic, watercolors, drawings in pastels, charcoal, pen and ink and graphite, 2D and 3D mixed media works and collages, photography and digital artworks, bronze and metal sculpture, wood working, ceramics, pottery, glass fusion and glass art, hand-crafted art jewelry, leather works and more. These are the best of the best, as nearly 1,000 artists apply each year for inclusion in this juried show, and many of these artists are seldom seen in Southwest Florida – their art is fresh and new.
The organizers have laid out the artists' booth in such a way as to create a circular flow of  foot traffic down a wide central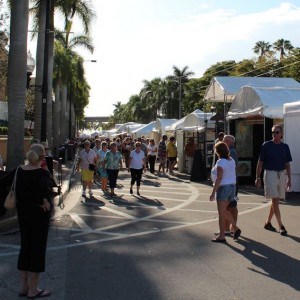 mall that engenders a beautiful, stress free, open air art gallery overflowing with exceptional artwork. Continuous music and the aromatic smells of succulent foods add to the festival experience. ArtFest Fort Myers strives to create a balanced show that fairly represents diverse styles, methodologies and techniques in the various categories just mentioned. In order to achieve this result, artists are selected based upon quality of workmanship, originality and artistic conception, and all work is required to be created soley by the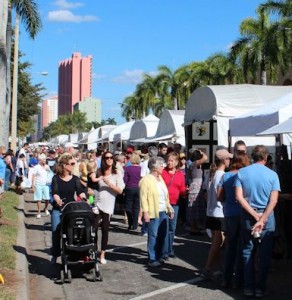 displaying artists.
Cost: ArtFest is free.
Parking: The City of Fort Myers is well equipped to handle the large crowds attracted to ArtFest with a mixture of free and pay parking lots. You can expect to pay $4 to park in one of three city parking garages; $5 to park in various general and church lots; and $10 to park in the parking lot adjoining the Harborside Event Center which is closest to the festival grounds. However, a medley of free lots and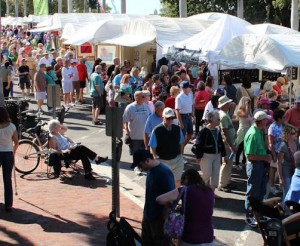 parking garages are within easy walking distance (4-6 blocks) including the Lee County Justice Center Parking Garage which is the home of Parallel Park, a 30,000 square foot public art installation that looks so stunning people often confuse it for a fine art museum. (Click here for a map that provides the full parking lay-out for the festival.)
Organizer: The festival is organized by ArtFest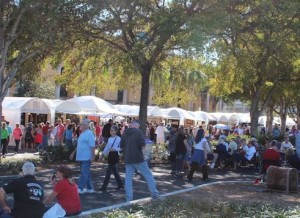 Fort Myers, Inc., a 501(c)(3) non-profit organization. The organization's mission is the creation of public access to a broad array of visual art; nurturing the development and understanding of diverse art forms; supporting arts in education and encouraging the appreciation of the arts in Southwest Florida. Its staff actively attends meetings of the Greater Fort Myers Chamber, the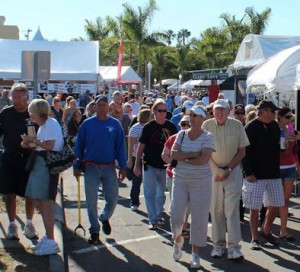 Southwest Florida Attractions Association, the Tourist Development Council, and the Fort Myers City Council to provide support and input in its areas of expertise.
As an organization, ArtFest Fort Myers is also committed to the best practices in the art festival business. It belongs to and attends the NAIA, FFEA and ZAPP Directors Conventions, and throughout the year ArtFest Fort Myers communicates on a regular basis with festival directors throughout the country.
Festival Director: With business degrees from the University of Hawaii and the University of Chicago, ArtFest Executive Director became a part of the Lee County community upon her early retirement at the age of 39. Her experience as a Divisional Vice President with H&R Block quickly transitioned into active local community service. In 2000, Sharon took over the existing "Lee Sidewalk Arts & Crafts Show" at the request of City of Fort Myers Downtown Redevelopment Director Don Paight, who asked her to form a not-for-profit organization and transform this annual event into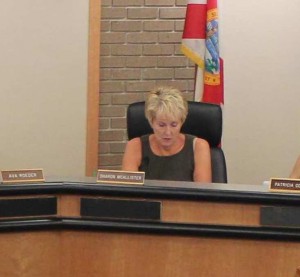 ArtFest Fort Myers, a juried fine art festival. Under her tutelage, this event has quickly gained national recognition, while bringing an unparalleled art experience to the community.
In addition to her duties as ArtFest Executive Director, McAllister McAllister serves as the immediate Past Chairman of the City of Fort Myers Public Art Committee and as President of the Fort Myers Conference & Convention Council. Sharon also served for 3 years as the Vice Chair of the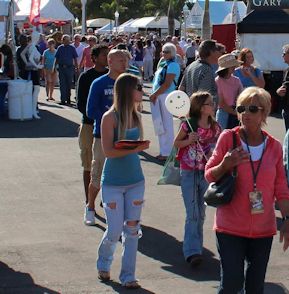 Florida Festival and Events Association (FFEA) and remains active in support of that organization.
Website: http://www.artfestfortmyers.com.
Facebook: http://www.facebook.com/artfestfortmyers?sk=info.
Twitter: You can also follow ArtFest Fort Myers on Twitter.
Fast Facts:
ArtFest uses a "blind jury". This means the jurors do not know the names or any other information about the artists.
There are five jury members. Each is an experienced art professional who is selected for his/her art background and appreciation of festival artists.
The five member panel is convened in the same room, and each juror is given access to a computer monitor for scoring purposes. Artist images are projected digitally (image size is 3 feet by 3 feet), shown simultaneously and scored on a seven point scale.
ArtFest Fort Myers maintains an online gallery, which it updates in October, of the artists accepted for the upcoming festival! There are links to the artists' websites, which you visit to find more information or view additional artwork.
ArtFest Fort Myers and Edison State College work together to provide an art experience through after-school programs for elementary students. This collaborative project brings art alive for hundreds of students and develops innovative teachers for the future.
ArtFest also sponsors "Art Under 20," an art competition and exhibition open to Lee County high school students. The program not only provides them a huge platform in which to showcase their talents, but $6,000 in cash prizes for the very best student artists.
Kids@Art, a collaborative effort of ArtFest Fort Myers and The Lee County Alliance For The Arts, helps eager "weekend artists" of all ages to tap into their best creative selves. ArtFest provides the supplies and supervision to all who wish to make an artistic treasure to take home.
ArtFest also provides a "kids only" shopping zone called "The Young Art Collectors Gallery." Filled with wonderful items donated by festival artists, the gallery is the perfect place for children ages 6 to 12 to purchase artwork for only $5. The "kids only" shopping zone is a brilliant concept that fosters the development of future art patrons with an emphasis on fun.
During the festival, Florida Repertory Theatre, Southwest Florida Symphony Youth Orchestra, and Celtic Arts dancers will be showcasing their talent in a series of free performances taking place on the Youth Stage.
If you've been wondering if your youngster has a calling to be a violin virtuoso or a trumpet player in the marching band, the Southwest Florida Symphony will be on hand with their Petting Zoo, where getting bit by the music bug is your only worry. A variety of musical instruments will be available for all to play, with expert instruction on hand, courtesy of the Youth Symphony members.

The ArtFest staff actively attends meetings of the Visitor & Convention Bureau, the Fort Myers City Council, the Greater Fort Myers Chamber of Commerce, the Southwest Florida Attractions Association and the Tourist Development Council to provide support and input in its areas of expertise.

As one of the community's most popular and respected arts organizations, ArtFest believes it has a responsibility to be involved in the success of art and culture throughout the area. "We are members or attendees and supporters of all the arts organizations in Lee County."
_____________________________________________________
ARTICLES AND LINKS.
ArtFest, Naples National and Bonita National among top 50 national art festivals (06-22-16)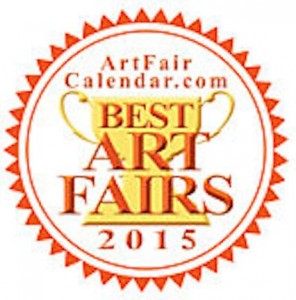 The votes are in, and according to the thousands who responded to ArtFairsCalendar.com's annual nationwide survey, ArtFest Fort Myers, Bonita Springs National Art Festival and Naples National Art Festival landed in the top 50 of their "must attend" outdoor art festivals and fine craft shows year in and year out! These three local festivals join such renowned Florida shows as the Las Olas Art Fair in Fort Lauderdale, Mount Dora Art Festival in Mount Dora, Coconut Grove Arts Festival in Miami, Winter Park Sidewalk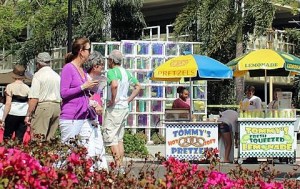 Art Festival outside Orlando, and Art Basel in Miami Beach. Naples National was the #2 "Best Southern Art Fair" with ArtFest Fort Myers garnering #5.
Among the criteria the respondents used to judge their finalists were quality of art (48%), venue setting & ambiance (12%), affordability/wide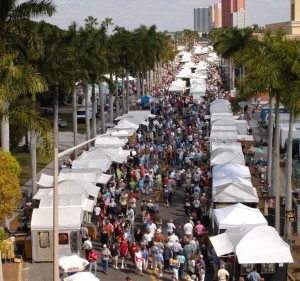 price range (10%), family friendly/kids activities (10%), number of exhibitors (8%), location, accessibility & parking (6%), variety of media (4%) and good food & music (4%).
Nearly one-third of the survey-takers said they have attended between 11 and 25 art fairs over the last five years, with 26.59% having attended 6-10, 21.36% having attended 1-4, and 19.09% saying they've attended more than they can count over the five-year timeframe. The average age of the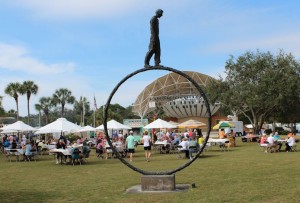 respondents was 59, with 72% being female. Of additional interest, the average income of the respondents was $127,843 with 46% of the survey-takers having either a law or masters degree and 42% having some post-graduate education.
ArtFairCalendar survey went out to over 50,000 e-newsletter subscribers and via Facebook last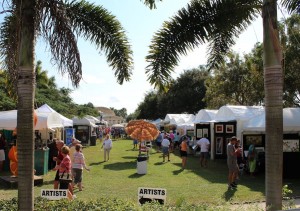 October with voting running into November. In all, ArtFairCalendar received completed surveys from nearly 2,000 voters. "Amazingly, 87% of the respondents completed the entire survey and followed all the prompts," noted ArtFairCalendar Publisher Connie Mettler. "No 'cat herding' was necessary." Voting was heaviest in the South and Mid-West.
Kudos to Naples National, ArtFest Fort Myers and Bonita Springs National Art Festival.
_______________________________________________
ArtFest Fort Myers received Chrysalis Award for Cultural Achievement (05-27-16)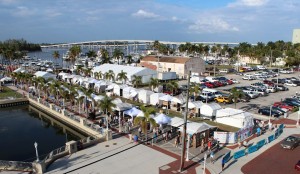 On May 20, ArtFest Fort Myers received the highly-coveted Chrysalis Award for Cultural Achievement by the Visitor & Convention Bureau and the Greater Fort Myers Chamber of Commerce Chrysalis Award for Cultural Achievement. The other nominees in the Cultural Achievement category were the Edison & Ford Winter Estates,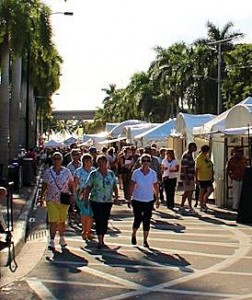 Gulf Coast Leisure Movement, the Lee County Alliance for the Arts, Painting with a Twist and the Southwest Florida Symphony Orchestra & Chorus Association. Chico's FAS (Business Development) and Florida Gulf Coast University's Colloquium program (Education) also won Chrysalis Award honors for their positive impact on the local community.
"We are very proud to be recognized for our efforts in bringing residents, visitors and fabulous artists to our community," said Sharon McAllister, ArtFest Fort Myers Executive Director.   "Art and cultural experiences are an important and integral part of this area's quality of life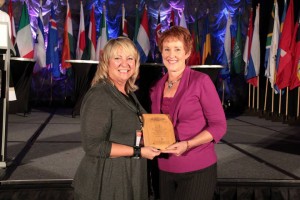 and our event clearly brings a diversity of people together in celebration of the arts."
"We could not have won this honor without the support of local companies who are also dedicated to our community. Working closely with Jaxi Builders to bring the Allure Your Senses Exhibit, featuring 23 sculptures throughout downtown Fort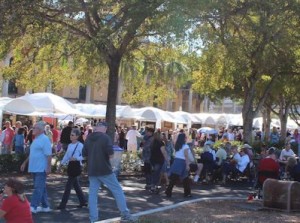 Myers and with David Anderson, the Technology Management Guru, to provide the new App Fort Myers River District were two of this seasons  projects, in addition to our fine art festival, that we are most proud of. The success of our efforts is the result of the teamwork of many dedicated community members!"
In all, 43 area attractions, accommodations,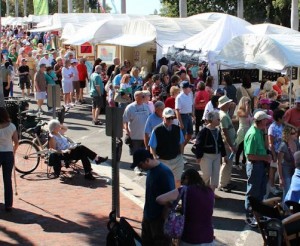 retailers, educational institutions, arts and cultural organizations, transportation companies, and other local businesses were nominated for Chrysalis Awards in six categories. The awards are designed to foster a stronger alliance between the tourism industry and the county's business community.
Chrysalis Award nominees are judged on innovation in their respective category, how they
have distinguished themselves in the community, the results of their efforts to promote the destination, their contributions to business and tourism partnerships for the overall benefit of the county, and their work to foster growth and sustainability. Honorees are recognized for their commitment to excellence in improving community growth and creating job opportunities for the citizens of Lee County.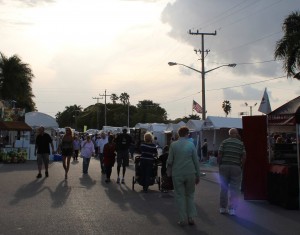 ArtFest takes place the first weekend in February in the Fort Myers River District. Mark your calendar for February 3, 4 & 5, 2017 to join the experience with 215 professional artists from across the county and around the world; the largest high school art exhibit and competition in south Florida and free interactive art experiences for children of all ages.
___________________________________________________________
ArtFest wins six awards at international festival and events conference (09-23-15)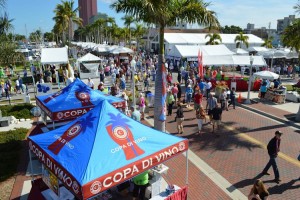 Thousands of event professionals from around the globe gather at the International Festival & Events Association Convention in Tucson Arizona each year to learn, share and pay tribute to the accomplishments of those who demonstrate excellence. On September 21, ArtFest Fort Myers was honored with six awards at the conference.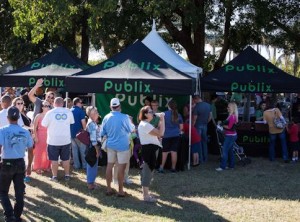 "It is an amazing honor to be acknowledged with six awards from IFEA," states Sharon McAllister, ArtFest Fort Myers Executive Director.
The categories in which ArtFest Fort Myers won awards include:
Best Ad Series for promotional material for "Publix Run to the Arts," featuring the work of local graphic designer Janine Giovianazzi from Dzine Studio;
Best Event (within an Existing Festival) for "Publix Run to the Arts, an artsy 5K;"
Best Single New Sponsorship Opportunity for Copa Di Vino, the Official Wine of ArtFest Fort Myers (Gold award);
Best Single New Sponsorship Opportunity for CenturyLink, Socialize with Us (Silver award);
Best Sponsor Partner for "Publix Super Markets, Publix Art Yard & Publix Run To The Arts;" and
Best Sponsorship Program for Individual Sponsor for "Florida Blue, The Art of Health."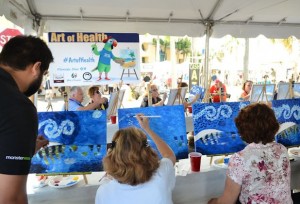 ArtFest Fort Myers takes place February 5, 6 & 7, 2016 in the Fort Myers River District. The 3-day event features 215 professional artists from across the county and around the world; the largest high school art exhibit and competition in south Florida; and free interactive art experiences for children of all ages. For more information, please visit ArtFestFortMyers.com.
____________________________________________________________
ArtFest winner of five Pinnacle Gold Awards (09-28-13)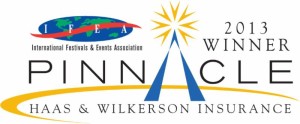 The International Festivals & Event Association (IFEA) paid tribute to ArtFest Fort Myers during the IFEA Pinnacle Awards Ceremony at IFEA's 58th Annual Convention. ArtFest Fort Myers won 5 Gold Awards in the prestigious Pinnacle Awards Competition.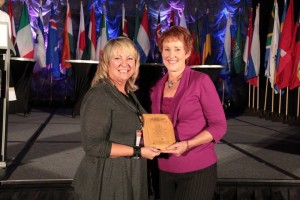 Haas & Wilkerson Insurance presents the IFEA Pinnacle Awards Competition to recognize the outstanding accomplishments and top quality creative, promotional, operational and community outreach programs and materials produced by festivals and events around the world. It conferred Gold Awards to ArtFest in the following five categories:
Best Event within an Event to Benefit a Cause:Pedal or Paddle to ArtFest Fort Myers sponsored by Lee Memorial Health System
Best Targeted Sponsor Package: Chalk Block presented by Truly Nolen Pest Control
Best Printed Material: TravelHost Magazine Special Edition
Best Newspaper Insert/Supplement: Florida Weekly Wrapper
Best T-Shirt Design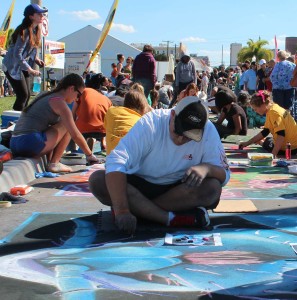 Striving for the highest degree of excellence in festival and event promotions and production, 1,000 event professionals from every corner of the globe gather for the IFEA convention each year. ArtFest Fort Myers Executive Director, Sharon McAllister and Associate Director Katie Afflerback attended the three day IFEA Convention and look forward to implementing all they learned to continue to enhance ArtFest Fort Myers.
Also attending the convention and receiving awards were: Kentucky Derby Festival, Pasadena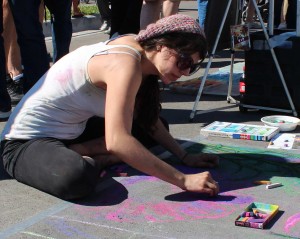 Tournament of Roses, Des Moines Arts Festival and many more.
"ArtFest Fort Myers would like to thank all of our sponsors, volunteers, artists, attendees and the City of Fort Myers for their support and devotion," the festival stated in its press release announcing the awards. "We could never do it without you!"
ArtFest Fort Myers takes place in beautiful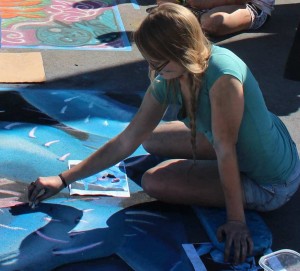 downtown Fort Myers on February 1 & 2, 2014 with its opening night on January 31st. The event is expected to draw more than 80,000 art enthusiasts to the River District for the two-day, one-night event.
For more information, please contact Sharon McAllister at 239-768-3602 orsharon.mcallister@artfestfortmyers.com.