ArtFest Fort Myers
Name: ArtFest Fort Myers
Dates: February 1, 2 & 3, 2013 (the first weekend in February every year)
Hours:
From 5-10 p.m. on Friday, February 1
From 10 a.m. to 5 p.m. on Saturday and Sunday, February 2 & 3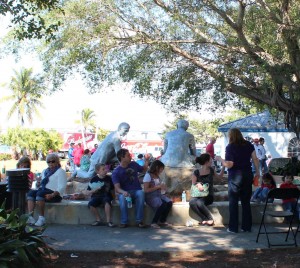 Place. ArtFest Fort Myers takes place along the banks of the Caloosahatchee River along Edwards Drive from Jackson to Heitman Street. This is part of downtown Fort Myers' historic River District, where inventors and industry pioneers Thomas Edison, Henry Ford and Harvey Firestone once worked and played. In fact, festival goers can take in D.J. Wilkins' sculpture and fountain dedicated to these three Uncommon Friends at the entrance to Centennial Park, on the western edge of the festival grounds (left).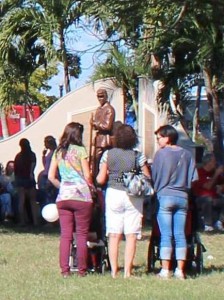 Centennial Park is home to another of Fort Myers' historically-significant sculptures, Clayton (right), a monument dedicated to the 2nd Regiment of the USCT (United States Colored Troops), which valiantly defended Fort Myers from a Confederate attack on February 20, 1865. And just a block to the west in another section of the park is modern sculptor David Black's Fire Dance, the newest addition to downtown Fort Myers' growing public art collection, which also includes Barbara Jo Revelle's 20 x 100 foot ceramic tile mural, Fort Myers: An Alternative History, Jim Sanborn's light sculpture, Caloosahatchee Manuscripts and New York abstract expressionist Marylyn Dintenfass' 30,000 square-foot Parallel Park.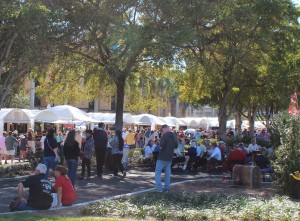 Festival goers will find many of the artists' tents and booths sandwiched between the Harborside Event Center (left) and the City Pier Building which is home to Art of the Olympians and the Al Oerter Center for Excellence, mere blocks from the art galleries, trendy boutiques, retail shops and savory restaurants that populate Fort Myers' historic, but completely refurbished, downtown. But this year, the center of attention will undoubtedly be the newly-dedicated 1.8 acre river basin that juts from Bay Street to the river's edge between the Event Center and Art of the Olympians.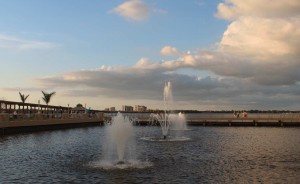 The basin is the first step in redevelopment of Fort Myers' riverfront. Ensuing phases of the development plan contemplate tripling the size of the Event Center, the addition of a 12-story 220-room convention-quality hotel, and the addition of space for new art galleries, retail shops and up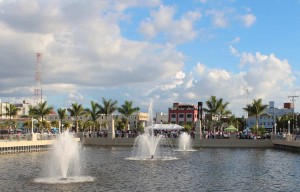 to four waterside restaurants all designed to expand and improve connectivity between the riverfront and historic downtown Fort Myers. But the basin does more than provide a unifying, visual hub for the hotel, convention center and surrounding retail shops, galleries and restaurants. It serves the important utilitarian function of filtering and cleaning the stormwater that runs off from the surrounding 15-acre hardscape that had been fouling the Caloosahatchee and downriver estuaries with nitrogen and a host of other pollutants. But for ArtFest, it will definitely provide a picturesque location for the tents and booths of many of the artists who have been juried into this year's festival.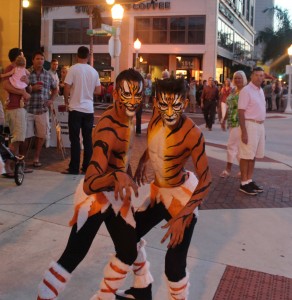 ArtFest Meets Art Walk: On Friday night, February 1, downtown Fort Myers celebrates Art Walk, a monthly self-guided tour of new art exhibits and streetside craft demonstrations taking place in the River District's art galleries and boutiques, the Art League of Fort Myers on Monroe, Art of the Olympians in the City Pier Building at the end of Hendry Street, Arts for ACT Gallery, Enjewel, HOWL Gallery/Tattoo, Reverie & Rock Gallery, Space 39, and the Sidney & Berne Davis Art Center.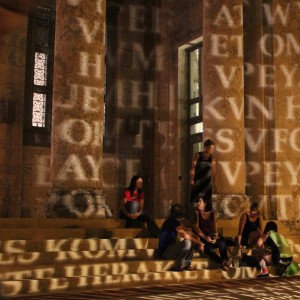 Sometimes called the "Fort Myers Parthenon," the Sidney & Berne Davis Art Center is known for its neoclassical revival architecture, graceful Ionic columns, and the Jim Sanborn light sculpture, Caloosahatchee Manuscripts, which bathes the building's façade, limestone steps and surrounding sidewalks in lighted letters to the delight of the Art Walk crowd. ArtFest Fort Myers adds to the festivities by allowing the Art Walk crowd access to 65 of the festival's finest artists from 5 until 10 p.m.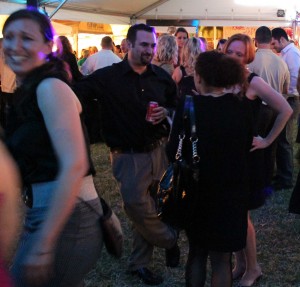 The opening night of ArtFest is more than just a tantalizing preview. It's time for the ArtFest Friday Night Party inside ArtFest's glowing VIP garden tent, where the conversation is lively, the laughter raucous, and delectable treats, great wines and spirits are provided by some of the area's finest restaurants. But the VIP experience doesn't end when the party does. The VIP pass is good for all three days, and comes with reserved parking,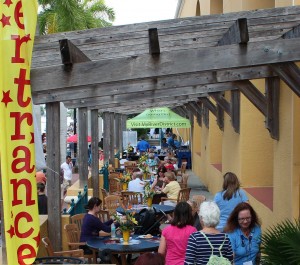 access to the VIP Terrace overlooking the festival grounds, and complimentary lunch, all-day beverages and refreshments on Saturday and Sunday, and the gift of a commemorative festival poster.
The VIP Experience is $75 per person and your support contributes to the year-round ArtFest Fort Myers' art education outreach programs. To enjoy the ArtFest Fort Myers VIP Experience and the 200 artists as a Very Important Patron visit Upgrade To VIP at ArtFestFortMyers.com or call 239-768-3602.
The Festival. Over 60,000 people attended ArtFest in 2011, and attendance increases each year. Both the serious art lover and novice collector will find ArtFest Fort Myers the perfect place to learn about the world of art and add to or begin a unique collection as 203 artists from 39 different states display paintings in oil and acrylic, watercolors, drawings in pastels, charcoal, pen and ink and graphite, 2D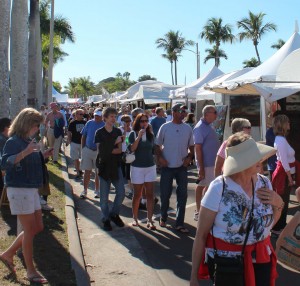 and 3D mixed media works and collages, photography and digital artworks, bronze and metal sculpture, wood working, ceramics, pottery, glass fusion and glass art, hand-crafted art jewelry, leather works and more. These are the best of the best, as more than 850 artists apply each year for inclusion in this juried show, and many of these artists are seldom seen in Southwest Florida – their art is fresh and new.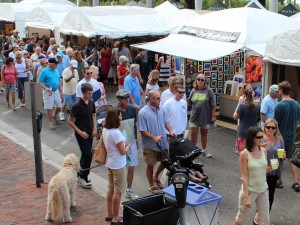 The organizers have laid out the artists' booth in such a way as to create a circular flow of  foot traffic down a wide central mall that engenders a beautiful, stress free, open air art gallery overflowing with exceptional artwork. Continuous music and the aromatic smells of succulent foods add to the festival experience.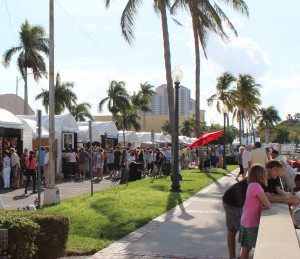 ArtFest Fort Myers strives to create a balanced show that fairly represents diverse styles, methodologies and techniques in the various categories just mentioned. In order to achieve this result, artists are selected based upon quality of workmanship, originality and artistic conception, and all work is required to be created soley by the displaying artists.
Cost: ArtFest is free.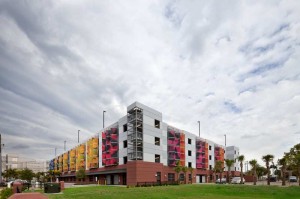 Parking: The City of Fort Myers is well equipped to handle the large crowds attracted to ArtFest with a mixture of free and pay parking lots. You can expect to pay $4 to park in one of three city parking garages; $5 to park in various general and church lots; and $10 to park in the parking lot adjoining the Harborside Event Center which is closest to the festival grounds. However, a medley of free lots and parking garages are within easy walking distance (4-6 blocks) including the Lee County Justice Center Parking Garage which is the home of Parallel Park, a 30,000 square foot public art installation that looks so stunning people often confuse it for a fine art museum. (Click here for a map that provides the full parking lay-out for the festival.)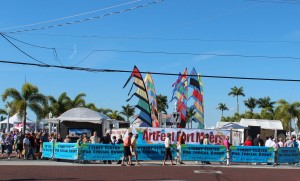 Organizer: The festival is organized by ArtFest Fort Myers, Inc., a 501(c)(3) non-profit organization. The organization's mission is the creation of public access to a broad array of visual art; nurturing the development and understanding of diverse art forms; supporting arts in education and encouraging the appreciation of the arts in Southwest Florida. Its staff actively attends meetings of the Greater Fort Myers Chamber, the Southwest Florida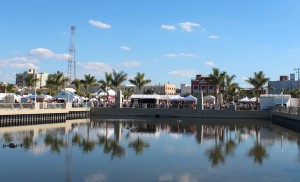 Attractions Association, the Tourist Development Council, and the Fort Myers City Council to provide support and input in its areas of expertise.
As an organization, ArtFest Fort Myers is also committed to the best practices in the art festival business. It belongs to and attends the NAIA, FFEA and ZAPP Directors Conventions, and throughout the year ArtFest Fort Myers communicates on a regular basis with festival directors throughout the country.
Festival Director: The festival director is Sharon McAllister. pictured left promoting the festival at the Franklin Shops on First Street during Art Walk. She is not only the Executive Director of ArtFest Fort Myers. Sharon serves as the Chairperson of the City of Fort Myers Public Art Committee and as the Vice Chair of the Fort Myers Conference & Convention Council. Sharon also served for 3 years as the Vice Chair of the Florida Festival and Events Association (FFEA) and remains active in support of that organization.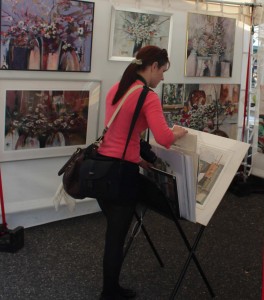 Website: http://www.artfestfortmyers.com.
Facebook: http://www.facebook.com/artfestfortmyers?sk=info.
Twitter: You can also follow ArtFest Fort Myers on Twitter.
Fast Facts:
ArtFest uses a "blind jury". This means the jurors do not know the names or any other information about the artists.
There are five jury members. Each is an experienced art professional who is selected for his/her art background and appreciation of festival artists.
The five member panel is convened in the same room, and each juror is given access to a computer monitor for scoring purposes. Artist images are projected digitally (image size is 3 feet by 3 feet), shown simultaneously and scored on a seven point scale.
ArtFest Fort Myers maintains an online gallery, which it updates in October, of the artists accepted for the upcoming festival! There are links to the artists' websites, which you visit to find more information or view additional artwork.
ArtFest Fort Myers and Edison State College work together to provide an art experience through after-school programs for elementary students. This collaborative project brings art alive for hundreds of students and develops innovative teachers for the future.
ArtFest also sponsors "Art Under 20," an art competition and exhibition open to Lee County high school students. The program not only provides them a huge platform in which to showcase their talents, but $6,000 in cash prizes for the very best student artists.
Kids@Art, a collaborative effort of ArtFest Fort Myers and The Lee County Alliance For The Arts, helps eager "weekend artists" of all ages to tap into their best creative selves. ArtFest provides the supplies and supervision to all who wish to make an artistic treasure to take home.
ArtFest also provides a "kids only" shopping zone called "The Young Art Collectors Gallery." Filled with wonderful items donated by festival artists, the gallery is the perfect place for children ages 6 to 12 to purchase artwork for only $5. The "kids only" shopping zone is a brilliant concept that fosters the development of future art patrons with an emphasis on fun.
During the festival, Florida Repertory Theatre, Southwest Florida Symphony Youth Orchestra, and Celtic Arts dancers will be showcasing their talent in a series of free performances taking place on the Youth Stage.
If you've been wondering if your youngster has a calling to be a violin virtuoso or a trumpet player in the marching band, the Southwest Florida Symphony will be on hand with their Petting Zoo, where getting bit by the music bug is your only worry. A variety of musical instruments will be available for all to play, with expert instruction on hand, courtesy of the Youth Symphony members.
Related Articles and Links.
2013
2012
2011
About the Author