Coconut Point Art Festivals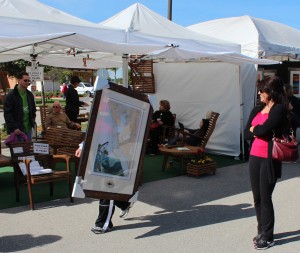 Names: 10th Annual Coconut Point New Years Weekend Art Festival & 15th Annual Coconut Point Art Festival
Dates:
Sunday & Monday, November 14-15, 2020 (moved up from December 27 & 28)

February 20 & 21, 2021
Hours: 10:00 a.m. to 5:00 p.m.
Place: Organizer  Howard Alan Events selects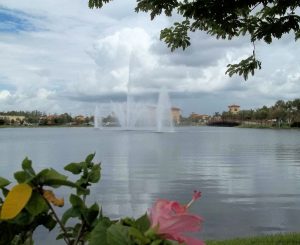 locations designed to provide visitors with a weekend experience of fine art, food and shopping. That's why it selected Coconut Point Mall in Estero, Florida.
Coconut Point is the centerpiece of a 500-acre, master planned community that is more than a shopping center.  The property has 1.2 million square feet of retail space, office condos and residential housing.  The mall has 113 stores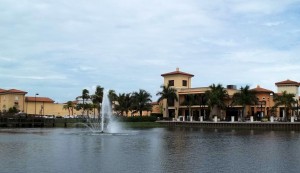 and 25 restaurants – all surrounding several acres of lakes with a boardwalk.  Coconut Point offers everything in every price range with notable shops and tenants including Dillards, Super Target, T.J. Maxx, Bed Bath & Beyond, Barnes & Noble Booksellers, Chico's, Tommy Bahama, Aeropostale, Banana Republic, Victoria Secret,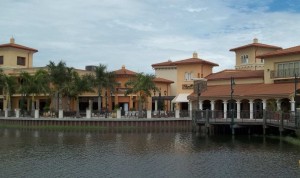 Coach, Pier 1 Imports and West Elm.
Coconut Point is the place for people to gather, shop, dine, work, play, see a new film – you name it –  in an open, Main Street-style shopping destination with Mediterranean Revival-style architecture that is designed to fit gracefully with the architectural flavor of Southwest Florida.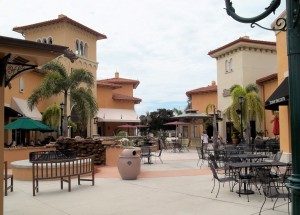 Wait-service dining choices include Ruth's Chris Steak House, Ted's Montana Grill, Pagelli's Cucina and Hemingway's Island Grill. For festival-goers who'd rather grab a quick bite and keep going, there's a food island at Coconut Point with a Hurricane, a stone fired pizza place, a California Pizza Kitchen, a Johnny Rockets, Bokamper's Sports Bar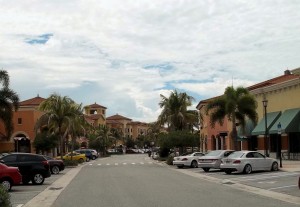 & Grill, a Starbucks and Panera Bread, but that's just the tip of the food iceberg as there are tons more places to fit everyone's tastes.
Coconut Point Mall is owned by Simon Property Group, Inc., an S&P 500 company and the largest real estate company in the United States. The Company currently owns or has an interest in 392 properties comprising 263 million square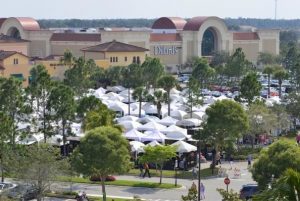 feet of gross leasable area in North America, Europe and Asia. Simon Property Group is headquartered in Indianapolis, Indiana and employs more than 5,000 people worldwide.
The art festival sets up in the parking lot just north of Panera Bread and east of U.S. 41 at 23106 Fashion Drive, Estero, FL.
Description.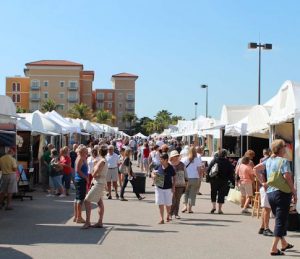 Variety and diversity are themes at every Howard Alan event. There is something for everyone ranging from $15 handmade silver jewelry to life size sculptures costing in excess of $50,000. There will be 200 artists and artisans from 30 different states at each of these festivals with every medium and genre being represented. The artists have been juried by an independent panel of expert judges and hand-selected from hundreds of applicants based on quality and diversity ensuring a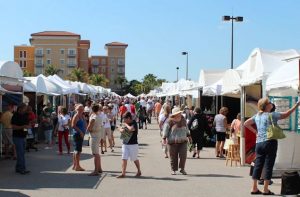 variety of original and handmade art with wide appeal.
Visitors will find paintings in oil and acrylic, 2D and 3D mixed media, assemblages and collages, watercolors, pastels, drawings in pen and ink and charcoal on paper, etchings and lithography, photography and digital art, bronze and metal sculpture,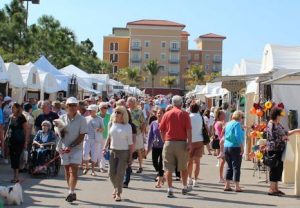 Raku, ceramics, stone and wood carvings, wood music boxes, glass fusion and glass art, leather works, fabric, paper mache and hand-crafted art jewelry.  Spacious aisles allow art enthusiasts to explore the exhibits and interact with the artists who will be present for the duration of the show.
Past Stars. It's difficult to single out stars at a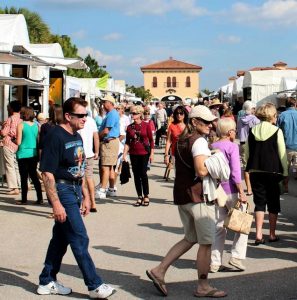 show as exceptional as this, but  watercolor artist Christine Reichow stands out in any crowd. One of the paintings on display in her booth during the 2nd Annual Coconut Point New Year's Weekend Art Festival was Wild One, a botanical watercolor that was recently accepted by the Florida Watercolor Society into their 41st Anniversary Exhibition. It was one of only 99 accepted by the Society for the exhibition out of several hundred entries. And it's small wonder. Reichow specializes in botanicals, florals and wildlife paintings,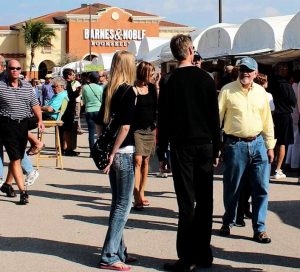 and watercolor is a medium that uniquely enables Reichow to create leaves, petals, anthers and feathers that are as luminous as they are transparent. All of Reichow's compositions convey an intimate and deeply-felt love for the delicacy and serenity of the natural world that surrounds her. There is a Zen-like quality to her depictions. They encourage the viewer to become centered, to re-establish a primordial connection to the universe and its cosmic rules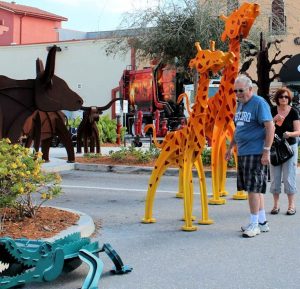 of order. Reichow is a member of the American Watercolor Society, Florida Watercolor Society, Watercolor West, and Transparent Watercolor Society, and a signature member of the National Watercolor Society.
Another local star at the 2nd Annual Coconut Point New Year's Weekend Art Festival was Tim Parker, who is best known for figurative abstracts in oil, acrylic and mixed media on canvas and acid-free boards that reflect the influence of his 22-year career in the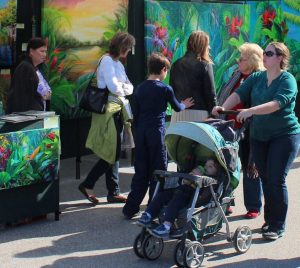 high-end fashion, fragrance and cosmetic industries. His style involves an exploration of the interaction between texture, expressive brush strokes, vibrant color and the human figure, and he employs this same unique approach when painting other motifs, such as landscapes, wildlife, and still lifes. The net result are paintings that allow viewers to see multiple facets and dimensions in and throughout his oeuvre or body of work. Tim's work is collected internationally and can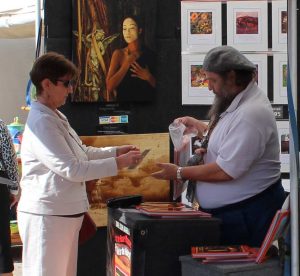 be found in numerous corporate and private collections. Parker's studio is located in North Naples at 2076  J & C Boulevard in the Pine Ridge Industrial Park.
Cost: Admission is free
Parking. Parking is free and on-site.
Organizer: Howard Alan Events & American Craft Endeavors.
Howard Alan is one of the most widely-recognized and highly-regarded names in the art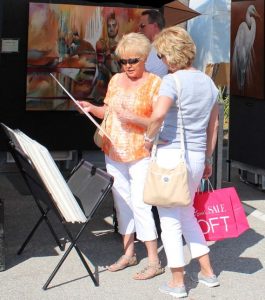 festival industry. Howard, his wife and business partner Debbie, and their dedicated staff run 45 annual juried art shows and 40 craft shows each year out of their small office in Tequesta, Florida. Be it Aspen, Chicago, Pittsburgh, Alexandria, Cleveland, Ft. Lauderdale or Sarasota, you are sure to find a Howard Alan event somewhere. These popular outdoor festivals are consistently ranked by Sunshine Artist Magazine among the top art shows in the country.
Over the last 24 years, Howard Alan is proud to have exhibited the work of over 10,000 different artists worldwide.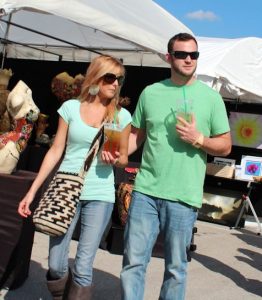 Today, a typical Howard Alan show will feature anywhere from 100 to upwards of 300 exhibitors. Participating artists are like family to Howard and Debbie. Many have been with them since the very beginning, and even more credit Howard Alan for allowing them to make a living doing what they love most.
Websites: http://www.artfestival.com.
You Tube: http://www.youtube.com/watch?v=m53z_ZkbTOw.
Fast Facts.
The Coconut Point Art Festival replaced Howard Alan Events' premier art festivals traditionally held in Downtown Naples and has quickly become a tradition in its own right that locals have come to anticipate with the same enthusiasm.
The Coconut Point mall's navigational address is 23130 Fashion Drive, Estero, FL 33928.
Revised December 27, 2019.